How do you beat the Street?

It's an old question to be sure, and one that every fund manager, stock picker, and individual investor out there wants to find an answer to.

You can pick up Peter Lynch's 1993 best-selling book Beating the Street, the main message of which is simply to "buy what you know."

Warren Buffett once quipped, "I try to buy stock in businesses that are so wonderful that an idiot can run them -- because sooner or later, one will." I appreciate Buffett's candid approach, and the fact that at a certain level he tries to keep it simple.

But to really beat the Street, you need to get in on micro-cap stocks before they become the darlings of Wall Street and owned by everybody -- including your annoying neighbor who brags about his winning investments. These early stage companies often have businesses you don't understand -- and you never will. But that doesn't mean they can't make you a fortune.

Buffett also said, "Someone's sitting in the shade today because someone planted a tree a long time ago."

Micro-cap stocks are just like that tree seedling; invest in quality ones now and your investments will blossom later. And if you think about it, the only way you can capture the biggest gains in the stock market is to buy companies when they're small, cheap and in an uptrend.

I've been recommending a few blossoming small-cap stocks that trade for less than $10. These stocks are still in an uptrend and worth your consideration.

First up is ZAGG. I recommended this stock at $5.51 and again at $7.82. It's now trading at $9.56, meaning had you followed my recommendation you'd be up 73.5 percent and 22.3 percent, respectively.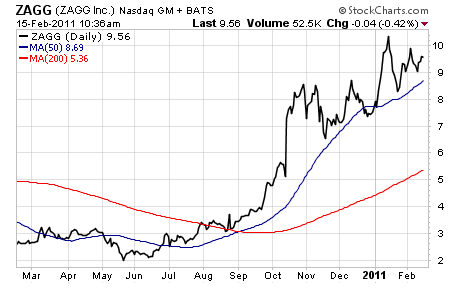 ZAGG is undeniably in a huge growth sector. More people are purchasing iPods (NASDAQ:AAPL) and smart phones these days as demand grows for mobile devices and their applications. An iPod for $199, or an iPad for $499, represents a big investment.

But customers usually make another relatively small purchase to protect their new toy from scratches. Think about it: If you're purchasing a new iPhone for $300, you'll probably buy a protective film covering for just $20 more to prevent damage to the screen.

But this covering is no simple plastic. Originally, this film was designed to protect the blades of military helicopters. Later it was determined that it could also be used to protect everyday electronic devices -- like those made by Apple.

ZAGG is one of the few public companies in this specialized industry. If demand for mobile devices continues to grow, as I believe it will, people will continue to flock to ZAGG's products to protect their investments. It could even be a takeover target, although at this point that is pure speculation.

The upward trend remains intact for ZAGG, making it one of my favorite blossoming small caps under $10.

Second up is Craft Brewers Alliance (HOOK). Headquartered in Portland, Ore., Craft Brewers brews high-quality craft beers including Redhook Ale, Kona and Goose Island. The company currently produces around 30 beers; most are regional, but some are gaining attention at the national level.

After the top blew off this beverage company in the fall of 2010 (shares surged over 300 percent between May and mid-September), the stock has pulled back and resumed a stable upward trading channel. Volume has also retreated to a more normal 175,000 or so shares a day.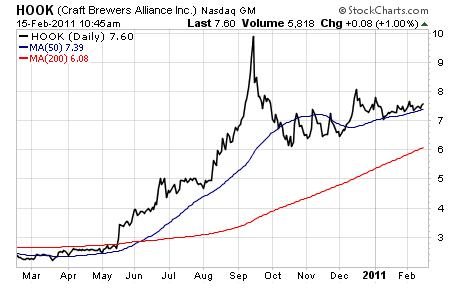 I've recommended HOOK at $5.59, $6.76, and $7.71 per share. A position at each of those prices would now be up 36 percent, 12.4 percent, and -1.4 percent, respectively.

Despite the huge run in September, which was partially fueled by takeover speculation, the upward trend in HOOK's stock remains intact.

The company is on pace to exceed 2009 sales of $131.7 million in 2010, given that it has already booked over $108 million through the first three quarters. Since 2006, sales have been increasing steadily, although net income on an annual basis has been fairly inconsistent.

However, over the last four quarters net income has been consistently positive, and that trend, should it continue, will keep this blossoming small-cap stock on my favorites list.