The Applied Finance Group is focused on valuing securities using an unbiased and consistent approach to provide quality investment advice. Our Buy and Sell ratings have delivered consistent results with a significant spread achieved between the companies that we label as attractive and those that we label as unattractive (see annualized returns below).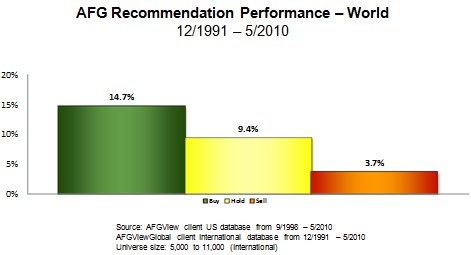 We apply AFG's valuation methodology to various popular lists of stocks such as those heavily owned by stock market "gurus", favored or hated by analysts from top firms on the street, or stocks that are most newsworthy. We attempt to help you make sense of those popular stock ideas by applying our unbiased, proven research tools.
Today we will apply our diagnosis to the list of stocks with the most short interest as a percentage of float, provided by Bespoke.com. We are overlaying our valuation and corporate performance analysis to the list to shed light on where we agree with the bearish sentiments. Of the 35 stocks listed, we have 20 ranked as unattractive, 5 as Neutral, and 10 as Attractive. Please find details in the following:
We will monitor the performance of our diagnosis series to see how much value our analysis adds.
Investment
Ticker
Name
Sector

Opportunity

Our Take on the Most Heavily Shorted Stocks

(NYSE:TER)

TERADYNE, INC.

Capital Goods

Attractive

(NYSE:GME)

GAMESTOP CORPORATION

Consumer Services

Attractive

(NYSE:HRB)

H&R BLOCK, INC.

Consumer Services

Attractive

(NYSE:MCO)

MOODY'S CORPORATION

Consumer Services

Attractive

(NASDAQ:URBN)

URBAN OUTFITTERS INC

Consumer Services

Attractive

(NYSE:TSO)

TESORO CORPORATION

Energy and Extraction

Attractive

(NYSE:BCR)

C.R. BARD INC

Health

Attractive

(NASDAQ:CEPH)

CEPHALON, INC.

Health

Attractive

(NASDAQ:CERN)

CERNER CORPORATION

Health

Attractive

(NASDAQ:XLNX)

XILINX, INC.

Technology

Attractive

(NYSE:DO)

DIAMOND OFFSHORE DRILLING, INC

Capital Goods

Neutral

(NASDAQ:MOLX)

MOLEX INCORPORATED

Consumer Durable

Neutral

(NYSE:JCP)

PENNEY [J C] CO INC

Consumer Services

Neutral

(NYSE:RSH)

RADIOSHACK CORPORATION

Consumer Services

Neutral

(NASDAQ:FSLR)

FIRST SOLAR, INC.

Technology

Neutral

(NYSE:AKS)

AK STEEL HOLDING CORPORATION

Basic Material

Unattractive

(NYSE:ATI)

ALLEGHENY TECHNOLOGIES INCORPO

Basic Material

Unattractive

(NYSE:X)

UNITED STATES STEEL CORPORATIO

Basic Material

Unattractive

(NYSE:LEN)

LENNAR CORPORATION

Capital Goods

Unattractive

(NYSE:PHM)

PULTEGROUP, INCORPORATION

Capital Goods

Unattractive

(NYSE:AN)

AUTONATION, INC.

Consumer Services

Unattractive

(NASDAQ:DISCA)

DISCOVERY COMMUNICATIONS INCOR

Consumer Services

Unattractive

(NYSE:GCI)

GANNETT CO., INC

Consumer Services

Unattractive

(NYSE:MWW)

MONSTER WORLDWIDE, INC.

Consumer Services

Unattractive

(NASDAQ:NFLX)

NETFLIX INC

Consumer Services

Unattractive

(NYSE:RHI)

ROBERT HALF INTERNATIONAL INC.

Consumer Services

Unattractive

(NASDAQ:SHLD)

SEARS HOLDINGS CORPORATION

Consumer Services

Unattractive

(NYSE:SVU)

SUPERVALU INC.

Consumer Services

Unattractive

(NYSE:WPO)

WASHINGTON POST COMPANY (THE)

Consumer Services

Unattractive

(NYSE:VMC)

VULCAN MATERIALS COMPANY

Energy and Extraction

Unattractive

(NYSE:AIG)

AMERICAN INTERNATIONAL GROUP,

Financials

Unattractive

NYSE:FII)

FEDERATED INVESTORS INCORPORAT

Financials

Unattractive

(NYSE:JNS)

JANUS CAPITAL GROUP, INC.

Financials

Unattractive

(NASDAQ:ZION)

ZIONS BANCORPORATION

Financials

Unattractive

(NYSE:AMD)

ADVANCED MICRO DEVICES, INC.

Technology

Unattractive