Colfax Corp (NYSE:CFX), a leader of providing pumps to industries worldwide, spiked Tuesday after reporting strong sales and beating profit estimates. Excluding costs tied to a longstanding asbestos litigation, profits were $16.9 USD for the quarter on sales of $166.7 million, bringing full year totals to $40.2 million ($.92 per share) and sales of $542 million. Guidance for 2011 comes in at revenues of $570-$580 million and adjusted EPS of $1.00 - $1.10 ($44 million - 48.4 million).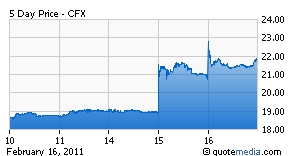 Colfax's pumps are used to move fluids around the world. It doesn't matter if you are pumping oil or NGLs through pipelines, moving water and fuel in and out of ships, or moving various fluids or steam used in power generation, Colfax has the pumps needed to get the job done. Colfax stands to benefit from a booming oil and gas industry as well as strong petrochemical industry, a need for new power generation capacity worldwide, and a general economic rebound worldwide.
While only 15% of Colfax's sales in 2010 came from oil and gas, that number should be set to grow dramatically in the coming years. As fracking has unlocked massive reserves of both oil and gas in the US, the amount of new wells producing oil and gas is exploding. Colfax pumps are located everywhere, from wellhead to transportation to storage facilities to both chemical processing plants as well as refiners. As chemical companies rebound from the economic growth as well as lower production costs due to low gas prices in the US, they have more money to spend on new facilities, and these facilities need Colfax pumps. As natural gas producers find more oil and gas, they need pipelines to transport, refine, and store the products. Colfax makes those pumps. As companies like Exxon (NYSE:XOM) and Chevron (NYSE:CVX) continue to increase their cap-ex spending worldwide to find and produce more oil, Colfax will benefit from those spending increases and oil infrastructure build out.
While these prospects are good, it was news Monday that really should have caused excitement in CFX shares. General Electric (NYSE:GE) agreed to buy the oil division of the John Wood Group for $2.8 billion, furthering GE's aggressive push into the oil services sector. The Well Support Division of John Woods had sales in 2010 of $947 million and EBITA of $165.9 million. GE cites the entry into the submersible pump market as an important step being that it is "one of the fastest growing segments" in oil and gas services. This affirmation of Colfax's recent expansion in its oil and gas markets should prove to Colfax shareholders that management is aware of current market trends and out in front of the curve when spotting new areas of growth.
The manufacturing resurgence in the US is another growth area for Colfax, as the majority of their sales (35%) come from general industrial areas. This again involves moving chemicals for the petrochemical industry, as well as pumps for diesel engines. The market for diesel engines is red-hot, as is evident in recent quarters from both Cummins (NYSE:CMI) and Caterpillar (NYSE:CAT). Colfax will continue to benefit from the growth in these markets, as there seems to be no slow down in the need for the diesel engines to power the heavy equipment that is used to mine materials and harvest crops.
The oil and gas division, when combined with the general industrial division, are 50% of Colfax's 2010 sales, and the areas that I believe will contribute to the greatest growth in the next year or two. The defense, power generation, and commercial maritime divisions are all performing well, but are tied to longer dated projects, and therefore are more stable, meaning they are less likely to ramp up dramatically. The expansion of Navies in Brazil, Europe, Malaysia and Australia is mentioned specifically in the Q4 quarter as a strength for the defense division. The power generation division has ties to new infrastructure projects in Asia and the Mid East, allowing prospects of long term positive trends as China and India continue their rapid industrializations.
Colfax has been an acquirer in its recent history (16 companies in the last 16 years), choosing to purchase small companies and leverage their expertise to expand the company's reach. That being said, with a market cap of $900 million, the company would and could easily be swallowed up by a larger industrial player. Flowserve (NYSE:FLS), for example, is a $7 billion company and probably Colfax's most direct competitor. GE has been on a buying spree, and United Technologies (NYSE:UTX) could also swallow Colfax without any real trouble.
Combining the strong performance of the company and its growth prospects, its accelerating earnings, as well as the fact it could be an appetizing target for a larger company, I think Colfax should trade at a premium multiple to its peers. Flowserve (FLS) currently trades at about 19 times the midpoint of its earnings, so applying that to Colfax's 2011 midpoint EPS of $1.05 gives you a floor of $19.95, and adding a 25% premium to the multiple gives you roughly 24 times the EPS and gets you just under $25. With Colfax closing Tuesday at $21, I think the shares are attractively priced, and would consider the stock a buy on any pullbacks.
Colfax is an attractive and under the radar way to play the growth in the world economy as well as the oil services industry, and should provide strong earnings growth in the next several years.
Disclosure: I am long CFX.