There is a lot of commotion surrounding Chinese reverse mergers and the wild fluctuations in their stock price as uncertainty about the legitimacy of the operations of several of the Chinese reverse-mergers has been called into question. I have been increasingly cautious about writing about Shengkai Innovations (NASDAQ:VALV) as it became more and more apparent that these frauds may end up being systemic and affect more companies than I had previously thought. I wanted to make sure that I had done my due diligence before continuing to recommend the company.
In the course of that due diligence I have spoken with individuals who were part of the initial reverse merger process, the current underwriters of the company, the investors relations firm for the company, and one of the privately managed funds that holds a sizable position within the company. Some of my results can be seen in my articles (here and here) that I have written previously.
Due to the increased amount of shorting activity, I wanted to get a hold of the SAIC/SAT filings of Shengkai Innovations before short sellers did to be able to report whether or not it was in fact a fraud. I understood that there should be discrepancies between the SAIC and the SEC filings, but according to the CFO of another Chinese reverse merger that I interviewed, discrepancies should typically be small if individuals are looking at the filings of each of the company's subsidiaries in total.
Even so, large discrepancies MAY be reconciled given the difference in revenue recognition, earnings, and etc. I am not knowledgeable enough to do the reconciliation myself, but, I was hoping to have some evidence that a company with sizeable operations was at least reporting to the Chinese government. I have been unable to obtain copies of either the SAT or the SAIC filings via contacting underwriters, the investor relations firm, and others. This may not necessarily bode negatively; it simply means companies have policies in place to prevent them from inadvertently "recommending" a stock by providing its financial statements to an interested party.
They may also be wary of providing the statements that another potential short seller may use to wreak havoc on their investments. SAT filings are not available to the general public and the only means I have found of obtaining SAIC filings appears to cost about $200 per filing. If Shengkai operates through more than one subsidiary, then it is my understanding I would be paying $200 for each.
Given this inability to obtain Chinese financial statements, I wanted to attempt to do other forms of due diligence to make sure that the company was in fact operating. I have spoken with private investors who have claimed to visit the factory and said Shengkai is one of the "most incredible businesses I have seen". On top of this, Shengkai has retained an auditor that is one of the top 10 and Grayling as its investor relations firms. I also checked all of its patents to determine their legitimacy.
From the DOCDB, a part of the International Document Patent Center, I was able to determine all but one of the patents listed in their most recent 10-K are in fact legitimate patents that have been filed for and received. Many of these patents were applied for as early as 2004, long before Shengkai was a U.S. publicly traded company and people were worried about the legitimacy of the small cap Chinese stocks.
Simply click on the patent to be linked to the website giving a description of the patent. For older patents, an English translation is provided at the bottom.
1) High temperature and high Pressure ceramic check valves in power station
2) Preventing slag at the bottom of the wedge and abrasion-resistant ceramic slag-off valves
3) Anti-fouling ceramic seal discharge valves
4) Reciprocating sliding dual- plate ceramic sealing valves
5) New ceramic replica valves
6) External composite armor plate for tank
7) The new V-shaped channel spherical valves
8) Cavitation and erosion-resistant high-pressure adjusting valves
9) New ceramic three links valves
10) Ceramic valves with purge devices
11) Throttle ceramic valves
12) Fast-opening ceramic adjusting valves
13) Eccentric anti-seize abrasion-resistant spherical valves
14) Spherical ceramic adjusting valves
15) Ceramic butterfly valves
16) Ceramic seal switching valves
17) Fine-tuning ceramic adjusting valves
18) Hemispherical ceramic adjusting valves
19) Ceramic ball check valves
20) Three links switching ceramic cut-off valves
21) Pneumatic ceramic seal shut-off valve
22) An enhanced ceramic sphere---200920179545.8
Given that its patents are real, it has obtained audited financial results from a top 10 auditor, has institutional investors who have visited the plant and taken pictures of it, I think we can be relatively certain that Shengkai at least is an operation with a new facility. The only thing that is really still of question is the accuracy of their reported earnings. Unfortunately, I can offer potential investors no other consolation than to simply point to the fact they were audited by a top tier firm.
Now that all of that has been said, let us look at the operating results for the most recent quarter ending December 2010.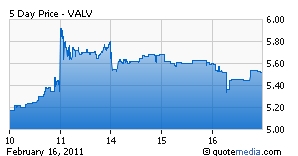 Shengkai reported revenues of $22.4 million for the 2QFY2011 representing YOY growth of 78.4%. This growth is attributed to strong, double-digit growth in every area of their business. This is every bit as promising as the growth that I was expecting when I first started writing about the company. Non-GAAP net income was $8.5 million and GAAP net income was $14.9 million. The main difference between the two numbers is indicative of the fluctuations of the warrants/options outstanding that are expensed against/added to earnings every quarter.
Currently, the electric power industry accounts for 71.3% of all of Shengkai's revenues and this dollar amount increased by 84.5% YOY due to larger orders from both new and returning customers. Revenue from the petrochemical industry is about 14% of revenues in the most recent quarter; however, the company believes that this is potentially its largest market. If the company is right, we should see huge growth in this number as it overtakes the other areas of operations in revenues contributed.
On the conference call, the executives said that Shengkai operated at full capacity on one shift for the month of December and is currently starting the next phase of growth as demand is still stronger than supply. Executives said in the Q&A with analysts that $13 million of the $17.5 million in their most recent offering had gone to purchase more equipment and machines to be able to increase the capacity of the current facility by adding more shifts. This increase in capacity should increase output from 24,000 units per year to 30,800 units per year and will take six to eight months to receive the equipment.
So far, Shengkai has averaged somewhere between $3,800 and $3,900 per unit which will fluctuate based on the size of the units sold. With 30,800 units available at the "new" full capacity, this means Shengkai could bring in $118.58 million in revenue starting the next fiscal year. Actual revenues will likely be lower than this best case scenario. To underline the significance of this number, the company currently carries an undiluted market cap of $128 million.
Growth and business prospects look great for this company. The only thing preventing my previous price targets from coming to fruition has been the amount of dilution that has occurred that I had not taken into account before. By my estimates, Shengkai has 45,370,071 shares outstanding if all warrants and options are exercised.
23,191,165 common shares outstanding June 2010
6,987,368 preferred shares outstanding June 2010
2,211,250 options outstanding June 2010
9,464,842 warrants outstanding June 2010
1,058,646 common shares issued in November
1,058,646 common shares issued in December
This means that Shengkai should achieve non-GAAP, minimum earnings of $0.75 per fully diluted share (by my estimates) this year. If no more shares are issued and growth continues as planned, we could see non-GAAP earnings of $1.00 per fully diluted share, or more, in the FY2012.
If any of you has comments on how I could obtain the SAIC filings of the company I would be more than happy to look into them at some point. If you are interested in Chinese reverse mergers, take a look into Keyuan Petrochemicals (OTCPK:KEYP). They are audited by KPMG and have declared a 7% cash dividend to all shareholders excluding the executives as they try to increase investor confidence. Other Chinese reverse mergers and a list of their auditors can be found here.
Disclosure: I am long VALV.
Additional disclosure: Investors are encouraged to do their own due diligence and to view the company's audited statements and other SEC filings at a minimum. There have been many frauds within Chinese reverse mergers and due diligence is complex and does not guarantee that companies are not participating in fraudulent activities. Expect much volatility within this subgroup of stocks as the bad apples are exposed.