Radient Pharmaceuticals (RPC) reports earnings on April 11th. I am betting it to be good, especially if study results turn out well. And certainly Capital Ventures International also sees gold, having taken a 5.7% stake in the company (see here).
In my previous article, I broke down the company and showed that it is at least 65% undervalued.
Although the earnings report is three months away, a positive result from a study to test the efficiency of RPC's cancer detection system would send the stock on a three-month uptrend as investors get excited about the company's potential earnings. Cancer detection is a huge medical cost and with good results; expect RPC to snag a piece of the pie.
Technical graphs are neither in nor near overbought territory. In fact, the technicals give an oversold signal. In each graph, the top black line is overbought and the bottom black line is oversold.
click to enlarge images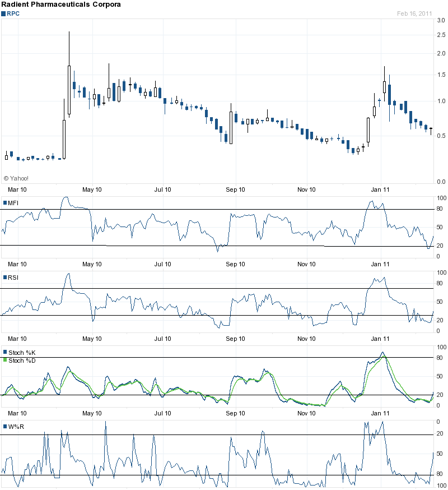 Disclosure: I am long RPC.