The insurance sector doesn't get a lot of love from investors. Concerns about catastrophes, competition, reserve adequacy and asset quality have kept a lid on prices. The strongest industry participants were able to increase book value steadily throughout the financial crisis, and yet multiples remain compressed. What if these companies continue to increase book value per share at the same pace, and P/B multiples revert to pre-crisis levels?
Here is an answer to that question, for four major companies (click to enlarge):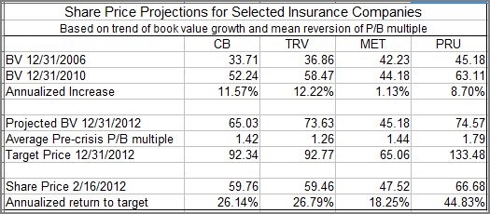 Obviously these projections are somewhat simplistic. But trends often continue for years, and over any sufficiently long period of time reversion to the mean is a force to be reckoned with. Back in August of last year, I published an article here on Seeking Alpha noting that insurance companies were attractive based on price to book. Despite gains made during the current rally, I believe they still are.
Issues
Confronted with this line of thinking, the investment task is to go through a longish set of issues, some of them complex, and weigh the risks against the rewards. Gloria Vogel's Insurance Outlook for 2011 sets forth the potential pitfalls confronting the industry.
There is something reassuring about a company that trades very close to book value and increases that value on a regular basis, as many insurance companies have been able to do. The companies shown above achieved these asset increases in the face of a financial crisis, a soft market, intense competition, catastrophes, deteriorating asset values for RMBS, CMBS and CRE, variable regulatory oversight at the state level, and other headwinds.
Thoughts on Industry Headwinds
The investment community, and certainly analysts as a group, generally takes a dim view of the investment potential of any company or industry that faces headwinds. There is an endless rush to avoid any industry that is subject to regulatory scrutiny, political attack, actual competition based on price and quality, transition between old and new technologies, technological obsolescence, adverse economic forces, etc.
Management in difficult industries develops the capacity to deal with adversity. They have to, otherwise they will have to find other employment. Insurance has never been an easy business. Adam Smith took the same view of it that Warren Buffett takes of the airline industry - he questioned whether over its entire existence the industry as a whole had ever made any money.
As an insurance trainee in 1969, I was horrified when a confrontation between the Governor of Massachusetts and the automobile insurance industry in the state came to an impasse - the Governor went on TV and defied the industry, refused to cave in to their demands, and threatened to let all the car insurance policies in the state expire on January 1. At the time, all the policies in the state ran for the calendar year, and the state set the rates, annually. Amazingly, life went on, the policies got renewed, the Governor won points with the electorate, and the companies made money.
Investors underestimate the ability of Insurance companies to win the game of political football, raise rates, reduce coverage, withdraw from markets, re-enter markets, resolve litigation, combat fraud and dishonesty, and otherwise confront the ongoing vicissitudes of the business. There are always headwinds.
Current Insurance Sector Issues
Low interest rates can be expected to put pressure on investment returns. Insurance companies invest primarily in bonds, and as current bonds mature they will not be able to reinvest the money at the same rate of return. On the other hand, bond values increase when rates are low, and some of the companies have been realizing capital gains by selling part of their portfolios. When investing prudently, the companies match bond maturities against expected claims payments and are not forced to liquidate bonds for less than amortized cost.
The industry has long weighed operating income against investment income, and when investment returns are high they will actually write business at a loss in order to make money on the investment side. When investment returns are low, they can be counted on to raise rates and apply more restrictive underwriting standards in order to make an operating profit.
Reduced investment returns may trigger an end to the soft market in commercial lines. Some observers are seeing hopeful signs along those lines. A number of companies have refused to join in the race to the bottom.
Meanwhile, long-term interest rates have started to rise, a plus for the industry.
The P&C industry has excess capital. The premium to surplus ratio for the industry stands at .77. When questioned about the uses of the capital, CEOs are responding that they intend to return it to shareholders by dividends or buybacks. They do not talk about fighting to increase market share by reducing rates. A few acquisitions, well publicized, would do wonders for valuations.
The life insurance industry varies in the amount of exposure the companies have to the equity markets due to writing guarantees on variable annuities. With equity markets recovering, companies like MET and PRU, which have heavy annuity exposure, can be expected to do well. With the markets at medium levels and volatility decreasing, the cost of hedging will decrease and adroit handling may make it possible to get some hedges in place that will prevent a return to the perilous state of March 2009.
Commercial real estate is recovering, which reduces concerns about asset quality in CMBS and CRE. The exposures to RMBS have been written down, hedged or disposed of sufficient to stabilize that area of the balance sheets.
Economic Recovery and the Industry
The P&C industry runs about a year behind the economic recovery. Commercial lines insurers are beginning to see an increase in exposures - more payroll, more property, plant and equipment, higher sales. As audits begin to develop additional rather than return premiums, growth will resume.
Personal lines insurers saw a tendency on the part of customers to reduce coverages. As the economy recovers, and more cars are put on the road, this tendency can be expected to reverse. Personal auto policies frequently run for periods of less than a year, and rate increases when possible will quickly generate additional earned premium.
Annuity premiums generally are higher than life insurance premiums in the US. As prospective retirees contemplate the challenge of retirement saving and investment, insurance products can be expected to be a large part of the mix. Improved economic conditions in emerging markets will create a new middle class, and with that a new market for financial security products.
Investment Implications
The insurance sector still offers attractive value. While P/B is easy to use as a starting point, it is no substitute for a thorough review of company operations and assets. There are three ETFs - Powershares Dynamic Insurance Portfolio (NYSEARCA:PIC), KBW Insurance etf (NYSEARCA:KIE) and iShares Dow Jones US Insurance Index Fund (NYSEARCA:IAK). I prefer to select individual companies, although as a practical matter the companies I invest in are well-represented in the portfolios of the available ETFs.
The target prices developed above for Travelers (NYSE:TRV), Chubb (NYSE:CB), MetLife (NYSE:MET) and Prudential (NYSE:PRU) require that past performance continue into the future, and that market multiples revert to pre-crisis means, a rosy scenario. As with any equity investment, quarterly results should be reviewed as they become available and expectations should be revised as the situation develops.
Dividend investors will naturally want to check the history and payout ratio. Some dividends were reduced or eliminated during the crisis, and may be restored or increased.
The companies listed are optionable, to include LEAPS, and diagonal spreads have performed well over the past two years. Share prices equal to or less than book value provide margin of security.
Disclosure: I am long CB, TRV, MET, PRU, UTR, RDN, ALL, MBI, AGO.