Your government says prices went up .4% in January. That is an annualized rates of about 5%. It's also a lie, but why quibble. Ben Bernanke says there is no inflation.

A quick glance shows the annualized inflation in a few items you might use on a daily basis:
Energy is going up at an annual rate of 48%.
Clothing is going up at an annual rate of 12% (cotton up 120%).
Food at home is going up at an annual rate of 8.4% (what a crock).
The good news is that the value of your house is declining, so inflation is under control.
The truth is that inflation is raging at a rate closer to 10%, as detailed by John Williams.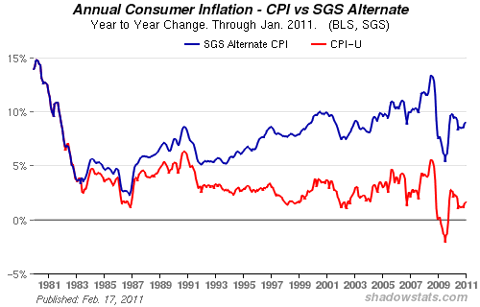 More great news: Unemployment claims went up again and are now rising over the last month. The snow excuse is wearing thin.
In the week ending Feb. 12, the advance figure for seasonally adjusted initial claims was 410,000, an increase of 25,000 from the previous week's revised figure of 385,000. The 4-week moving average was 417,750, an increase of 1,750 from the previous week's revised average of 416,000.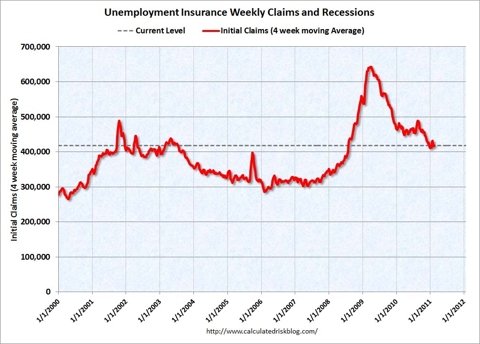 And last but certainly not least, your real earnings are falling: In a separate report, the Labor Department said average hourly earnings fell a seasonally adjusted 0.1% in January, adjusted for inflation. And real average hourly earnings are up just 0.2% in the past 12 months.
Gee, sounds like a recovery to me ... let's go buy some stocks ...
Disclosure: I have no positions in any stocks mentioned, and no plans to initiate any positions within the next 72 hours.