By Patrick Crutcher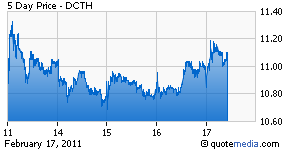 Here is an update on two of our favorite biotech companies: Delcath Systems (NASDAQ:DCTH) and Neoprobe Corp. (NEOP). Both stocks are up over 100% since our initial coverage on them and we believe pending news out of both of these companies will further dictate positive price action in 2011.
We've been fans of Delcath since the $5.80's back in the fall of 2010. Recently their shares have begun to surge, likely in anticipation of whether or not the FDA will accept their NDA. Delcath is expecting to hear back from the FDA on or around February 22nd; they're hoping to receive a six month priority review. Delcath expects to hear back from the EU on their CE Mark sometime this year. Besides this, there are some other near-term events that will be important for this company.
During the most recent quarterly conference call, CEO Eamon Hobbs noted two important events: publication of Phase 3 results related their submitted NDA and results from the Phase 2 study in primary liver cancer. The Phase 3 publication will give investors a more detailed look at the data supporting the NDA; expect analysts to chime in after this becomes available. We anticipate hearing from Delcath on this issue soon, as they submitted the paper several months ago.
As we noted a few days ago, something that is potentially related to the Phase 2 results was recently uncovered in the brochure for an upcoming oncology meeting. On Sunday, February 20th at 5:00 pm, Dr. James Pingpank will be giving a presentation entitled "Update on Liver Perfusion" at the Sixth International Symposium on Regional Cancer Therapies. Dr. Pingpank has been an active clinical investigator with Delcath in the past; most recently he delivered their pivotal Phase 3 results at ASCO 2010. He also serves on their Medical Advisory Board and is a Senior Investigator at National Cancer Instute, the organization conducting their Phase 2 study in primary liver cancer.
Their Phase 2 study recently completed in the fall of 2010, so it wouldn't be too surprising for these results to be the topic of his discussion. These results are very important to Delcath's valuation, since the market for primary liver cancer is vastly greater than the market for their current NDA. We'd expect to see some volatility in shares of Delcath over the next week or so, especially with the news on the FDA's response and possibly clinical results.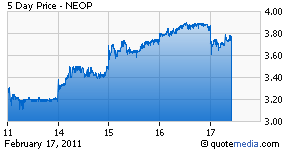 Now, let's turn our attention to Neoprobe. They recently announced that their Phase 3 study of Lymphoseek in breast cancer and melanoma had recently met it's accrual objective. We'd expect to see results sometime later this month or in early March. Again, we fully expect that NEO3-09 will yield positive results similar to their NEO3-05 study.
David Bupp, Neoprobe's President and CEO had this to say: "We are highly confident that the end points of the clinical study will be met and anticipate that full data will be available early in the second quarter following review by our clinical team. We will hold a conference call at that time to discuss the clinical study results and the presentation of the results are planned at scientific conferences later in the second quarter."
Also, yesterday they were featured on Bloomberg radio show, "Taking Stock." They spoke with Dr. Eric Rowinsky, an advisor to ImClone Systems, and Stephen Brozak, president of WBB Securities, about Neoprobe's Lymphoseek. It was a fascinating interview that really highlights how important Lymphoseek will become in the diagnosis of tumors in sentinel node scanning; we encourage investors to listen. Dr. Rowinsky, an expert on oncology treatments, spoke very glowingly about Lymphoseek. Specifically, he believes that "it really opens the doors for better surgical techniques and better definition of early disease and treatment for early disease ... It's also very applicable to many other indications." He also stressed that Lymphoseek should become the preferred reagent for sentinel node mapping.
We also attached links (see below) about two separate studies on sentinel lymph node scanning and the importance of the procedure in breast and ovarian cancer. We think Lymphoseek will become a first-in-class diagnostic tool for sentinel node mapping and it's potential in other indications is significant. Neoprobe looks to be in the driver's seat for 2011 and the upcoming results should help it attract more institutional interest.
-- NYTimes, "Lymph Node Study Shakes Breast Cancer Treatment."
-- "Nearly 25% of women with early ovarian cancer not given recommended lymph node biopsies."
Disclosure: Long DCTH and NEOP