With the S&P 500 (NYSEARCA:SPY) doubling off its March 2009 intraday low, we thought it would be a good time to update the list of the best and worst performing stocks since the S&P 500 bottomed on March 9th, 2009. The first table below highlights the 25 best performing stocks that are currently in the S&P 1500 (names highlighted in gray are in the S&P 500). While a lot of investors typically think of names like Netflix (NASDAQ:NFLX), Wynn (NASDAQ:WYNN), Ford (NYSE:F), F5 (NASDAQ:FFIV), and Sandisk (SNDK) as some of the big winners in this bull market, none of them made the list of top performers. In order to make the list of top 25 performers, a stock had to rise by at least 886%. Of the 25 names that did make the list, only four are currently in the S&P 500 [(NYSE:GNW), (JDSU), (NASDAQ:FITB), and (NYSE:WYN)].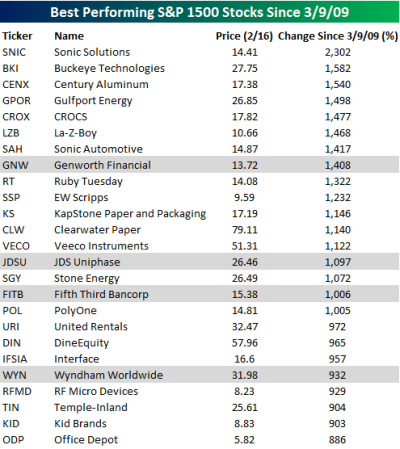 Now for the losers. At the moment, only 47 companies in the S&P 1500 have managed to decline during one of the strongest bull market runs in history. The 25 names below have done the worst since 3/9/09. As one can see by looking at the list, there are a lot of financial and construction related companies, which doesn't come as much of a surprise. What some may be surprised about, however, is the relatively large number of education related companies on the list [(NASDAQ:COCO), (NASDAQ:APOL), (NYSE:ESI), and (NASDAQ:STRA)].
There are two ways to look at this list. Some may look at it and think that if a stock can't manage to rally during the biggest bull market of our lifetime, then it should be avoided like the plague. On the other hand, some may look at it and think that the stocks are due for a rally. The reality is that the day in the sun will ultimately come for some of these names, while others will languish further into obscurity.