The Bureau of Labor Statistics release the CPI data for January this morning. Here are the first two paragraphs of the index summary:
The Consumer Price Index for All Urban Consumers (CPI-U) increased 0.4 percent in January on a seasonally adjusted basis, the U.S. Bureau of Labor Statistics reported today. Over the last 12 months, the all items index increased 1.6 percent before seasonal adjustment.

Increases in indexes for energy commodities and for food accounted for over two thirds of the all items increase. The indexes for gasoline and fuel oil both increased in January, continuing their recent strong upward trend. The index for food at home posted its largest increase in over two years with all six major grocery store food group indexes rising. More...
Year-over year-Core CPI came in at 0.95%, which the BLS rounds to 1.0%, up from 0.8% last month.
The first chart is an overlay of Headline CPI and Core CPI (the latter excludes Food and Energy) since 1957. The second chart gives a close-up of the two since 2000.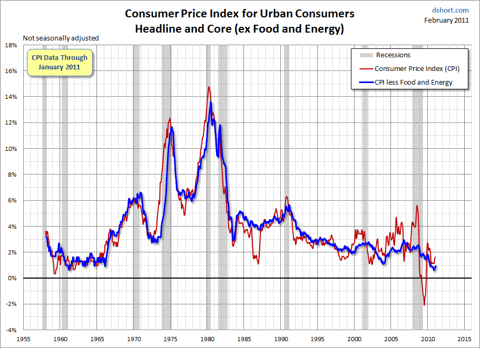 (Click to enlarge charts)
On this chart, I've highlighted the 1.75% - 2% range, which is generally thought to be the Fed's target for core inflation, which is well below the range and trending, on an unadjusted basis, downward.
The modest increase in both headline and core inflation will no doubt intensify the inflation debate. Federal Reserve policy, which focuses on core measures of the CPI and especially the Personal Consumption Expenditures (PCE), will likely see the low core numbers as continued justification for quantitative easing and zero interest rates. Households that are sensitive to the price of gasoline, the major of the headline increase, will see the situation quite differently.
The question remains: Will core inflation continue to remain this low in the wake of increases in fuel and other commodities costs?