Investors are continuing to learn that bonds aren't always the best way to generate income. Any number of alternatives that I have been discussing since this summer have proven themselves capable of providing similar income but better capital preservation. In an environment of perceived inflationary risk, we can probably expect the alternatives, like Utilities, REITs, MLPs and even conservative dividend-payers, to be friendlier than Treasuries or even high-grade Corporates.

Earlier this week, I shared a list of high-yielding Utilities, and today I want to follow up with some REITs to consider. Before I get into the details of the names that make the cut, I want to review the 9 that I wrote about in November. Here is how they have performed (click to enlarge):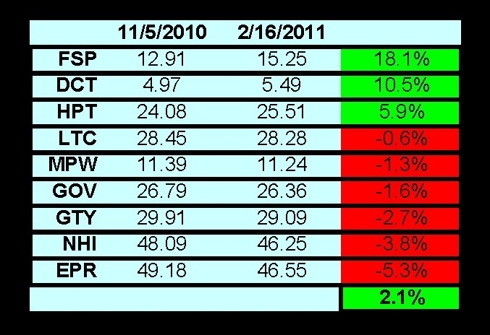 The results are somewhat mixed, with the average increasing slightly (like REITS in general), but more declining than rising. Of course, bonds have performed a lot worse than the group - rising rates have certainly been somewhat of a headwind.

The exercise proved to be fruitful for me. Franklin Street Properties (NYSEMKT:FSP) caught my attention - a big shout-out to the emailer who helped bring me up to speed.

In any event, I wanted to run essentially the same screen, but I tweaked it slightly. Last time, I limited the number of analysts so that the list would have only names that weren't widely followed. This time, I removed that restriction, but I also put in a requirement that the dividend today can't be lower than the dividend five years ago (Government Properties (NYSE:GOV), which is relatively new, got a free pass since it wasn't paying dividends five years ago).

Here are the parameters:
Dividend Yield > 5%
Market Cap > $500mm
Net Debt to Capital < 50%
Leverage (Assets/Equity) < 2X
5-year Dividend Growth > 0
Here are the 10 that made the cut (click to enlarge):





The stocks are ranked on yield. As a group, they haven't budged so far in 2011. Most of the stocks are not widely followed, but a few have 10 or more analysts.

Healthcare names dominate the list - 6 names in all. The group got hit pretty hard in December but has been recovering nicely. I remain very impressed with National Health Investors (NYSE:NHI), which has seen its dividend grow dramatically to an all-time high.
One name that has gotten a bit more interesting is Getty (NYSE:GTY). Since I last wrote, they issued a large equity offering, which hurt the price, but they also reduced their reliance upon Lukoil (OTCPK:LUKOY)

REITs seem to have been consolidating over the past year as rising rates have halted what had been a sharp advance from 2009 into the the first part of 2010. While the best REITs might not be on this list, these seem to offer very generous yields relative to the leverage of their balance sheet. The fact that their dividends, though perhaps down from 3 years ago, are all at least flat from 5 years ago, with a few at all-time highs.

Let me know what you think!

Disclosure: I have no positions in any stocks mentioned, and no plans to initiate any positions within the next 72 hours.