The USDA is predicting farm incomes will rise 20% this year. And, that's great news for agricultural machinery maker AGCO Corporation (NYSE:AGCO).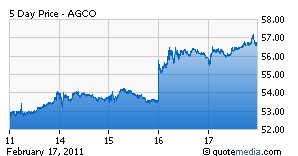 AGCO, with $2.1 billion in sales last quarter, makes a lot of the machinery farmers need, including tractors and combines. As farming profits rise, additional machinery will be purchased for planting and harvesting. Evidence of the opportunity for industry players like AGCO came this week from Deere & Company (NYSE:DE). Deere estimates its agricultural machinery sales will increase 18%-20% this year.
What's behind the rush to invest in new farm equipment? Grain prices have moved up substantially from last summer. The grains ETF (NYSEARCA:MOO) has returned 52% from its June 2010 low. And, higher grain prices mean bigger profits for farmers. Especially, if farmers can plant more seeds and harvest more crops.
How much more money are we talking about? The USDA estimates farm income will be up 19.8% this year. At $94.7 billion in estimated net farm income, that means an additional $15.7 billion lining our farmers pockets. How much money is this comparatively? It's $26.8 billion dollars more than the average from 2000 through 2010. And, it's the second highest, after adjusting for inflation, over the past thirty five years.
We're already seeing farmers pick up the pace of investment. Improving sales and leaner costs helped AGCO beat analyst expectations in each of the past four quarters.
Sales strength continued in January. According to the Association of Equipment Manufacturers, Industry wide combine sales were 53.6% higher in January year-over-year while total farm tractor unit sales rose 4.3% versus January 2010. And, in December combine and tractor sales rose 12.5% and 8.2% from 2009, respectively. As a result, analysts have boosted their expectations for AGCO's 2012 earnings to $3.81 per share from $3.58 only 30 days ago.
And grain prices don't seem to be going significantly lower anytime soon. In the most recent USDA ending stocks forecast for 2011, the USDA cut 70 million bushels of corn from its estimate. This brings the ending corn stocks to an estimated 675 million bushels, well below the 736 million bushels analysts expected.
Why are grain stockpiles falling to mid 90's levels? The primary driver behind corn is growth from the ethanol industry. Higher industrial and feed use is also to blame. And, overseas demand is having a big impact too. Our agriculture exports were red hot in 2010. Grain exports to China, which accounted for 15.1% of total domestic agricultural exports, rose to $17.5 billion in 2010; 34% higher than 2009. Worldwide, U.S. soybean export volume rose 5% and corn export volume rose 7% from 2009. Increasing demand here at home and rising volumes shipped overseas keeps inventory tight and grain prices high.
Grain belt bankers are also optimistic about the farm economy and are ready to lend. And, that's good news for machinery sales. The Rural Mainstreet Index, a survey of Midwest bankers, moved up to 59.3 in January, above the 55.4 in December and much higher than the 41 in January 2010 (a reading above 50 is bullish for the next six months). This reading was the highest since midyear 2007. The farm equipment sales index remained lofty at 74.6. Easier financing standards coupled with rising equipment demand is a perfect combination for upside at AGCO.
Farmers also have another powerful incentive to buy AGCO's products this year. The Section 179 tax deduction was expanded to $500,000 and 100% bonus depreciation was introduced for new assets purchased after September 8, 2010 and before January 1, 2012. This means a lot of AGCO equipment bought this year will be fully deductible.
Overall, AGCO shareholders are set to enjoy a nice year. Higher grain prices support additional planted acreage, requiring more equipment. Financing is readily available and favorable changes to the tax code make purchases all the more attractive.
Disclosure: I have no positions in any stocks mentioned, but may initiate a long position in AGCO, DE, MOO over the next 72 hours.