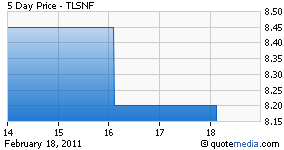 Yoigo, a Spanish cell phone carrier with 2.2 million users, announced plans yesterday to modernize and expand their 3G network. Yoigo intends for the expanded network to provide most towns in Spain with 21 Mbps by the end of 2011. At the same time as the company is expanding their network, TeliaSonera (
OTCPK:TLSNF
) will be working with Swedish firm Ericsson to prepare Yoigo's network for future 4G activity.
TeliaSonera gained majority control of Yoigo in June 2006, when they increased their ownership stake to 76.56%. Since that time, Yoigo has grown aggressively throughout the Spanish market. While the company consistently lost money since its formation in 2000, it reached EBITDA breakeven in the fourth quarter of 2010. TeliaSonera expects Yoigo to be cash flow positive by the end of 2011.
Here are a few quick facts about Yoigo:
Yoigo has 2.2 million customers and represents TeliaSonera's footprint in the Spanish mobile communications market.
Yoigo experienced revenue growth of 63% in 2010.
TeliaSonera expects Yoigo to be cash flow positive by the end of 2011.
Yoigo reached the EBITDA breakeven in 2010.
Yoigo has had impressive growth with its simple and cheap rates (12 euro cents per minute plus 12 euro cents per minute for voice calls and 0.12 euro cents per kibibyte up to € 1.20/day). Yoigo had one million customers in 2009. As the company has 2.2 million today, it is showing evidence that the business plan is working. As the company continues to build out its network, it should be able to continue adding subscribers and thus continuing to increase this cash flow. As the majority owner, TeliaSonera should proportionally benefit from this increasing growth and cash flow.
Disclosure: I have no positions in any stocks mentioned, and no plans to initiate any positions within the next 72 hours.