Nexen Inc. (NXY) reported Q4 net income from continuing operations of 41 cents per share versus 43 cents analyst average estimates, and therefore appeared to disappoint stock traders. We expected a soft quarter in last week's blog, and were buying on weakness.
The stock sold off to $23.29 this morning (down 67 cents), but has since recovered and is currently up 26 cents at $24.22. Our target for the stock is $33 CDN.
Nexen's stock turned sharply higher. Reuters reported a Hong Kong investment banker had suggested Nexen would make a good strategic acquisition for a Chinese oil company wishing to learn more about extracting oil from the Canadian tar sands.
Click to enlarge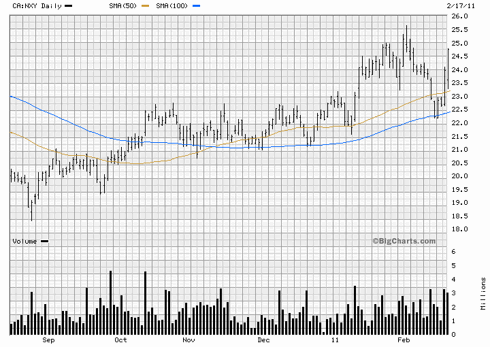 Ironically, Nexen has had a lot of learning trying to tease oil out of its Athabasca area sands using SAGD (Steam Assisted Gravity Drainage), and has been hand-cuffed by refractory reservoir water pockets, limiting bitumen production to 40% of its designed 72,000 Boed capacity.
The Middle East tensions shown on your television or smart phone will raise oil prices in the short-term on the dream/fear of supply disruptions, but experience tells me the "liquid money" called crude oil will flow no matter who gains power.
In fact, I believe the repressive regimes being contested, if overthrown, could lead to cracks in OPEC and longer-term less compliance and control over oil supply, causing a bear market in that commodity.
We argued last week that Middle East tensions will provide an "event" which seems to have occurred with the brutal crackdown of protestors in Bahrain overnight. And photos of tanks in the main square of Al Manama, the capital, boosted WTI oil prices.
In our report we had listed a line-up of protests being organized on Facebook in Algeria, Iran, Yemen, Libya and Morocco. The first wave of protests have already occurred, with bloody protests in Libya held today.
A protest in Morocco is scheduled for Sunday. The protests were squelched easily because the Egyptian revolt had given every despot in the area a heads-up as to the dangers of allowing them to amass. Monarchs and strongmen were ready to beat protestor heads.
The protest in tiny Bahrain came out of nowhere and has become a focal point and wild card for the spread of popular discontent within repressive Arab regimes.
Shi-ite Muslims protesting the government of Bahrain's legitimacy were swarmed early this morning by police who killed four and injured hundreds, a repeat of the deadly Thursday riots in Tahrir Square in Cairo.
Given that Bahrain sits within a short boat ride from Saudi Arabia and is near Iran should have raised Brent oil prices another notch, however, it was WTI that rallied.
March WTI - $86.33, up $1.37

April Brent - $102.85, down 93 cents
Nexen Production In Line But Cash Flow Light
Overall the quarter was in line with our production estimates, and Nexen produced 227,000 boed (barrels of oil equivalent per day) versus 213,000 boed in Q3, in spite of the sale of its conventional Canadian heavy oil properties in Q2.
Q4 Cash Flow before Working Capital Changes was a tad light but the stock is trading off 2011 expectations and net asset value, in my opinion.
We had Q4 CFBWCC estimated at $1.05 per share and it came in at $477 million or 91 cents per share.
Cash flow suffered from escalating General and Admininstration expense caused by increasing stock compensation and put option derivative writedowns.
Note Nexen is completely unhedged on the upside on oil and gas pricing, but bought puts on 2011 oil production at much lower prices, causing them to be now worthless.
Nexen's realized Q4 North Sea oil price seemed low ($83.88 Cdn) versus Suncor ($85.46) and Talisman ($86.75). Talisman was $91.25 Scandinavia.
The reason is the higher sulphur content of Nexen's Buzzard field production, causing it to trade at a $4-6 discount to Brent. The Forties pipeline that transports Nexen Buzzard oil to Scotland has to plan for its high sulphur content, due to the impact it has when blending it with sweeter oil from other fields.
We expect Nexen to provide meaningful oil production growth in 2012, but will depend on high Brent crude prices to deliver much needed cash flow for exploration and development in 2011.
CEO Marvin Romanow, on the earnings conference call, stressed that Yemen could add much needed reserve additions if Nexen could complete negotiations to extend the Masila (Block 14) PSAs which are due to expire at year-end. The market has recently been discounting Nexen's ability to extend the contract for this source of light sweet oil due to the potential impact of the ongoing protests in Yemen.
In my view, it might be ultimately more constructive for Nexen if President Saleh resigned now rather than in 2013, as there is little point finalizing a contract with someone who will be leaving within three years. Masila needs investment to boost production. Better to find out who the "new guy" will be, assuming there is one.
On an Asset Value basis, we have estimated the company is worth roughly $21-$23 billion based on current oil prices. Nexen has six different pots of value, and some of them could be sold to enhance value and liquidity. For example, Nexen's 7.23% interest in Syncrude is worth $2.9 billion at current prices.
Our CFPS valuation says Nexen is worth $30 based on $5.00 CFPS for 2011. The Net Asset Valuation indicates a stock valuation of $30.10-$33.90 Cdn is possible.
Whether the stock gets there within two years depends to a large degree on whether management can restore investor confidence that has been shattered by ongoing problems delivering growth at pet projects such as Long Lake, its oil sands upgrading project and associated bitumen resource.
Nexen needs to deliver on resolving steam generation and bitumen dissolution problems at Long Lake, bringing in a JV partner at its Horn River shale gas play, and delivering expected production at Usan in Nigeria (Romanow says in 2012 but is vague on the timing) where Nexen has an interest in the Shell operated oil field.
Complicating matters in Nigeria is that a federal election is pending for April and the incumbent President Goodluck Jonathan is the front-runner and has publicly stated he wishes to renegotiate contracts with the large off-shore operators.
This could be the usual saber rattling to cut a better deal for corrupt despots getting their share from multi-national oil companies. Or it could be a serious problem in the making. To make things even more dicey, Nigeria has a large and mainly poor, Muslim population.
Disclosure: I am long NXY.
Additional disclosure: The information above is contained in The BCMI report and was disseminated to clients and subscribers anywhere from 12 to 48 hours before appearing in Seeking Alpha.