It is only a matter of time before the market turns its attention to the possible implementation of the Fed's third quantitative easing program or QE3. As far as the markets are concerned, QE2, and the possible onset of QE3, easily remain the most important drivers of asset prices. Any read from the markets that (a) QE2 will be completed, and (b) QE3 is a possibility, could help extend the current bull market. We believe the full implementation of QE2 is a near certainty given stubbornly high unemployment levels in the United States. QE2 and QE3 banter impacts all asset classes from old-school industrials (NYSEARCA:XLI) to rare earth metals (NYSEARCA:REMX).
This morning saw another rate hike in China as they attempt to slow inflationary pressures. This news comes after the gold ETF (NYSEARCA:GLD) closed yesterday near two forms of potential short-term resistance (see chart below). Gold helps us monitor the "inflation-friendly risk appetite", meaning indirectly it helps us understand the health of the inflation trade. Should gold break to the upside in a convincing manner, it would be good for many inflation-friendly assets, such as stocks (NYSEARCA:SPY), agriculture (NYSEARCA:DBA), and grains (NYSEARCA:JJG). From a strategy perspective, we would be more apt to hold, and even add to positions, like [XLE], should gold garner enough interest to move higher. At some point in the future, interest rates are going to spook the markets. The Wall Street Journal reports the rate hike in China may also be accompanied by changes in reserve requirements, above and beyond publicly stated levels:
According to banking sources, the central bank has in recent months ordered some banks to set aside additional reserves above and beyond the official reserve ratio. The PBOC hasn't confirmed any specific reports of higher reserve ratios for individual banks, but has said it is implementing a differentiated reserve ratio policy.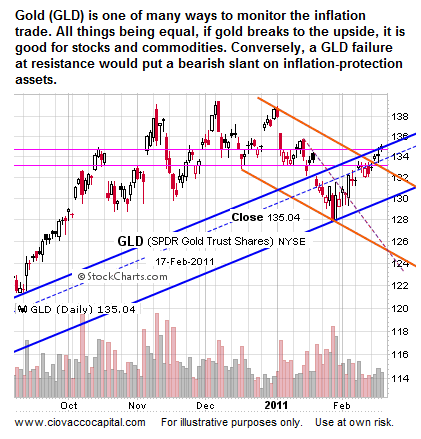 Nothing immediately troublesome appears on the chart of the S&P 500 Index (below). As we outlined in "How High Can Stocks Go?," the S&P 500 had potential resistance between 1,315 and 1,326. The market stalled in the range only momentarily, which is not what we would have expected after such an extended run. A good trading rule is "when the market doesn't do what you think its going to do, you better pay attention." The longer we remain above those levels, the more bullish it is. The table in "How High Can Stocks Go?" also identified 1,364 as an area to watch.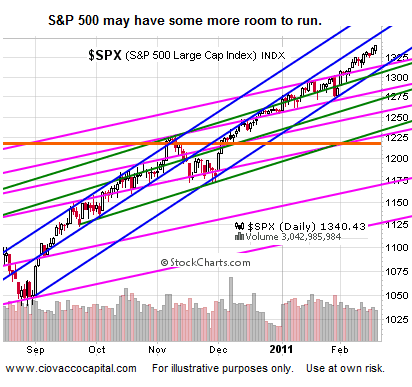 On a housekeeping note, the Bull/Bear ratio as of 2/17/2011 is 2.66, which is concerning, but not all that concerning. Our strategy remains the same – happy to hold our current positions, but we are not in a big rush to add to them.
Disclosure: I am long XLI, GLD, DBA, XLE.
Additional disclosure: Generally, I am long global stocks and commodities.