By Chris McKhann
As shares of Oracle (NASDAQ:ORCL) have pushed to 10-year highs, put buying has registered on our systems today.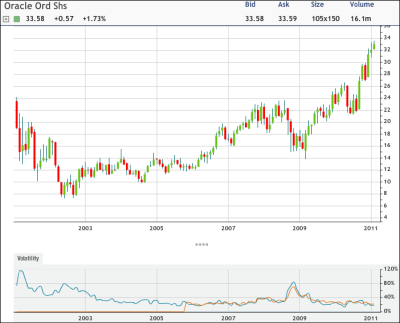 ORCL trades at $33.58 this afternoon, up 1.73 percent. This is the database maker's highest level since 2001 and represents a 50 percent increase in the last seven months.

Leading today's option action are the June 34 puts, where one trader bought 5,000 at the ask price of $2.17. This was more than five times the previous open interest at the strike.

There is a considerable amount of trading in shares of ORCL as the company won a ruling on a whistleblower lawsuit. Some of this could have been done against the puts, but we can't see any direct links. But because the contracts are out in June with the stock is at new highs, I tend to think that they are likely a hedge against an existing long stock position.
(Chart courtesy of tradeMONSTER)