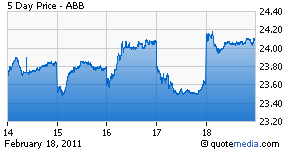 ABB Ltd. (NYSE:ABB) reported fourth-quarter 2010 basic earnings per share of 31 cents compared with 24 cents in the prior-year quarter. The Zacks Consensus Estimate for the quarter was 34 cents.
For 2010, basic earnings per share were $1.12 compared with $1.27 in 2009. The Zacks Consensus Estimate for the year was $1.14.
Total Revenue
Total revenue in the quarter was $9,179 million compared with $8,761 million in the prior-year quarter. Revenue was up 5% year over year and 6% on local currency basis. The company benefited in the quarter from sturdy demand for energy efficient and productivity increasing solutions. Rising investment in the power infrastructure was also a beneficiary for the company.
For 2010, total revenue was $31,589 million compared with $31,795 million in 2009. Revenue inched down 1% and 2% in terms of local currency.
During the quarter, base orders were up 17% year over year, as order level increased in all the divisions benefiting from rising requirements of the industrial clients for energy efficiency. ABB received a number of large power transmission contracts in Europe and the Middle East, leading to a receipt of more than $15 million of large orders, up 21% year over year.
Segment Performance
Power Products revenue in the quarter decreased by 9% year over year (down 11% in local currency) to $10,199 million, due to decreased order rate in the recent quarters. Orders in the quarter were down 11%, driven by a drop in demand for large power transformers and certain types of high-voltage equipments, partially offset by increased demand for medium-voltage products and distribution transformers.
Power Systems revenue in the quarter increased by 9% (10% in local currency) to $2,088 million, aided by sturdy order backlog and contribution from Ventyx acquisition. Orders climbed 41% year over year, benefiting from double-digit growth in all the business regions apart from Asia, as order level declined in India.
Discrete Automation and Motion revenue was $1,657 million, up 13% year over year (14% in local currency), led by strong backlog in shorter-cycle businesses. Order level increased at double digit rate in Europe, the Americas and Asia. Order growth was particularly impressive in China, rising by 40% year over year.
Low Voltage Products revenue was $1,254 million, up 13% year over year (16% in terms of local currency). Order level was up 15%, led by increased demand in businesses in all regions.
Process Automation revenue was $2,101 million, up 2% year over year (4% in local currency), led by stronger product volumes, lifecycle services and benefits from ongoing projects. Orders increased 10%, witnessing double-digit growth rate in Europe and North America.
Margins
Operational EBIT margin for the quarter was 12.3% compared with 12.7% in the prior- year quarter.
With the end of 2010, the company completed its $3 billion cost take-out program. The program concentrated mainly on reducing its cost of sales as well as general and administrative expenses. Total reduction for the quarter amounted to approximately $370 million and for 2010 amounted to approximately $1.5 billion.
Balance Sheet and Cash Flow
At the end of the fourth quarter of 2010, net cash came in at $6.4 billion compared with $5.3 billion at the end of the prior-year quarter. Cash flow from operations was $1.8 billion in the quarter, almost in line with cash flow in the prior-year quarter.
Acquisition
The increasing demand for energy-efficient motors favors the long-term prospects of the company. The acquisition of Baldor Electric Company (BEZ), closed in January 2011, will further enhance the company's scope in high-efficiency motors. The U.S. market for these motors is expected to grow 10% to15% in 2011.
ABB's total expenditure on acquisitions in 2010, amounted to $1.3 billion. The company acquired the U.S.-based software supplier Ventyx during the year, increasing its expertise and global presence in energy management software solutions.
Outlook
The emerging markets have been a significant beneficiary for the company and expected to be a major driver of growth. With an increasing rate of industrialization in these regions, demand for energy efficient solutions like electrical grids, and productivity enhancing means is on rise.
In 2011, the company expects to benefit in the emerging markets as well as in other regions, aiding its customers to construct and improve power infrastructure and enhance industrial efficiency and productivity.
The company intends to continue its cost reduction efforts in 2011 and expects to reduce cost by more than $1 billion during the year.
ABB Ltd.'s power and automation technologies offer a solution for sustainable development, thus helping to shield the world's resources. The company has a number of technologies for the solar power industry and also a growing installed base. ABB Ltd.has witnessed improving signs in late-cycle power, with some recent large contracts.
However, ABB's results are likely to be adversely affected by macroeconomic weakness as more than 80% of the company's orders are derived from outside the U.S. A major competitor of ABB Ltd. is Siemens AG (SI).
ABB Ltd. is a Zurich (Switzerland) based power and automation technology company. The company operates in approximately 100 countries, structuring its global organization into five regions: Europe, Americas, Asia, the Middle East and Africa.
We have a Zacks #2 Rank (short-term Buy recommendation) on ABB Ltd.