This week Econintersect had a major focus on retail sales data, punctuated with the failure of Borders. It is always sad when a company goes into bankruptcy. In the case of Borders (OTC:BGPIQ), I was alerted by BankruptcyData.com:
Borders Group and affiliated Debtors filed for Chapter 11 protection with the U.S. Bankruptcy Court in the Southern District of New York, Manhattan, lead case number 11-10614.

There are many articles floating around on 200+ store closings, and renegotiating agreements – but following many bankruptcy cases over the years, when all is said and done the courts and the creditors will guide the course of events.
The retailing model itself is in a state of flux. Each part of the retail spectrum remains under both growing competition and overhead compression. For retailers, the brick and mortar business remains under attack from e-Retailers (click to enlarge).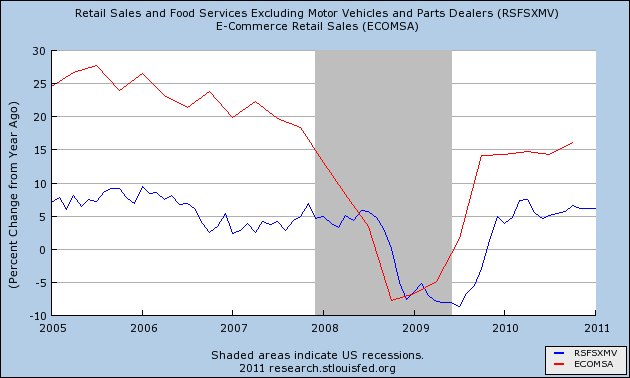 e-Retailers account for 7% of retail sales but 18% of the growth using US Census data. Retailers that sell "pipe-line" products – non-proprietary items – are the most vulnerable to be run over by e-Retailers whose overhead advantage is cheap warehouses and highly automated business models. No need for costly mall locations.
Many will not remember the tales of doom and gloom in the 60′s about the demon strip malls wiping out Main Street with their lower prices and FREE parking. Overall, sales increased – what changed was who made the sale. Books, magazines and newspaper made of paper are dying. Business models using paper media must adapt.
Borders' bankruptcy was not caused by free trade or high wages – they were trapped inside of an outdated model without enough room to maneuver. Hopefully, Borders will be able to escape bankruptcy with an innovative new business plan.
But overall, little was lost to the economy in this bankruptcy. After you get past the 6,000 jobs estimated to be lost by the St. Louis Examiner, everything else will just be diffused into the rest of the economy. Customers in Borders closed locations will simply buy somewhere else. However, there will be another blow to the stomach for mall / CRE owners, not only lost revenue caused by a loss of a major tenant, but also due to pressure from other tenants to renegotiate. The effects will vary zip code to zip code.
There will be haircuts to investors and creditors. No issues of Too Big Too Fail. This is a normal Business 101 event – a corporate cycle from birth to death.
The bankruptcy crisis caused by the Great Recession is moderating. Here is a bankruptcy scorecard (hat tip to BankruptcyData.com) updated through 13 February showing year-to-date stats on the number of public companies filing Chapter 11 or Chapter 7:
| | | | |
| --- | --- | --- | --- |
| Year | Filings 1/1 – 2/13 | Assets* of Filings 1/1 – 2/13 | Total Number of Filings |
| 2000 | 22 | $19,802 | 179 |
| 2001 | 27 | $10,676 | 263 |
| 2002 | 34 | $62,082 | 220 |
| 2003 | 24 | $4,956 | 172 |
| 2004 | 17 | $6,032 | 92 |
| 2005 | 14 | $6,319 | 86 |
| 2006 | 8 | $1,461 | 66 |
| 2007 | 10 | $685 | 78 |
| 2008 | 10 | $8,492 | 138 |
| 2009 | 30 | $60,979 | 210 |
| 2010 | 16 | $11,692 | 106 |
| 2011 | 9 | $1,100 | |
Bankruptcies provide for orderly death or rebirth. I wish Borders and their employees the best.
Economic News this Week:
Econintersect's economic forecast for February 2010 points to a slightly improving economy with all segments of its non-monetary index positive. This week the Weekly Leading Index (WLI) from ECRI improved from a revised upward 4.6% to 4.9%. Although the overall level implies the business conditions six months from now will be approximately the same or slightly better then today. Click to enlarge: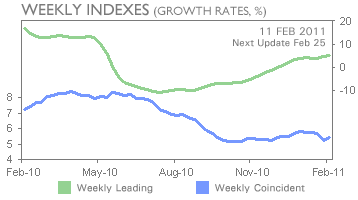 Initial unemployment claims in this week's release rose significantly again following last week's drop. This has been a real data yo-yo, and it remains important to follow the four week moving average for analysis of unemployment to smooth out the reporting idiosyncrasies. Click to enlarge:

The data released this week was positive and consistent with Econintersect's January and February forecasts of slightly improving economic conditions overall. The economy, similar to this period last year at this time – is gaining strength.
Weekly Economic Scorecard:
Bankruptcies this Week: Seahawk Drilling, Borders Group, TerreStar Corporation



Disclosure: I have no positions in any stocks mentioned, and no plans to initiate any positions within the next 72 hours.