Things have heated up on the deal front across a number of industries. One industry that is starting to get increasing attention lately is the offshore drillers. Just in the last couple of weeks, Ensco (NYSE:ESV) announced its intentions to acquire Pride International (NYSE:PDE), while Seahawk Drilling (NASDAQ:HAWK) declared bankruptcy and is selling its assets to competitor Hercules Offshore (NASDAQ:HERO). The rationales for these two transactions are completely different, but they do have one thing in common: They are both important steps towards healthy rationalization of offshore markets that have gone through rough times recently and have been in need of consolidation for many years.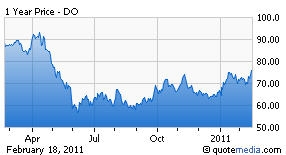 The spate of activity prompted me to look downslope for underperforming offshore driller names that could benefit from an improvement in supply-demand factors across various markets (partially as a result of this recent deal activity), and were also attractive on their own merit for other reasons. The name that screened potentially interesting for a move up is the $10.5 billion market cap Diamond Offshore (NYSE:DO).
Skepticism Could Be Bullish
Admittedly, most long-time energy analysts will tell you that Diamond Offshore is and always has been a name with some 'hair' on it. It should therefore come as little surprise that DO is currently the least-loved offshore drillers by the sell-side community (28 out of 35 Wall Street analysts rate the stock no better than Hold).
However, there is a good deal of visibility in DO's cash flow stream over multiple years, and earnings expectations have come down recently to a level that seem more attainable now. Meanwhile, the company's core midwater market, while still relatively weak, appears to be in the process of bottoming and may be on a path to some improvement by the end of 2011 and entering 2012, especially if oil prices remain near current levels or go higher.
Beyond the potential for fundamental bottoming/improvement, there is also potential for DO to be a takeover target in an already consolidating market given its attractive presence in the Brazilian market, its consistent free cash flow, and strong balance sheet. DO also continues to pay out close to a 5% annual dividend yield, and has recently reiterated its support of its special dividend policy.
A Look at the Fundamentals
The knock on DO is that its fleet is older, and the midwater market is still weak and will need to absorb additional rig capacity in 2011. I heard this same argument being made about Patterson-UTI Energy (NASDAQ:PTEN) in the land drilling market on several occasions in years past, where cash flows where nowhere near as predictable and stable as they are in DO's business today. Usually when the bears get loudest is the best time to be buying the stock. Like PTEN, ultimately DO will benefit from stabilizing and/or increasing market demand and rising energy prices, which can fix a lot of potential ills. The players like DO in upturns actually tend to thrive more because expectations are lowest and yet they earn the highest rates of return on their investment among their peers.
Another issue is the perceived risk of exposure to the Gulf of Mexico, where various issues (like the BP well incident and drilling moratoriums) have occurred over the past year. However, the midwater market worldwide is a much more internationally driven offshore drilling market than perhaps currently perceived, which actually works in DO's favor. European and Brazilian midwater markets alone make up over 50% of the midwater market, and North America has consistently shrunk as a percent of the total over time.
More specifically for DO, about 50% of its gross income comes from the Latin/South America region, while only 9% comes from the Gulf of Mexico and only 3% of gross income is jackup rig-related (a market where industry utilization rates have been very low for some time now, which in large part caused the GOM-centric HAWK to pursue bankruptcy).
DO has, in fact, entered into three new midwater contracts that have been at rates better than some on the Street expected. Customer inquiries are increasing and midwater tendering has been growing in recent months, which historically has preceded demand improvement.
Demand for DO's rigs across markets may already be on the brink of a recovery particularly in South East Asia and West Africa. Meanwhile, through its relationship with Petrobras (NYSE:PBR), DO currently has over 20% of the market share in one of the strongest emerging markets in the world, namely Brazil.
Extracting Value?
Is this an earnings growth story? No, probably not. But I think this thought process potentially misses the interesting value in DO's equity today. Diamond Offshore has stronger visibility of revenues and cash flow through its backlog over the next several years relative to the rest of the offshore driller universe. Also, DO has an underlevered balance sheet (less than 1x debt/EBITDA and an estimated total net debt/capital of < 10%). Despite the fact that DO is investing considerably in upgrading its fleet, there is little reason to think that such fleet investments cannot be paid out of cash flow, or will put a dent in its current generous dividend yield of nearly 5% in the near-term.
In fact, with the firm's current visibility on revenues and cash flow, combined with the lowest absolute and net debt characteristics of any publicly traded offshore driller (post the ESV-PDE deal financing), DO has the makings of a relatively large but potentially attractive leveraged buyout (LBO) candidate. What makes this possibility more interesting is that holding company Loews (NYSE:L) already owns over 50% of DO stock, and it has the debt capacity to lever up and own more if it wanted to do so. Alternatively, another strategic buyer of DO could obtain a majority stake through directly dealing with Loews alone, which may be more attractive than pursuing another target with a more fragmented shareholder base.
At the end of the day, DO is likely to earn sustainable high-teens returns on equity for years rather than months, and these returns could be much higher if their balance sheet was more leveraged than it is currently. Traditional valuation multiples for DO are still cheaper than the offshore drilling group that has outperformed recently on the heels of deal activity. As such, DO looks like an attractive investment in an environment where fundamentals are in a bottoming process, oil prices have recently moved much higher and support continued fundamental demand improvement, M&A deals are getting done once again, and financing is available more cheaply and easily than perhaps ever before. And if all else fails, you still get paid to wait with their ongoing special dividend.
On its own merit, DO could get to a high-$80s stock price within the next 6-12 months. An LBO attempt could easily raise this value well north of $100/share.
Disclosure: I am long DO