Lowe's (NYSE:LOW) is a Fortune 50 company and the world's second largest home improvement retailer. It operates more than 1,700 stores with the majority in the US and a few outlets in Canada.
Lowe's products are focused on homeowners, renters and Commercial Business Customers. A complete line of products for home decorating, maintenance, repair, remodeling, and property maintenance is offered through its stores and Lowes.com. Home improvement products are offered in the following categories: appliances, paint, lumber, flooring, building materials, millwork, lawn & landscape products, hardware, fashion plumbing, tools, lighting, seasonal living, rough plumbing, nursery, outdoor power equipment, cabinets & countertops, rough electrical, home environment, home organization, and windows & walls.
Lowe's financial results are strongly linked to the housing market and overall economy. The company writes the following in its third quarter filing:
Customers remained cautious and continued to rationalize the scope of their projects, or in many cases delayed projects until they have better clarity about their personal financial situations, the value of their homes, and the overall macroeconomic outlook. As we have seen over the past several quarters, consumers were not yet willing to consistently take on larger discretionary home improvement projects. In our third quarter consumer survey, homeowners indicated that half of the home improvement projects they have planned in the next six months are discretionary in nature. However, the majority of that discretionary spend is expected to be on smaller projects.
The economic recovery is expected to continue for the coming months. Recent predictions put the US economy growth for this and next year around 3.5-4%. With the improving economic conditions it is a matter of time before housing will turn the corner. Let's take a look at Lowe's, its current valuation and an outlook for its valuation if the housing market turns.
Lowe's revenue has recovered well in the last 2 years. The TTM revenue is at the highest in the company's history. Financial ratio's like operating income, ROE and ROIC are still below their average of the last 10 years. Graph 1 gives an overview of this trend (click to enlarge).
Although revenue is at an all-time high, net income and EPS are still 30 to 40% below the 2007 results. The trend of the major cost components as a percentage of revenue over the last 10 years will be used to analyze this further. Graph 2 clearly indicates that cost of revenue has gone down and the decrease in operating margin correlates with the increase in SG&A cost. This is a major driver for Lowe's lower profitability, impacting net income and EPS
.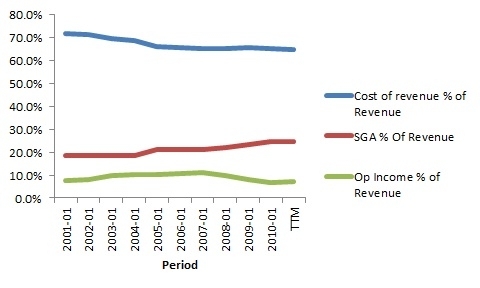 Let's look at Lowe's earnings power value using its current level of profitability to get an estimate of intrinsic value. First earnings need to be adjusted to represent the cash investors can extract and still leave the company functioning. Secondly we need to determine a discount rate. Lastly we'll estimate the future growth of the company.
The following adjustment will be done on the TTM financials:
EBIT margin of 7%

SG&A, Depreciation adjustment

Tax rate of 38% (median of the last 10 years)

Discount rate of 12%
To estimate future growth we'll take a conservative growth percentage of 5%, cost of capital of 9% and a ROIC of 13%. This gives an intrinsic value of $30 per share. The current stock price of around $26 gives a 13% discount versus the intrinsic value.
From 2003 to 2007 the EBIT margin has been around 10%. What if with the improving economy Lowe's would be able to get back to these profit levels? What would be the impact on the intrinsic value? The same adjustments will be done to the TTM financials, only this time an EBIT percentage of 10% will be used. This gives an intrinsic value of $36 per share (a 26% discount versus the current stock price).
I currently have no position in Lowe's and would want to see a further improvement in margins with at least a 25% discount to intrinsic value before I would consider making an investment.
Disclosure:
I have no positions in any stocks mentioned, and no plans to initiate any positions within the next 72 hours.