In mid August, BHP (NYSE:BHP) made an ill-fated run at Potash Corp. (NYSE:POT).
Since then the entire fertilizer industry has been on a tear. Though valuations for some of the bigger firms may have bulged, their market prices have remained unrepentant. Talk of mergers, upped revenue outlooks, and dire crop forecasts have encouraged speculators to keep to a full gallop.
Mosaic (NYSE:MOS), one of the larger producers of concentrated phosphate and potash, has enjoyed the bid-up, and basked in the "glow of association" as a possible takeover target since October. Last Friday the stock reached $89.10, a two year high.
Not that the company has just been carried along for the ride. Mosaic has had its shoulder to the wheel. It has been doing brisk business and posting great numbers.
MOSAIC

(quarterly)

11/30/2009

02/28/2010

05/28/2010

8/31/2010

11/30/2010

Revenue ($M)

1,709.

1,732.

1,860.

2,188.

2,675.

Revenue Growth (yoy)

56.5%

Gross Margin ($M)

307.

578.

800.

609.

874.

Gross Margin %

27.8%

32.74%

Net Income ($M)

107.8

435.

831.5

298.9

1,325.7

Income Growth (yoy)

89.5%

EPS

0.24

0.5

.88

0.67

2.3
Recent revenue and earnings growth for the company have been stunning. Last quarter (4Q10) chalked up revenue growth of 56% year over year. Gross margins have been widening nicely and net income growth was up a scorching 89% from November 2009.
Investments in plant and equipment that were made a few quarters back are now paying off just as its product line is seeing vigorous world-wide demand. EPS for the last quarter was 2.3, up from .67 the prior quarter – a big dollop of profit for a job well done.
| | | | | |
| --- | --- | --- | --- | --- |
| | MOS | CF | POT | AGU |
| P/E (trailing) | 20.33 | 47.6 | 36.6 | 21.6 |
| Market Cap (billions) | 39.36 | 11 | 54 | 15 |
| Beta | 1.24 | .96 | 1.09 | 1.48 |
| EV/EBITDA | 23.18 | 11.85 | 54.62 | 11.93 |
| PEG (5yr exp) | 2.62 | 2.47 | 3.99 | 0.90 |
| P/S (ttm) | 4.7 | 3.34 | 9.59 | 1.5 |
| P/B | 3.74 | 2.77 | 7.25 | 3.02 |
| P/Cash Flow | 18.8 | 20.7 | 28.8 | 17.1 |
| P/Free Cash Flow | 108.3 | -3.9 | 88.2 | 29.3 |
| TTM FCF Margin | 12.1% | 1% | 14.9% | 5.0% |
| Profitability | | | | |
| ROA % (Net) | 13.7% | 2.3% | 10.8% | 7.8% |
| ROI (Operating) | 17.60% | 3.3% | 14% | 8.7% |
| ROE % (Net) | 19.00% | 5.2% | 20% | 11.4% |
| | | | | |
| Financial Strength | | | | |
| Quick Ratio | 2.5 | 1.2 | .6 | 1.5 |
| Current Ratio | 3.12 | 1.7 | .9 | 2.4 |
| LT Debt to Equity | .08 | .37 | .26 | .24 |
| Total Debt to Equity | .13 | .58 | .48 | .32 |
Comparing last quarter's numbers to a few of its competitors (CF, POT and AGU), Mosaic shows an impressive combination of profitability and financial strength. Long term debt to equity is so low that you'd think Mosaic was a tech company.
Life After Cargill
On January 19, Cargill announced that it would be divesting its entire 64% share of the fertilizer giant. Since then the market has expressed a myriad of opinions on the deal.
Some analysts quickly suggested that it opened the door for a purchase by BHP or Vale (NYSE:VALE), both eager to add a new cylinder of growth to their engine of distinct mining divisions. Others pointed out that the public spin-off actually means that the big miners have passed on the company. Cargill shopped it and there were no takers.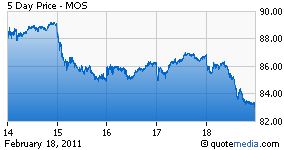 Ultimately, both these opinions suffer from being too Mosaic-focused. I believe Cargill's tax liability perspective offers the more meaningful answer.
Cargill has been seeking liquidity since the founder's granddaughter had died in 2006. The private firm wanted some cash and a spin-off of Mosaic was the obvious route due to its minimal tax bite.
Assuming Cargill had Mosaic on its books at a fairly low cost basis, Cargill would have been hit with a whopping cap-gains tax if it had sold Mosaic for cash. And if it then shifted the proceeds to Cargill as a dividend, they would have been taxed on the dividend. Cargill's selling of Mosaic would have triggered some serious double taxation.
Spin-offs like that of Mosaic, by contrast, are tax-free to the parent corporation. This was the same logic that drove Sara Lee to spin off one of its two core operations to shareholders rather than sell it to a Private Equity firm. There were plenty of potential buyers, but the tax bill would have been enormous.
Long-term, the spin-off will expand the free-float, reduce price volatility, and may help Mosaic enter the S&P 500. Reuters has reported that Mosaic is shopping some of this stock to sovereign wealth funds. This strikes me as interesting as it could forge new food security-related supply alliances. SWF affiliation can grease market share in certain parts of the world. The new phosphorus supplies of the Middle East may also tie into this logic.
Drivers: "Beef --It's What's for Dinner"
So what's next? From a demand perspective, Mosaic and the industry still appear attractive.
In 2010 fertilizer costs amounted to 15% of total farm revenue in the US, well below the 20% -25% that it hovered at from 2005 to 2009. That suggests that today's fertilizer prices are not crimping US farmers, who are likely to see a very strong 2011.
At the same time, dwindling potash inventories --now 24% below five year averages --suggest prices will stay above $400 per ton for the near term international contracts.
Global corn stockpiles have been eroded recently due to persistent demand, and the USDA suggests another 8 to 10 million acres will have to be planted to get back to the historic stockpile average. It estimates extra 3.8 million acres will be planted in 2011, another positive for potash and phosphates.
Besides local ethanol use increases, US farmers are selling into the emerging markets. With their bulging demographic growth and new found disposable income chalking up greater demands for meat and food more generally, acreage under production must expand. Most recently, food inflation scares worldwide have national governments buying up grain and subsidizing fertilizer at a far faster clip.
This is well known. Less known is what drought and ongoing desertification in its Northern provinces really means for China. Historically, the once autarchic PRC stayed away from the international grain markets. It dipped in only on the rare occasions when domestic production was crimped.
This may change. According to a fascinating piece in the Financial Times, the US Grain Council suggested that Chinese imports could hit 9m tons in 2011-12, a far cry from 1.3m in 2010-11. The piece quoted David C. Nelson from Rabobank on a possible new paradigm shift: "We note that China could become a net importer of 25m tonnes of corn as early as 2015.
Will Beijing keep to its traditional food security regime, or will its modernization make that policy untenable? A desert the size of Rhode Island is being created in China every year, and its northern breadbasket is a textbook example of water misuse and depletion, according to the New York Times. Add in the vicissitudes of weather and things get very tough. Last week's snow in the wheat province of Shandong was preceded by three months without a drop of rain.
If the CCP abandons food independence, it would only be to stave off a more dangerous threat –i.e. water scarcity. And Beijing may have no choice in this regard. China's agricultural demands may be on the cusp of a structural transformation. Its animal protein industry has grown so quickly due to urban affluence that the vast pyramid of feed grain below it now staggers with a new order of magnitude.
This kind of X-factor would seriously bulk up demand for the fertilizer industry in a long-term. In the 1870s, a sudden new supply of grain came online from the newly planted American Midwest. It would steadily deflate world prices for a generation. The process was part of the "Long Depression of 1873-1896" and it pushed many farmers in Europe off the land and into boats bound for New York.
Today, a reverse process --a "Long Inflation"-- may be at work. The sudden new demand of Asia's urban classes may pinch at traditional grain supplies for a decade, at least until enough new acreage is created or a new threshold of water sustainability is achieved in mission-critical planting regions. As Asia typically adds another 35 million mouths to feed each year, this will be a moving target.
Pressures:
So, the long-term drivers appear to be intact and the company just had a phenomenal quarter. But trees don't grow to the sky and markets quickly get ahead of themselves.
The question now is whether –near-term-- all the good news has been baked in. Is Mosiac peaking in the short-term? Does it climb until June, following the pattern exhibited back in 2008? When does ripe become over-ripe?
Let's assess a few possible pressures on the stock price:
First, food prices are already crushing Asia's urban poor. Though the food spike in the short term is obviously enhancing profitability for fertilizer companies and farmers, it may be killing the host.
Wai Ho Leong, Barclays economist in Singapore, recently suggested that food prices may be cooling in Asia, with one-off weather factors now behind us. Hopefully this is the case. If, however, North Africa-type food riots do spread east to Delhi, Manila, or Jakarta, it could send investors to the exits. This would punish Asian equities and push benchmarks like the EEM down for the year. A few macro players like George Soros have already started shorting the emerging markets, so the sector is vulnerable.
An Asian downturn would ultimately pressure ag-related companies, particularly if it hits during a specific time-frame. The planting season cyclicality of the fertilizer sector often has speculators leaving in late spring.
Second, the "takeover premium" has left the building. Mosaic's potential suitors have now become deep-pocketed competitors. BHP declared that it would not be seeking a big takeover target and would spend $80 billion on expansion plans. Speaking at the conference, BHP CEO Marius Kloppers declared: "As one looks at a buy versus build equation, the clear opportunity for us is to continue to invest money in our organic portfolio."
Likewise, Vale –which had already purchased Mosaic's Brazilian properties last year -- also declared it was not in talks with Mosaic.
MOS will not be bought by a mega-miner. It will be competing with them as both build fertilizer divisions. Back in January 2010, BHP quietly picked up Athabasca Potash, a smaller potash player that abutted its own Canadian properties. Kloppers specifically cited the acquisition as the model for its near-term M&A. Expect Vale and BHP to nibble and grow their profile in the space, expanding its availability and eventually lowering prices.
Third, new phosphate capacity is expected to come online soon. Located in the Middle East and North Africa, this new capacity could have an adverse impact on phosphate prices if inflation crashes demand in a few of the hotter emerging markets at the same time. Mike Ashton of Insight Capital Research and Management made this point in his discussion of CF. Like CF, Mosaic is heavily weighted to the phosphate fertilizer market.
Fourth, in the very near-term, the Cargill spin-off may pressure top Mosaic executives and other insiders to sell before the process initiates in March, and when they are legally shut out of the option. For a stock so bid up at the moment, the desire to take some money of the table is understandable. Earnings expectations are now super high and comparisons to the last quarter will not be easy.
This executive money composes less than 1% of the total float, but it could have a cascade effect. Fertilizer stocks were among the largest holdings last quarter for HFs as diverse as Greenlight, Rennaissance, Perry, and Farollin Capital. They've had a decent run.
Fifth and finally, Jim Cramer pounded the table on Potash Corp Tuesday night, stating that the Mosaic competitor was going to $200. I take this as a contrarian indicator as it suggests that the industry is now front and center to the lay public.
Mad Money is the "last station" in our Attention Economy. As CNBC's most joyful procurer of souls, Jim Cramer is our resident shaman. He attends to the most dramatic fireworks and keeps the network's ever sparkling Catherine Wheel turning.
Long term positives aside, the news on fertilizer is ripe.
Disclosure: I am long BHP.