From early times, metals were divided into two groups, base metals and noble metals. The rare precious metals such as gold and silver are known as the noble metals. The base metals, base as in common or low born, are the inexpensive ones. The term as used in mining and investing includes aluminum, copper, lead, nickel, tin and zinc.
On February 3, 2011 Seeking Alpha published an article on aluminum, Could Excess Supply Foil Aluminum Prices in 2011? - Seeking Alpha by Bridget Freas. On February 7, 2011 Seeking Alpha published the first of three articles on copper All That Glitters Is Not Gold: Demand, Supply and the Price of Copper (Part I) which I wrote. Parts II and III followed shortly.
This article will on comment briefly on the prices of copper and aluminum and its producers, and will then look at the other base metals: Lead, nickel, tin and zinc.
click to enlarge images

Data LME
It was the goal of alchemists of medieval times to turn base metals into the noble metals, silver and gold, by a method called transmutation. They were not successful and were called frauds and thieves by the populace and heretics by the church.
Today, however, there is an acceptable way of turning copper and nickel, lead and tin into "gold". One can profit by investing in the stocks of miners and producers of these metals, in ETFs and / or by trading futures on the metal exchanges. The above shows the mid-February price of each of these metals and the number of futures contracts traded the previous month, January 2011, on the London Metal Exchange.
Several factors affect the price of these commodities. These include scarcity; supply and demand; anticipated or active supply disruptions such as labor strikes, bad weather or political unrest; inventory levels; storage available; usage rates and speculation. Increased industrial production in China and other emerging markets, has been the growing driver of the prices of base metals since the year 2000.
Copper
Copper has been recently called the new gold, as increased importation by China continues to push the price to record levels in an environment of tight supply. The 3 month contract closed at a record of $10,160 a ton on February 14, 2011.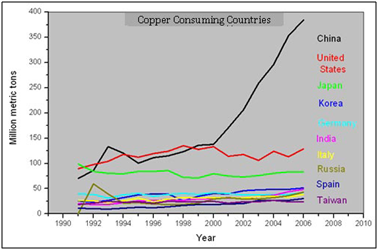 Investing in Copper
The current cost of production is much less than the market price by a ratio of 3 or 4 to 1; copper miners' fortunes are rising. These include the US based and NYSE listed companies Freeport- McMoRan Copper and Gold (NYSE:FCX) and Southern Copper Company (NYSE:SCCO); the diversified international miners whose ADR's are traded on the NYSE, BHP Billiton (NYSE:BHP) and Rio Tinto (NYSE:RIO); and two other producers traded on the London stock exchange, Xstrata (XTA.L) and Anglo American (AAL.L).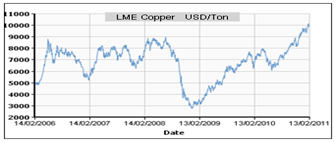 ETFs and ETNs are another way to take a position in copper. Global X Copper Miners ETF (COPX) is an index fund formed in April of 2010. The investment seeks to provide investment results that correspond generally to the price and yield performance, before fees and expenses, of the Solactive Global Copper Miners index. The fund invests at least 80% of assets in securities and depositary receipts that comprise the index. The First Trust ISE Global Copper Index Fund (CU) is another non-diversified Index Fund. It was formed about the same time as the above and has performed similarly. iPath Dow Jones Copper Index ETN (JJC) is based on Dow Jones-UBS Copper Total Return Sub-index. PowerShares DB Base Metals ETF (DBB) tracks an index which is based on aluminum, copper and zinc. Futures and Options are a higher risk way of speculating on the future price of copper. However, where there is more risk there is the potential for more reward. Like any Futures trading, many people take losses but a few make considerable gains.
Aluminum
Aluminum, on the other hand, currently has a surplus of supply with ample stocks in storage. Accordingly its price has not risen like copper. Reuters recently reported that in an interview, Chief Executive Klaus Kleinfeld of aluminum producer Alcoa Inc. (NYSE:AA) said, "We're seeing big time replacement going on," citing the use of the lighter and cheaper aluminum--instead of copper--in overland power lines in countries such as China. He said it is "very likely" that China's lack of energy, which led to a drop in domestic aluminum production, could see its demand for the metal rise and cause prices to "skyrocket".
Aluminum, whose use exceeds that of any other metal except iron, ended at $2,514 a tonne on February 14, 2011. Excess stocks should diminish throughout 2011 and 2012 allowing for higher prices.

Investing in Aluminum
Large producers of aluminum are Alcoa Inc. (AA), Aluminum Corp Of China Ltd (NYSE:ACH), BHP Billiton (BHP) and Rio Tinto (RIO) the owner of Alcan, which are listed on the NYSE; Ord River Resources Limited [ASX:ORD] and Pt Aneka Tambang [ASX:ATM] are listed on the Australian exchange. As the accompanying table shows, large firms also include several based in India and Russia. Aluminum futures are traded on several exchanges including the LSE.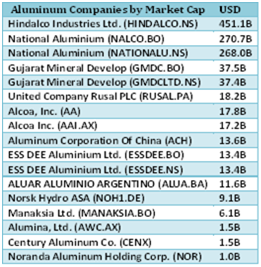 Tin
Tin is a different story. It reached a peak price in the spring of 2008 before reaching a low at about the same time as the other metals at year end 2008. Tin, though, passed its former high and rose nearly 140% from its low and closed at a record price of $32,450 on February 14, 2011. In that respect it closely followed the price surge of copper, also setting record highs, rather than the much lesser gains of the other base metals.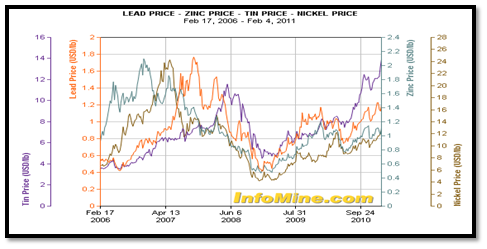 As civilization began and humankind evolved from the Stone Age, it was the addition of tin to copper to make the alloy bronze which enabled the making of strong tools and weapons. While the first incidences may have been an accidental melting together of the two ores, which are sometimes found together, tin soon became a sought after mineral for this purpose and the Bronze Age began. Today, tin is still used to make bronze and other alloys. It is resistant to corrosion and has long been used in coating the steel of tin, or rather tinned, cans. Its widest use today is for electronic soldering where it is combined with lead and then melted onto wires and contacts.
In 2010 the stockpiles of tin fell 50% in LME (London Metal Exchange) warehouses as typhoon rains in Indonesia, which produces 1/3 of the world supply, slowed mining efforts. Indonesia produced only about 90% of its forecast tin production and the price of the metal soared 56%.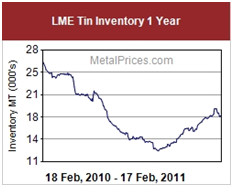 However, there is more than the weather involved in the tightness of tin supplies. Some of the richest mines have depleted the best deposits and only a lower grade ore is available. Political problems and new environmental constraints further diminish the amount produced. At the same time that supplies were tightening the demand was increasing 50% from the year before and the price doubled. Much of this demand was to supply the economic rebound of the Asian electronics sector.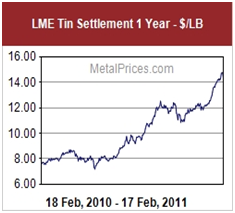 After ending the year at $26,500 the price of tin rose to $32,450 in the first six weeks of 2011. There is very definitely a finite supply of the metal and according to some geologiststhe world supply will be gone in 20 to 40 years. There has been some mention in the trade magazines of "rationing of tin". However, that won't be rationing as administered by any government or agency. It will rather be rationing by price and as the price rises to unheard of levels demand will eventually decrease to where it meets available supply. New highs in both tin and copper may be expected as the year continues.
Investing in Tin
A good resource for those interested in investing in tin is Tin Investing News. As you can see from the accompanying table, most of the tin mining firms are neither household names, nor are they listed on the NYSE.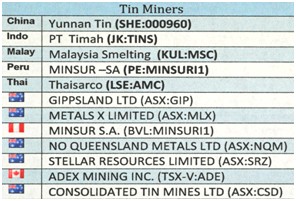 ETF Securities' tin ETP is backed by physical metal stockpiled in London Metal Exchange (LME) warehouses. Tin trades under the symbol PHSN. Investors can trade these ETPs as shares—meaning they have daily liquidity—which can be an attractive option compared to investing in commodity-index products or mutual funds which frequently rely on futures. These are listed in London.
ETF Securities' Leveraged Tin ETF [LTIM-LSE] is designed to change daily by 200% the daily percentage change in the DJ-UBS Tin Sub-Index SM. For US Investors it appears that the simplest way to take a position in tin is Barclay's iPath Dow Jones-UBS Tin Subindex Total Return ETN (NYSE: JJT). It reflects the potential returns on tin futures contracts. Futures and Futures Options are traded on the LME.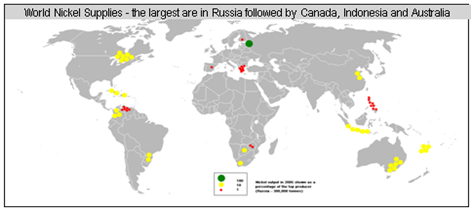 Nickel
Nickel is very unevenly distributed around the world. Russia has 40% of the world reserves and most of that is located at a single site at the Norlisk-Talnakh nickel deposits in Siberia. The Russian mining company MMC Norilsk Nickel mines and smelts nickel there. In Canada, the Sudbury Basin deposit is theorized to have been created by a meteorite impact event over a billion years ago. Other major deposits of nickel are found in New Caledonia, France, Australia, Cuba, and Indonesia. The last operating mine in the United States was in Oregon and it closed in 1986.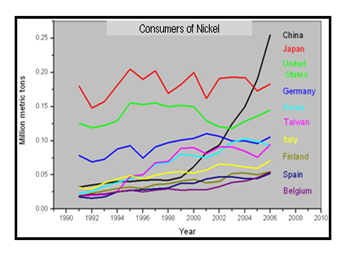 50% of the world supply comes from Russia, Australia and Canada (above). While China, Japan, the US and Germany account for 50% of the consumption of the metal (below).The rate of increase in China's use of all base metals follows closely the curve of its increasing consumption of nickel.
Two thirds of global production of nickel is used to make stainless steel. Nickel is highly corrosion resistant and it imparts that characteristic to its alloys. It is also used for coins, rechargeable batteries (NiCad), foundry products and plating.
Investing in Nickel
The companies most involved in nickel mining and refining are: Norilsk (OTCPK:NILSY) , Vale (NYSE:VALE), BHP Billiton (BHP), Xstrata [XTA.L], and Eramet (ERMAF.PK). Of these companies Norilsk is the closest to a pure play in nickel with the mineral constituting 50% of their production and 22% of the world supply. It is also a leading producer of palladium. Eramet's primary product is nickel and it is the world's second largest producer of manganese. Both of these companies are in part owned by the countries where they are based; Norilsk in Russia and Eramet in France. Nickel futures are traded on the LME.
Lead
Lead, the material from which most car batteries are made, was at $2,640 in early February of 2011. Metallic lead does occur in nature, but it is rare.

Lead is usually found in ore with zinc, silver and copper, and is extracted together with these metals.
The SPDR S&P Metals & Mining EFT (NYSEARCA:XME) is one way to invest in the base metals copper, zinc and lead.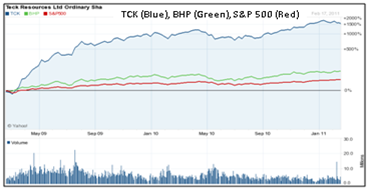 Another way is through the giant miners Rio Tinto (RIO), Anglo American (AAL.L) and BHP Billiton (BHP) a $260B company. Teck Resources (TCK) is a $32B Market Cap Vancouver based miner. As you can see from the graph TCK (blue) has done very well for the past two years compared to BHP (green) and the S&P 500 (red). Smaller players which also mine some lead and zinc incidental to their precious metal endeavors are: BWLRF.PK, PAAS, and MMG.
Zinc
More consumption of this metal is used for rust proofing iron and steel through the galvanizing process than for any other purpose. Zinc is the fourth most common metal in use, trailing only iron, aluminum, and copper with an annual production of about 10 million tonnes. The world's largest zinc producer is Nyrstar (NYR). Zinc futures are traded on the LME and it recently closed at $2,541 a tonne.
Whatever your risk level, given the growing scarcity of natural resources there is a way for you to profit in the base metals: copper, aluminum, tin, nickel, lead and zinc.

Disclaimer: No recommendation is made or intended by the above and you should proceed prudently with due diligence before any purchase of securities.
Disclosure: I am long SCCO.