Autodesk, Inc. (NASDAQ:ADSK) has been a strong performer over the past year, trading up from its June 2010 low of $24 to recently reach a new high at around $44. For me, these shares are now at over-bought conditions, and perhaps now is not the time to get greedy. I agree that it is hard to argue with a share price that seems like it can only keep going up, but I believe that these shares should be sold while investors hold cash for some time.
Autodesk is set to release earnings next week. The consensus estimate is about 27 cents per share for the quarter. Remember, ADSK often beats these estimates. It is noteworthy that annual estimates appear to be slowing. Perhaps it is time to take profits and take another look later.
Valuation Analytics Table
Stock and Symbol

Approx. Current Price

My Target Price % Above (+) / Below (-) Current Price – Valuation is "Tweaked."

One Year Projections are from the next - - Bullish Inflection Point.

PEG

P/E

Forward P/E

Valuation Divergence (%)

One - Year Projected from a Mean – Sigma and from the next - - Bullish Inflection Point.

Autodesk, Inc. (ADSK)

43.4
10% to 20+%
2.18
50.6
26.6
90%
Comments: Obviously, this is a "very good to excellent" valuation and a rather modest target price projection. When you do further fundamental analysis, it does not improve at all. Add to that the technical and consensus analysis and you have a conformation that ADSK is and will likely remain a company that should be on your sell list.
I suggest that if there is any miss or poor (inaccurate) guidance going forward, or a market correction, ADSK shares could experience a substantial loss from current levels. ADSK executives and large shareholders are actually buying shares at this time.
Overall, ADSK has very good management and is a quality company, but the above valuation table is offering a notable warning (click to enlarge image):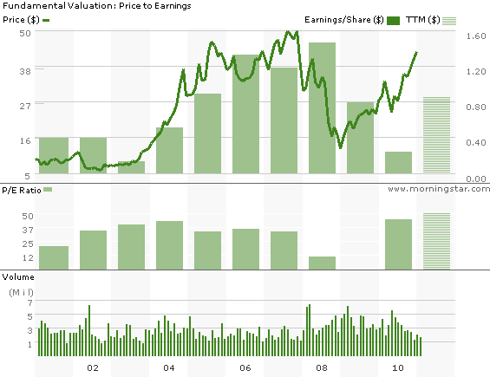 For a current (up to the minute) chart of ADSK, click here and scroll down.
In summary, ADSK is a fine company. However, the current risk / reward ratio is quite unfavorable
The general market is currently over-valued, over-bought and is showing signs of deteriorations, especially in the area of breadth. Interest rates are on the rise and inflation is already a serious problem. This means that you must consider holding cash or perhaps taking bearish positions. I would not recommend taking bearish positions in any securities quite yet.
My focus is "investing wisely," e.g. taking advantage of the bull/bear cycles as they occur within the overall marketplace. Integrating modern fundamental analytics within these technical cycles means maintaining a process of the thorough and ongoing analysis of many companies and industry groups. I believe this is a vital discipline in "investing wisely."
Source information and data:
Yahoo Finance
MSN Money
MorningStar
BarCharts
StockCharts
Disclosure: I have no positions in any stocks mentioned, and no plans to initiate any positions within the next 72 hours.