Almost two months ago, I first wrote about an actively-traded basket of Chinese smallcaps, microcaps and even penny stocks. The China stock trade is currently the largest macro position in my portfolio, and it's off to a rocky start. The basket over all has treaded water, shifting between slightly-above breakeven to slightly below. However, that is largely because I aggressively sold positions as individual stocks spiked. Cashing in on quick, sharp spikes in stocks like AJGH.OB, CCME, XING offset the pall cast over Chinese smallcaps, especially those that involve a variable interest entity (VIE) or that came public via a reverse takeover (RTO).
But the macro rebound I thought would materialize just hasn't. Instead, as the Trading China blog describes: "sentiment couldn't be worse, most longs have been scared away, sitting on the sidelines, and shorts are looking for new trading ideas on a daily basis." Trading China sees both a major risk and an opportunity as 10-K season rolls around.
I agree, which is why I'm spending part of the long weekend going over the stocks that were part of the China microcap basket trade. I still own some (see the disclosure below).
American Jianye Greentech (OTCPK:AJGH)
American Jianye Greentech was one of the first positions I sold from the initial basket of China microcap stocks. Only days after I bought the stock it rose more than 50%. AJGH has since retraced most of that move, but the long-term upward pattern remains intact — note the series of higher highs and higher lows since July 2010. American Jianye recently reaffirmed earnings guidance of $0.29/share for FY 2010. Outlook: will look to repurchase at somewhat lower prices.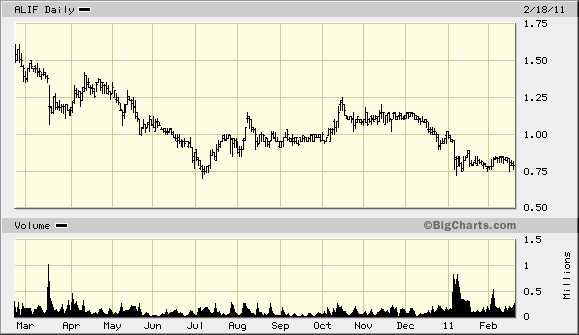 Microcap app vendor Artificial Life has been a big disappointment. Right now it's back at support sub-$1. While ALIF has announced reforms including hiring PriceWaterhouseCoopers as a consultant on improving financial controls, I don't like the way it has accounted for recent deals. ALIF has been exchanging its receivables for equity in companies that owe it money, and calling the transactions "investments." To me it seems that ALIF is jettisoning bad receivables that it should just write off. Outlook: should have unloaded for a small loss around $1 but missed that opportunity; now I will wait patiently for a better exit.
BioStar Pharmaceuticals (Nasdaq:BSPM)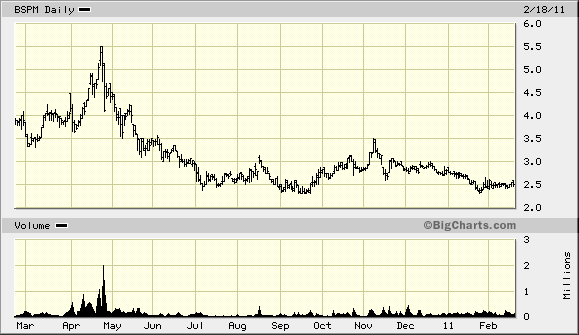 I added BioStar Pharma just this week. BSPM manufactures and sells a Hepatitis B drug to the domestic Chinese market. BioStar expects hefty revenue and earnings growth for 2010, yet trades at a multiple to expected earnings below 4. Outlook: if BSPM continues to deliver I'll look for BioStar to take out November highs around 3.5.
Bona Film Group (Nasdaq:BONA)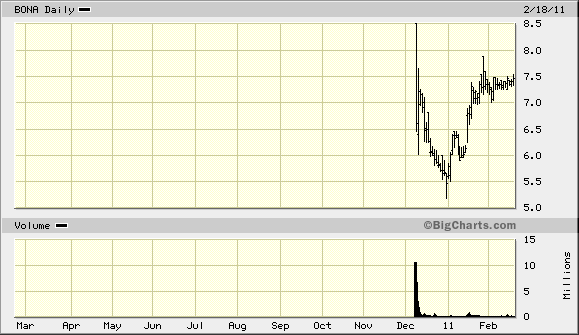 When I bought Bona Film Group in December, it was widely considered to be a busted IPO. This was a play on Pradeep Bonde's "virgin" strategy, where one looks for a turnaround in a busted IPO, then carries the trade until the IPO price is taken out. Outlook: the IPO rebound play is done. BONA gave me solid profits in a short time. I am not looking to repurchase.
China Integrated Energy (Nasdaq:CBEH)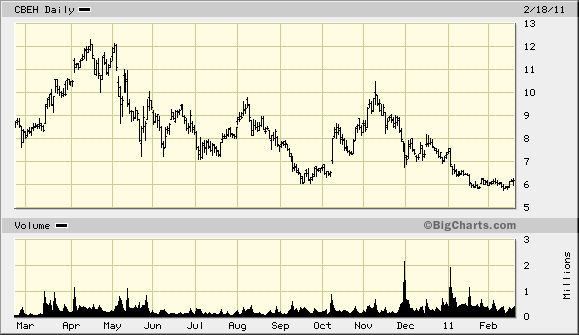 Soon after I bought China Integrated Energy, it announced not one but two PIPE deals. PIPEs in general are bad news for existing equity holders, but here they also cast doubt on the overall financials. Prior to the transactions, it appeared that CBEH had adequate capital, so it's unclear why it needed to raise additional capital at a discount to market. Outlook: I don't trust the company. I sold some but only got a partial fill so I have a bit left that will be sold.
China Botanic Pharmaceuticals (Amex:CBP)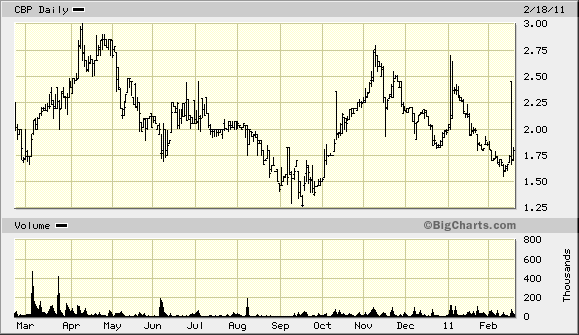 China Botanic Pharmaceuticals, formerly known as Renhuang Pharmaceuticals, just reported net income of $0.44 per share for FY 2010. Those solid results should put a bottom in the stock, which I currently hold at a loss. CBP management projected gains in both earnings and revenues of about 25% for FY 2011. Outlook: will continue to hold CBP shares, turnaround expected.
China MediaExpress Holdings (Nasdaq:CCME)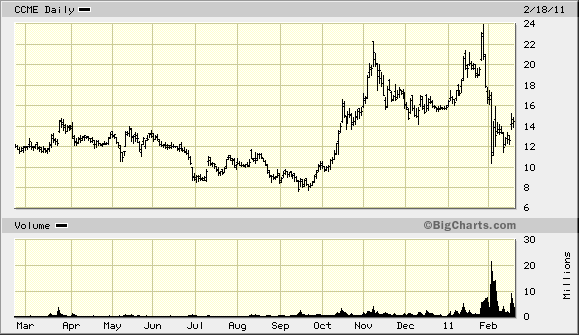 I get more emails and comments about China MediaExpress than any other stock in the basket. As I disclosed at the time, I bought at $14.04 and sold at $20.80 for solid, quick profits. But CCME has since plummeted on accusations of fraud. Most investors have taken sides, and will vociferously argue that the company is either a sham or victim of a vast misinformation campaign. I think it's still too early to tell where the truth lies. Outlook: I will continue to sit this one out as more information emerges. If I choose to repurchase I will probably do so by selling puts as the options are liquid and rich.
Disclosure: Long ALIF.OB, BSPM, CBEH, CBP.