Aruba Networks (NASDAQ:ARUN) was up over 16% last Friday on news from their Q2 earnings call (see transcript here). Now, I understand they had a great earnings release; I have already written about that in my key takeaways from that call, which I encourage you to read for background. Additionally, I am as much of a fan of Aruba and their strategic positioning as the next investor. However at this point I am starting to question whether the stock price is ahead of the fundamentals. Also, the stock is trading about 50 and 200 day moving averages. This is less of an issue in a market like this, but still pushes me to investigate further.
There is no doubt that Aruba is peddling a great product, my only question is whether the investment time is right, or if the market has already bid this beauty up past a reasonable price based on the mere supposation of future success.
Earnings Call
Since I have already covered the earnings call in another article, I will be brief. Revenues increased by almost 50% year over year and they beat earnings per share by a penny. They are on track to be GAAP profitable for an entire year by 2012. They gained over 1000 new customers this past quarter, which is their largest gain ever and adds to their total of more than 6000 customers. It was a really phenomenal quarter for Aruba, and the earnings call was insightful.
The opening remarks by Aruba's CEO Dominic Orr really granted some visibility to both their competitive position and strategic mission moving forward. He said:
First and foremost, the proliferation of smartphones and tablets in addition to laptops is radically changing how enterprises and organization approach the network edge. Second, the sharp increase in demand for multimedia-rich mobility applications, particularly video, has set a new bar for user expectation and a network that must not only connect but deliver the experiences and user demand. Third, the rise of both server and desktop virtualization has quickly increased the business relevance of the incoming wave of new mobile devices and tablets.
This is a wonderful trend for a company like Aruba, who relies on their wireless networks to give them advantages over older legacy systems. On this front, companies like Cisco (NASDAQ:CSCO) are finding it harder and harder to compete. The earnings call showed investors that ARUN was building on this advantage with the addition of customers and expansion of margins, and looked poised for growth in the future.
Competitive Landscape
Do you have a wireless network at work? If you do, chances are some very high paid C level execs tossed and turned over whether to implement it. If you don't, the same thing most likely happened with a different result. Although wireless has been around for ages, some people are still shy to it based on performance (ask gamers) and security (as your CEO) issues. Aruba Networks (ARUN) is trying to capitalize on this uneasiness to offer what has become the leading wireless solution in the world. Their security is tight and easily modifiable based on user by clients' own IT department and they can now mesh with other wireless networks already in place after their acquisition of AirWave Wireless. Their main competitor is a cash laden superpower in networking, but somehow Aruba has been able to carve out considerable market share. So, how is Cisco going to respond?
Price pressure from Cisco? Some analysts are suggesting that one of the risks to Aruba's place in the industry is that number one operator Cisco will put pricing pressure on their products. At this level, the sheer size and scale of Cisco would make it difficult to compete. However, Cisco has repeatedly said in their earnings calls that they will not compete based on pure pricing, but rather price for performance. In this case, Aruba may have a window to operate through in much the same way Juniper has. As a Cisco bull, this certainly troubles me given the seeming technological superiority and opportunity for rapid growth of the ARUN software and service.
Price performance pressure from Cisco? So, can Cisco compete based on price performance measurements with Aruba? The answer is yes and no. Currently, Aruba has the superior product and can integrate with networks they did not install. This ability is much like that of Citrix (NASDAQ:CTXS), which can provide virtualization over a variety of architectures. However, Cisco does have a pile of cash and the ability to build a technologically advanced wireless framework in a short time. So, there will always be the threat of Aruba losing their advantage.
Furthermore, although this is not as important as it was three years ago, Cisco has its name. They are the leader in networking for a reason, and many large companies continue to rely on holistic Cisco implementations. Will Cisco put pressure on Aruba this year? Probably not, but in the next few years they would have to be insane to not pour considerable capital into the wireless framework that will support the proliferation of mobile devices in the work place.
Acquisitions
One place where Aruba has whipped Cisco is in their history of prudent and useful acquisitions. I will cover three of those acquisitions briefly here, and explain why they are adding value to Aruba.
AirWave Wireless (June 2008) – this $37 million acquisition allowed ARUN to directly compete with Cisco in terms of wireless network management. Basically, AirWave allows Aruba to install their network management and security software for companies that have other network hardware, such as Cisco. Suddenly, their management system was not only a best in class as a stand-alone product, but also when implemented on top of other vendors' wireless networks.
Azalea (May 2010) – this acquisition for $27 million in stock and $13.5 million in cash enabled Aruba to gain exposure in China and also enter the outdoor realm of wireless infrastructure. This past quarter was the first that Azalea was officially on the books for an entire period, so the R&D reflected that. However, the real benefit will be new markets Aruba can enter that they previously were unable to compete in, such as mesh networks for video surveillance.
Amigod (December 2010) – this acquisition was made to buoy their security offerings and allow more in depth authentication service around the world. This Australia based firm will help Aruba build on their main competitive advantage in wireless, which is their ability to provide secure and manageable high performance networks.
All three of these reasonably cost effective acquisitions have begun to pay dividends for Aruba. There is no doubt that the management team has a focused goal and will continue to make decisions based on those strategies.
Valuation

I disagreed recently with the pounding that Cisco took after their earnings call. However, I believe they are still a contender in the network sphere and a company that many have written off. The run up today in the price of Aruba Networks' stock is another indicator to me that the market is betting against Cisco and putting their chips on companies like Aruba.
I believe that Aruba is a great company, and poised for great growth. However, at this point they generate $10 million in free cash flows and have yet to reach profitability. I believe it is a leap of faith to push the company to the forward multiples we are seeing, especially when competition exists in the form of larger, better recognized brands.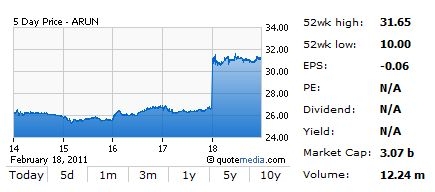 Now, I will formally disagree with the run that Aruba has made. Before today, the stock would have been on the edge of my highest possible valuation but it has since gone above even that. Given all of the positives surrounding this company, the onset of the cloud and pervasive nature of wireless devices in the business environment, I will raise my price floor to $12 and my ceiling to $25 for Aruba Networks. This represents no added value for an investor purchasing Aruba Networks at their 52 week high of over $30 today. I believe that their stock has been run up, and although it is an amazing, well-run company, their price is simply too steep.
Conclusions
Aruba is an up and coming company that has a very high upside. For the right investor, they may be worth taking the chance. However, I am not convinced that they can remain a permanent fixture in a networking environment that is increasingly competitive. Companies like HP (NYSE:HPQ) and Cisco have the capital to squeeze Aruba on price, despite any indications or intent to do otherwise. At the current price, this stock is too rich for my blood.
Disclosure: I have no positions in any stocks mentioned, and no plans to initiate any positions within the next 72 hours.