In November I wrote the article entitled "Top 4 Mobile Acquisition Picks for 2011", and today I would like to update readers on two of my top picks that have already rewarded investors with substantial gains. Both are clear leaders in the emerging mobile revolution, representing two of the only publicly traded mobile-companies that can be invested in by the average investor.
What is of particular interest regarding these two stocks is that both have recently completed successful financing with institutional investors. As is often the case, both resulted in a short term pullback in their shares. With respect to these financings, I find it of particular interest how investors initially react differently when these public companies raise funds, compared to their private counterparts like Groupon, Facebook and Twitter.
Groupon raised close to a billion dollars at the end of last year and at that time was valued at around $6B. A short time after raising all this money, the company is now rumored to be worth between $15-20B and contemplating a spring IPO. A similar pattern has been seen with Facebook and Twitter, where, after raising money, their valuations continue to climb. That's making their lucky investors returns many times beyond what is typically available for average investors.
Click to enlarge: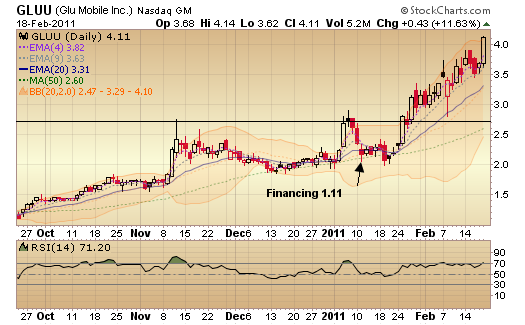 So what have these two mobile leaders been up to since December? First let's look at Glu Mobile (NASDAQ:GLUU). On January 11th, Glu Mobile registered a share offering at $2.05/share. At the time this was approximately a 20% discount to current market value. The stock quickly dropped to around the offering price as some investors were displeased, sighting dilution as a concern. This knee jerk reaction often happens. But the question for long term investors really becomes, or at least should be, what does the company plan to do with the money? In this case here is what they planned:
Glu plans to use the net proceeds of the offering primarily to accelerate development of its global social gaming community.


The offering was through Roth Capital Partners acting as sole bookrunner for the offering with Craig-Hallum Capital Group, Merriman Capital and Northland Capital Markets acting as co-managers.
My second Mobile pick is Augme Technologies (AUGT.OB). Earlier this week the company also successfully completed a $9 million financing comprised primarily of institutional investors. The share offering was at $3.25/share, which also was an approximate 20% discount to current market share prices. As is typical in these cases, the stock immediately came under slight pressure. Again, the question investors should have been asking themselves is what was the company planning to use the money for?
Click to enlarge: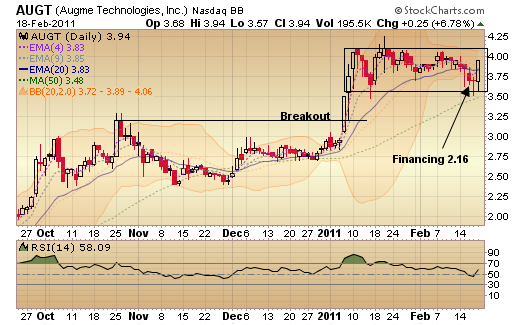 The proceeds from the capital raise will be used to support the execution of our business strategy, which includes expansion into additional vertical markets and the pursuit of other initiatives that are designed to accelerate future growth.
Northland Capital Markets, the capital markets and investment banking services group of Northland Securities, Inc, acted as sole placement agent for the offering.
Once again, it seems there is a very myopic view of short term investors who don't understand how the leaders in new markets require capital in order to maximize shareholder returns.
As seen in the GLU chart, it did not take long for the short term investors to exit shares and get replaced with much more solid long term investors. Just five short weeks after announcing the financing, the company's valuation has now doubled. Much like their private company counterparts Groupon and Facebook who have seen their valuations increase with every subsequent influx of capital. In the case of Augme, it too has already seen resumed strength trading back to the same levels as on the day of the announcement. This indicates that long term investors understand the potential rewards of giving an industry leader the needed capital to accelerate future growth. The shares of Glu Mobile hit a two year high on Friday and Augme Technologies is only 10% off an all time high.
Recognizing leaders in any new space is important, let alone in a space like mobile that is expected to see growth far in excess of the original PC movement. The mobile revolution could represent the biggest technological movement we've seen in our lifetimes. With it will come some of the best investment opportunities, assuming you know where and what to look for for. The average investor may not have the opportunity to invest in private VC led companies like Groupon and Facebook until post-IPO. At that point, the valuations may have already increased many times what they may be worth. Meanwhile, Augme and Glu Mobile allow us individual investors to participate in this dynamic space without having a relative at Goldman Sachs (GS).
So next time you see a company on the forefront of a hot new market, the time to consider buying might just be right after they complete a financing. The reasons may as simple as they now have the ability to accelerate growth with additional investment, or the fact they now have institutional ownership that is expecting returns like those that are seen on stocks like Groupon. A recent quote from the Mobile Industry Fair in Barcelona last week pretty much sums up where the mobile market currently is at:
"We're at the tip of the Iceberg" in terms of what can be done with mobile, said Naveen Tewari, CEO and founder of InMobi, an independent mobile ad network.