When looking for dividend stocks, it is important to remember that companies can use cash to benefit shareholders by buying back stock. The net payout yield is useful for this because it combines the dividend yield and share buybacks.
I recently looked at Warren Buffett's high yielding stocks, so I thought I would take an extra glance at a few of them with high net payout yields.
Wal-Mart Stores Inc. (NYSE:WMT)
Wal-Mart Stores, Inc. (Walmart), incorporated in October 1969, operates retail stores. The company operates in three business segments: Walmart U.S., International and Sam's Club. During the fiscal year ended January 31, 2010 (fiscal 2010), The Walmart U.S. segment accounted for 63.8% of its net sales, and operated retail stores in different formats in the United States, as well as Walmart's online retail operations, walmart.com (see full description).
| | |
| --- | --- |
| Dividend Yield (%) | 2.19 |
| Buyback Yield (%) | 7.42 |
| Net Payout Yield (%) | 9.61 |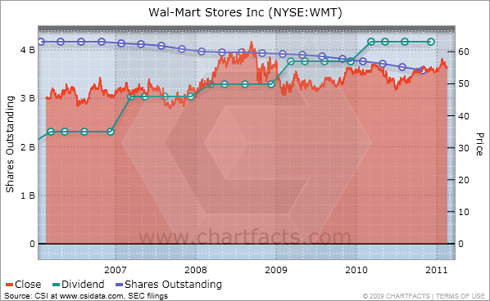 Conoco Phillips (NYSE:COP)
ConocoPhillips (ConocoPhillips), incorporated on November 16, 2001, is an international, integrated energy company. The company operates in six segments: Exploration and Production (E&P), Midstream, Refining and Marketing (R&M), LUKOIL Investment, Chemicals, and Emerging Businesses. Its E&P segment primarily explores for, produces, transports and markets crude oil, natural gas, natural gas liquids and bitumen on a worldwide basis. The Midstream segment gathers, processes and markets natural gas produced by ConocoPhillips and others, and fractionates and markets natural gas liquids, predominantly in the United States and Trinidad (see full description).
| | |
| --- | --- |
| Dividend Yield (%) | 3.48 |
| Buyback Yield (%) | 3.23 |
| Net Payout Yield (%) | 6.71 |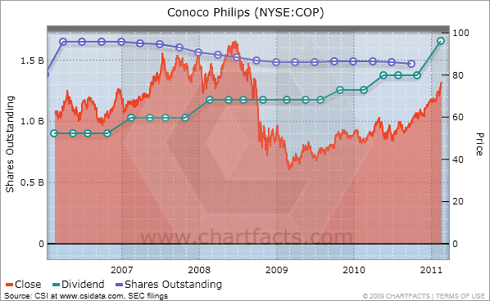 Procter & Gamble Co. (NYSE:PG)
The Procter & Gamble Company (P&G), incorporated in 1905, is focused on providing consumer packaged goods. The company's products are sold in more than 180 countries primarily through mass merchandisers, grocery stores, membership club stores, drug stores and high-frequency stores, the neighborhood stores, which serve many consumers in developing markets. It has on-the-ground operations in approximately 80 countries (see full description).
| | |
| --- | --- |
| Dividend Yield (%) | 3 |
| Buyback Yield (%) | 3.35 |
| Net Payout Yield (%) | 6.35 |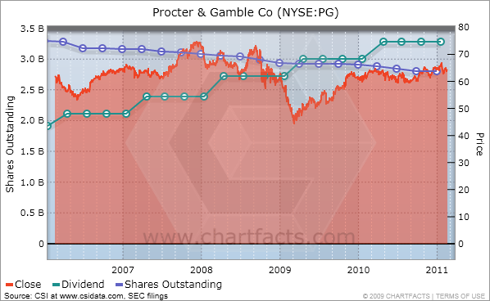 Torchmark Corp. (NYSE:TMK)
Torchmark Corporation (Torchmark), incorporated in 1979, is a holding company for a group of insurance companies, which market primarily individual life and supplemental health insurance, and to a limited extent annuities, to middle income households throughout the United States. It operates in two segments: Insurance Segment and Investment Segment (see full description).
| | |
| --- | --- |
| Dividend Yield (%) | 0.99 |
| Buyback Yield (%) | 3.61 |
| Net Payout Yield (%) | 4.6 |