Regenerative medicine developer Tengion (TNGN) has had a rocky time as a publicly traded company. It came public in a busted IPO early last year. Though Tengion was supposed to IPO around the $8-10 price range, it ended up having to drop the offering price to a much-reduced $5 each. The company's IPO finally launched in April 2010 and Tengion failed to get any spike from the initial offering. Shares traded above the $5 IPO price for precisely four days before entering a long decline that left shares down almost 60% by December at a paltry $2.03 per share.
Tengion shares reversed sharply off the bottom, however, and surged upward throughout the beginning of this year. This surge had an exciting culmination last week. Tengion experienced its most volatile trading as a public company, with shares spiking from $4.25 to $6.24 and then collapsing to under $3 in the space of just three trading days.
click to enlarge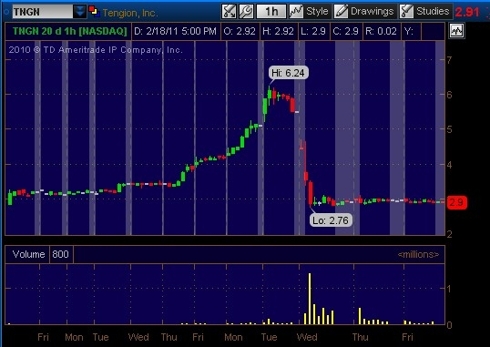 Click to enlarge
The spike was caused, it appears, by two different triggers. The first of these was that the company was in talks to be acquired by an outside buyer. The second of these was, according to this article, that Tengion's shares had been promoted by Steve Christ's The Wealth Advisory newsletter. Assuming that this newsletter was promoting the stock, this pump job created one of the more ironic twists for a touted stock in recent memory.
The excitement from the promotion and the swirling buyout rumors sent Tengion shares flying upward, more than doubling to an all-time high. Then Tengion announced that its potential suitor had called off a proposed stock-for-stock acquisition due to rising price of Tengion shares. The very promotion that sent the stock soaring caused the destruction of the deal that would have saved Tengion's long-term financial future.
Now the company faces a critical cash crunch, as company officials have announced that the company will run out of cash in April or May of this year and be forced to wind down operations should a financing or acquisition deal not be completed. With the share price again well below the IPO price, it is hard to imagine the company successfully pulling off a financing in such a limited time.
However, not all hope is lost. Three of Tengion's largest institutional investors have purchased more shares recently, and Johnson & Johnson (NYSE:JNJ) maintains its sizable holding of Tengion shares. The company is far away (probably 7-10 years) from any sort of viable product, but its regenerative products grown from patients' own cells show significant promise and a treatment for bladder disorders appears to have potential. It's unlikely with the amount of backing Tengion has and the amount of scientific research that has gone into the company's pipeline that Tengion's financiers will let the company go quietly into bankruptcy.
It seems likely with shares back under $3 each that buyout negotiations will likely be resumed again. Now that the hot money has left the stock, a potential buyer can again get a good deal. With institutional backing and the fairly reputable (for example, note this recent CNN article) Dr. Anthony Atala leading the company's research, it seems likely that some bargain shopper will pick the company up on the cheap rather than letting Tengion go into bankruptcy.
If one wants to take a high-risk/high-reward play on a biotech getting acquired in the near future, Tengion represents a good bet. If one buys the stock under $3, there is a fairly decent chance of getting a pop back to the $4.50-$5 range when a new buyout is announced. Tengion has strong support at the $2.75 price level from last year that stopped Wednesday's decline. If I were long the stock looking for a buyout, I'd set a stop just under $2.70 creating a fairly solid risk/reward profile. While Tengion's future is cloudy, buyers here could be rewarded with a nice return if they take a speculative position following last week's chaos.
Disclosure: I have no positions in any stocks mentioned, and no plans to initiate any positions within the next 72 hours.