Global Hunter Securities came out with a positive report on China MediaExpress (OTCPK:CCME) after visiting the company and pretty much confirming half of CCME's existing business. You can view that report here. You can also read China Media Express's Chairman's response to the various negative research reports that are circulating out there here.
My estimate for Q4 is $0.81 per share. Normally, a company like this would come at a growth multiple, and that doesn't even take into account the $170-$200M in cash that I believe they have in the bank right now.
Below, I have attached my napkin projections that you might want to compare to your own when you try to value this company. I feel that these projections are for the most part understated, because there is a lot of potential upside that I didn't take into account. Considering that the company is growing, and that my 2011 EPS estimate is over $4, I think you can apply at least an 8x multiple to this company considering that peers are trading at multiples of 20x or more. That puts my price range between $32 and $80. Critics would say that this is too good to be true and that you can't make above average returns in the stock market without above average risks.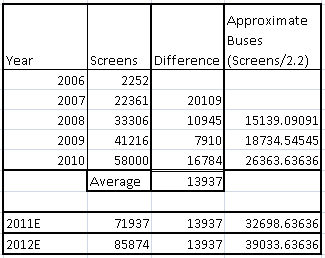 My understanding is that CCME currently isn't undergoing what you would consider a "run-of-the-mill" audit, but that they are getting special treatment due to all of the increased attention as of late. I'd even go as far as to say that the 10-K is likely to be slightly delayed because of all of this. The result of this is that when Deloitte signs off on the numbers, there will be no doubt that the numbers are genuine.
I'd like to take this time to draw some additional attention to steps the company could make to continue to dispel the fear and rumors. What would be the short case if China Media Express brings multiple Big 4 auditors on board to confirm their numbers? What would be their case if Starr Investments starts to share some of their initial due diligence? What if CCME looks to dual list in Hong Kong?
You know who I'm going to listen to? Everyone. Then, I'm going to make my own decision as to whether I should own CCME or not.

One angle you might want to look at is selling Puts. If you sell September puts at a strike of $17 for $6.8 on the bid --- you effectively are long the stock at a cost of $10.20 and you can make 67% return if the stock closes above $17 in September. This is equivalent to buying the stock today at $14.40 and selling it at $24 in September. Why is this deal so crazy good? The shorts.
Disclosure: I am long OTCPK:CCME

Additional disclosure: I'm also selling puts.