Since last summer, the semiconductor industry as a whole and the analog sub-sector of the industry in particular have been on a tear, with share prices for most industry players surging 50% or more. However, one member of the analog semiconductor space has lagged behind, with shares merely trading sideways while the rest of the industry soared. While Monolithic Power (NASDAQ:MPWR) has had multiple operational issues that justify some concern, its shares still appear to represent a good value at their current $16 level.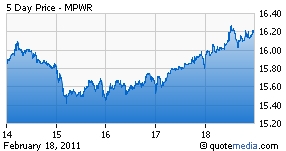 Monolithic Power has underperformed versus the rest of the analog semiconductor for a variety of reasons. The most substantial of these reasons was the company's inability to meet rising demand and keep a steady rate of revenue growth. After 30-40% revenue growth in previous quarters, revenue growth suddenly flatlined and may even fall slightly in the next several quarters. This compares poorly with competition and is a valid reason for underperformance.
The company has also historically been subject to a fair bit of litigation. Litigation costs were a major issue in 2009, with the total cost of litigation reaching nearly $10 million; that's not an insignificant sum for a company with a $570 million market cap. However, this expense has been cut sharply in 2010 and the risk of unexpected litigation costs should no longer be weighing down Monolithic Power's shares as it did in the past.
Investors have also expressed concern about Monolithic Power's leadership. CEO Michael Hsing has never been noted for his communication skills and his inability to positively represent the company to investors has been a weakness. Also, the recent departure of CFO Richard Neely to pursue an opportunity at another company is hard to view in a positive light. The company also appears to have made some bad investment decisions, getting $20 million of investment funds tied up in illiquid auction-rate securities. Analysts are, with good reason, putting little faith in Monolithic Power's management at the moment.
While these reasons are justification for Monolithic Power to be trading less bullishly than its analog semiconductor competitors, the company shouldn't be trading as close to its 52-week low as it presently does. The company's greatest asset is its nearly $200 million war chest of cash and short-term investments. This cash hoard amounts to more than $5 a share. That's a huge pile for a company trading at $16 a share. The company also has recently authorized increasing the size of the ongoing share buyback from $50 million to $70 million, which provides a nice catalyst to boost the share price.
The company has successfully grown revenue greatly since the company's 2004 IPO and Monolithic Power has remained consistently profitable throughout its run as a public corporation. It took a comparatively little hit from the gigantic recession-driven crunch in the semiconductor industry in the back half of 2008. While the management team is not particularly dynamic, they've done a respectable job in their six-year track record as a public company.
The company's operating metrics such as profit margins, P/E and PEG ratios, Price/Sales, and Price/book as compared with the company's stated direct competitors such as Fairchild Semiconductor (FCS), Texas Instruments (NYSE:TXN), and Volterra Semiconductor (NASDAQ:VLTR) indicate that Monolithic Power is somewhat cheaper than its average competitor, though Monolithic Power is not a screaming bargain based on valuation ratios.
There are three reasons to like Monolithic Power shares here, however. The first of these is that the rest of the sector is up big since last fall and Monolithic Power could easily follow suit with the smallest bit of news. Monolithic Power's latest earnings report was a solid beat versus expectations and the stock gapped higher from support in the $14 range. One more earnings beat along with improved revenue guidance should be enough to get the stock running. The company specifically notes in its filings that it does not receive much analyst coverage and as such there is risk of a falling share price and volume due to the company's relative obscurity. The flip-side of this risk is that Monolithic Power's shares could surge dramatically again, as they did in late 2005, with even moderate increases in earnings and resultant increasing analyst coverage.
The second reason I like Monolithic Power is that it derives almost 90% of its revenues from Asia, and the majority from China. While it is extremely difficult to find safe Chinese-headquarted companies due to the numerous accounting and visibility risks presently facing US investors, Monolithic Power's California domicile provides security for investors while giving them an opportunity to invest in the burgeoning Chinese consumer electronics market without getting involved in dangerous reverse-merger Chinese corporations.
The final reason I like Monolithic Power is that it is a wonderful buyout target. A potential acquirer can pick up Monolithic Power at a very fair valuation and put very little cash down since Monolithic Power's has that huge cash supply and no long-term debt. With the rest of the semiconductor industry trading at 52-week highs presently, it wouldn't be a bad time to use high-valued shares to acquire smaller competitors such as Monolithic. While it can be dangerous to buy a stock solely looking for a buyout, the opportunity for a buyout adds another potential successful exit for investors who are already getting a shot to pick up a decent business with a giant cash cushion and reliably steady earnings at a compelling price.
Disclosure: I am long TXN.