The shares of Skechers (NYSE:SKX) have been in a serious downtrend for several months. The shares were at a 52 week high in June 2010, at about $44 per share and hit a 52 week low in October 2010, of about $19 per share after reporting earnings and guidance that were below expectations. Since then, the shares have barely risen above the $19 lows and now trade for around $21.63 per share.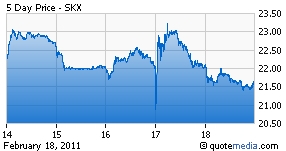 In November, a few SKX insiders sold shares near the lows at prices ranging from about $19.64 to just over $21 per share. These sales resulted in proceeds of over $500,000 so they were not insignificant. I think it is troubling to see multiple insiders selling shares near 52 week lows.
Many of the problems at Skechers appear to revolve around inventory issues with the company's "Shape Ups" shoes. These shoes claim to help you get toned. Skechers has had too much inventory with this and other product lines and that has hurt margins. Now there are also legal issues with this product. A woman is suing Skechers with claims that she developed stress fractures in both of her hips after using this product. This woman even appeared on "Good Morning America" and said that "The extended use of these shoes, has injured me catastrophically." It's too early to say whether more claims will come forward and create serious legal liabilities, but it seems reasonable to believe that claims of serious injuries from using Shape Ups on a national TV show will only make it harder to clear the inventory. You can read more about this lawsuit here.
About one week ago, Skechers reported a huge drop in profits, earning only $3.2 million or 7 cents per share in the fourth quarter, compared to earnings of $27.9 million or 58 cents per share in the same quarter last year. Based on these issues and company guidance, it appears that revenues and margins will be weak for at least the first half of 2011.
With all of these inventory and margin issues, and the new legal claims adding more uncertainty, I think it makes sense to follow some of the insiders and avoid these shares. I doubt they will have any significant gains in the next few months. If the inventory and legal issues continue, or if the markets correct, it would not be unreasonable for these shares to drop to new lows.
Disclosure: I have no positions in any stocks mentioned, and no plans to initiate any positions within the next 72 hours.