As the Asian year of the rabbit gets underway, let's examine continued growth of the materials sector driven by the emerging markets. What?...what's emerging markets got to do with North American investing? The author's premise is that growth in the emerging markets are a prime factor in driving the rise of basic commodity and metals prices as well as the precious metals. This theme is explored here in a few previous articles. What about the critics calling for the end of the emerging markets rise?...the author's view is that this is normal volatility, but that the underlying trend is so strong, this backing off and consolidation is normal and presents an opportunity for entry.
Both the coal and steel sectors have rebounded strongly from the 2008 crash. Coal and steel are both first movers in a recovery, and their price actions have certainly been strong recently.
For an example of the general coal industry there is a smaller coal producers ETF, aptly phonetically named KOL. Following is the 3 year chart for KOL: (click to enlarge)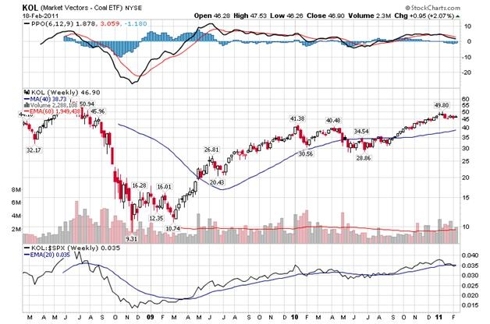 Click to enlarge
For a sampling of the steel industry, again there is a smaller steel producers ETF, the SLX. Following is the 3 year chart for SLX: (click to enlarge)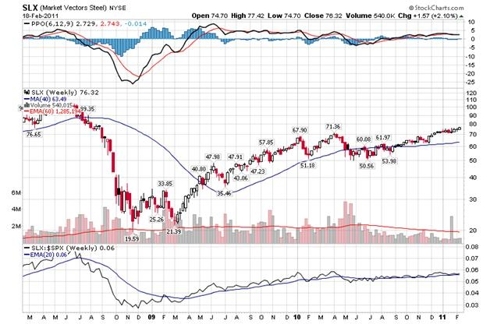 Click to enlarge
Both these KOL and SLX ETFs have risen to within pre-2008 crash levels, so even though there may be further extension to the rise, the opportunity here may be muted.
How about the second movers, the materials that may be slower to move such as aluminum? Well, good news is coming in this sector, as announced by Alcoa (NYSE:AA) on January 7,2011, they foresee increased demand coming and have restarted three idled aluminum smelters.
Popularity in the commodities have also precipitated the start-up of a new ETF on aluminum producers, the ALUM ETF. Following is a chart reflecting just a few days, since this ETF is so new: (click to enlarge)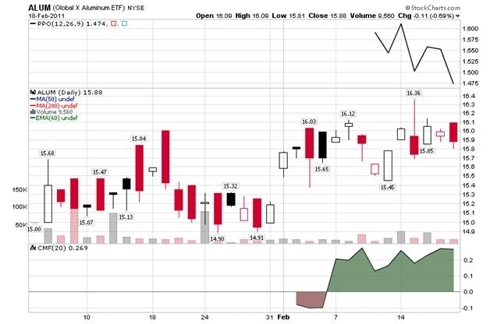 Click to enlarge
The price action for the Aluminum producers certainly appears to be responding to increased demand for the metal. In a quest for finding suitable investment candidates the author peruses the listing of the top ten constituents of this ETF:
Data as of 2011-02-03 ALUM Top Ten Holdings
Rio Tinto PLC (NYSE:RIO): 13.86%
Alcoa Inc. (AA): 10.64%
Alumina, Ltd. (AWC): 7.87%
Norsk Hydro ASA (OTCQX:NHYKF): 7.78.PK
Aluminum Corp of China, Ltd. (02600): 5.35%
United Company Rusal PLC (00486): 4.99%
Mytilineos Holdings SA (MYTIL.PK): 4.98%
Sumitomo Light Metal Industries Ltd. (5738): 4.97%
Nippon Light Metal Co., Ltd. (5701): 4.93%
Midas Holdings Limited (5EN): 4.59%
% Assets In Top 10: 69.98%
Total Holdings: 23
Both Rio Tinto (RIO) and Alcoa (AA) are struck off as being too diversified to respond directly to aluminum. However, there is the American depositary receipts (ADR) of the Australian JV partner of Alcoa in their Alcoa World Alumina & Chemicals (AWAC) business, Alumina Ltd (AWC). (click to enlarge)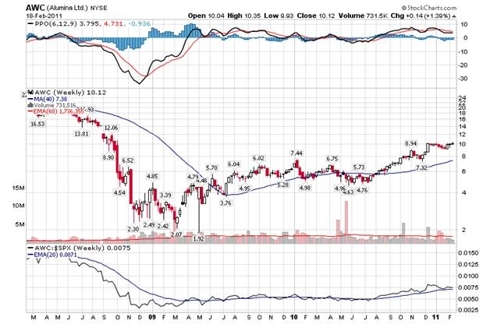 Click to enlarge
AWC is the 40% partner in the AWAC business. Their prime business is the sale of the raw material alumina to emerging markets. AWAC is the world's largest supplier of alumina and they have a 17% market share.
And now for something more attuned to the author's predilection for Junior miners. There are a few junior metals miners that have not yet rebounded to pre-2008 crash levels. The author has selected a Nickel miner, based upon the company's management performance of surpassing their announced business objectives. The miner is Belvedere Resources (OTC:BLVDF, TSX: BEL) which operates the Hitura Nickel mine in Finland. They have an 18 month contract with Jinchuan of China for purchase of their nickel, copper and cobalt concentrate. Following is the 3 year chart for Belvedere. (click to enlarge)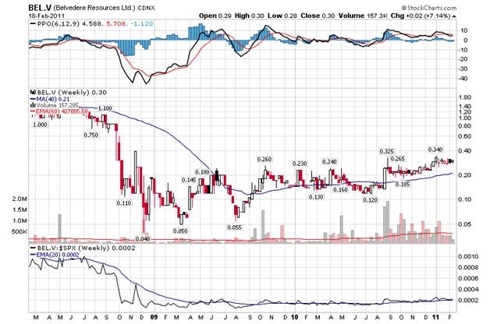 Click to enlargeBelvedere also has Gold properties in the vicinity of their Nickel mine. They are exploring the option of switching the milling to Gold ore.
Another Junior miner idea is for the rarer metals of Tin, Molybdenum, Tungsten and Indium. Tin prices have just reached all-time highs based upon shortages. Molybdenum and Tungsten are both metal additives to strengthen steel products. And Indium is a rare earth that is used in production of LCD displays. This mine contains the world's richest Indium resource and North America's largest Tin deposit. The mine is the Mount Pleasant Mine being re-started by Adex Mining (OTC:ADXDF, TSX: ADE) in New Brunswick, Canada. Following is the 3 year chart for Adex. (click to enlarge)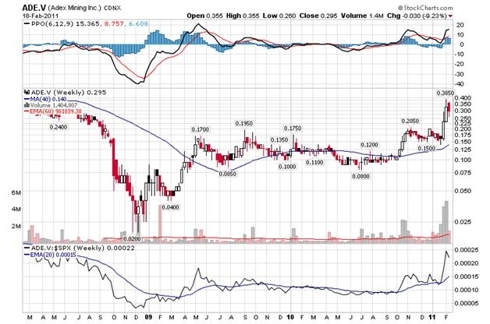 Click to enlarge
To summarize, the emerging market demand is driving materials miners. Coal and Steel (Iron ore) producers have already rebounded to pre-2008 price levels. Second movers such as Aluminum, Nickel and other specialty metals producers may have opportunity at this time.
Disclosure: The author is long AWC, BLVDF and ADXDF.
Important Disclaime: The information and opinions contained within this document reflect the personal views of the author and should be viewed as food for thought and amusement only. The author may from time to time have a position in any of the securities mentioned. There are no guarantees of the accuracy, reliability or completeness of the information contained herein. Independent due diligence and discussions with one's own investment and business advisor is strongly recommended. These writings are not to be construed as an offer or solicitation with respect to the purchase or sale of any security or as an endorsement of any product or service. We do not request or receive compensation in any form in order to feature companies in this publication. It is prohibited to copy or redistribute this document to any type of third party without the express permission of the author. This document may be quoted, in context, provided proper credit is given.