The Ifo business confidence index rose to the historical high of 111.2 in February, beating market expectations for an unchanged reading at 110.3 – the previous historical high. The current assessment index rose from 112.8 to 114.7 (consensus at 113) and the expectations index edged up from 107.8 to 107.9 (consensus at 107.5). The increase in business confidence index is a clear indication that industrial production could continue in its strong upward trend in the next few months: the Ifo is on a value in line with a 12% y/y growth in industrial production.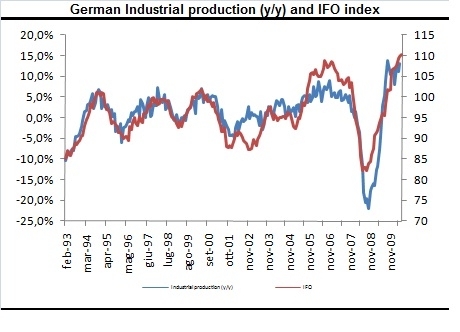 As we indicated in our article "German Ifo index signals higher interest rates going forward", the increase in the Ifo in Febraury could anticipate a further increase in 10yr Government bond yields according to the long-term relationship between 1 year change in the Ifo index and 1 year change in the German 10 year Government bond yield. Our medium term outlook for the 10 year German Government bond yields remains in the range between 3.4/3.5% versus the current level of 3.21%. For this reason we continue to recommend to underweight or to avoid German long-term Government bond yields.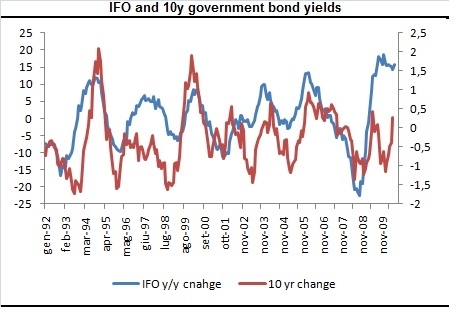 Disclosure: I have no positions in any stocks mentioned, and no plans to initiate any positions within the next 72 hours.