Let's compare two large cap technology stocks: Intel Corporation (NASDAQ:INTC) and International Business Machines (NYSE:IBM).
Which of these technology heavyweights has more go-forward promise for the prudent investor?
Background
Intel Corporation
Intel is a semiconductor chip maker, developing advanced integrated digital technology products (primarily integrated circuits). The company designs and manufactures computing and communications components, such as microprocessors, chip sets, motherboards, and wireless and wired connectivity products, as well as platforms that incorporate these components.
Intel is the world's foremost and largest computer chip maker. Its business is relatively simple to understand.
International Business Machines
Many knowledgeable investors struggle to provide a concise description of what Big Blue does. They know that International Business Machines Corporation is an information technology (IT) company. Indeed, the company operates under five segments:
Global Technology Services segment (GTS): The GTS segment primarily provides IT infrastructure services and business process services.

Global Business Services segment (GBS): GBS segment provides professional services and application outsourcing services.

Software segment: The company's Software segment consists primarily of middle-ware and operating systems software.

Systems and Technology segment: Its Systems and Technology segment provides clients with business solutions requiring advanced computing power and storage capabilities.

Global Financing segment: The Global Financing segment facilitates clients' acquisition of IBM systems, software and services.
IBM has a sprawling, complex business plan. This does not detract from the fact that the company is very good at what it does. However, I postulate that IBM's business span and complexity has an on balance negative effect on the stock as an investment. Many investors (Warren Buffett, for example) hesitate to invest in businesses they don't understand. IBM's business is not easy to explain quickly.
Business Outlook and Prospective Stock Action
Intel is an unloved stock. Despite having just completed the best year in the company's history - as measured by revenue, earnings, and gross margins - investors continue to fret about INTC's forward prospects. Outstanding improvement in the server chip business and solid Asia sales growth is nonwithstanding. Continued management proclamations for a bright future fall upon deaf ears.
Investors worry about Intel's muddled future in the smart phone chip market, the demise of the PC chip market (comprising the bulk of the company's revenues), and the $7.7 billion acquisition of McAfee.
The stock price has been treading water for the past year. Nonetheless, after hitting a 2010 summer low around $18, the shares have perked up and traded recently above $22: a 22 percent uplift.
Most analysts and investors appear keener on IBM, apparently in response to strong growth prospects touted by senior management. The company has articulated future business opportunities via "cloud" computing business solutions and robust international expansion plans.
Big Blue shares were range bound between $125 and $130 each for months; however, last August the stock price "popped." They have risen smartly to a level north of $160 each. The current price of nearly $165 represents a 27 percent gain since they cracked the upper end of the range last summer.
Intel versus IBM : One-year chart comparison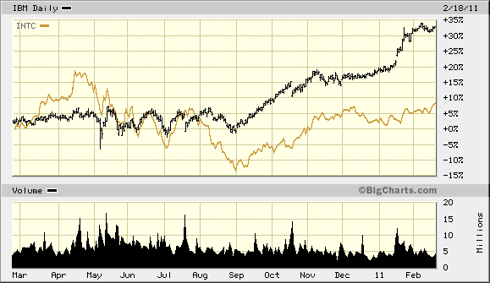 Let's move onto some fundamental analysis.
Fundamentals
Intel Corporation
One of the first things a fundamental investor will notice about Intel is the pristine balance sheet. The company has a miniscule Debt-to-Equity ratio of 4 percent. The current ratio stands at 3.5. Return-on-Assets is 17 percent. INTC's balance sheet holds $3.91 per share in cash and short-term equivalents. This is 18 percent of the share price. The Equity / Assets ratio stands at 0.8; renowned fundamental investor Benjamin Graham used an E / A greater than 0.5 as a litmus test for undervalued equities.
INTC sports a 11X Price / Earnings multiple, while the five-year average PE has been 22.
The PEG ratio is 0.9.
When a company has a Price / Cash Flow less than 10, it's a positive signal for the value investor. Intel's P / CF is 7.6.
The five-year forecast EPS growth rate is 12 percent.
INTC has jumped its dividend of late. The annualized yield is now 3.3 percent. This dividend payout is safe. Free Cash Flow covers it easily.
International Business Machines
IBM has a good balance sheet. However, it is much more leveraged than Intel. The D2E ratio is 123 percent. Both notable and positive, IBM recently set a record by selling $1.5 billion in 3-year notes at a tiny 1 percent interest rate.
The 1.3 current ratio is solid.
While the Equity / Assets ratio is only 0.2, the company's Enterprise Value (market cap + debt – cash) is $173 a share. This is above the current trading price.
The current P / E multiple is 14. This is in-line with the five-year average.
The five-year forecast EPS growth rate is 11 percent.
IBM has a modest 1.6 percent dividend yield. It's rock-solid safe. Despite the pedestrian payout, the board of directors have a long history of raising it. In addition, IBM has an aggressive stock repurchase program.
Here is a side-by-side chart comparing some of the key fundamentals for the two companies:
| | | |
| --- | --- | --- |
| | INTEL | IBM |
| Current Price | $22.14 | $164.84 |
| PE (ttm) | 11 | 14 |
| Forward PE (2011) | 10 | 13 |
| Dividend Yield | 3.30% | 1.58% |
| Return-on-Assets | 17% | 14% |
| Price / Cash Flow | 7.6 | 11 |
| Equity / Assets | 0.8 | 0.2 |
| PEG ratio (5-year expected) | 0.9 | 1.2 |
| EPS growth (5-year estimated) | 12 | 11 |
Technicals
For technical enthusiasts, the ten-year monthly charts for these stocks offer an interesting contrast.
Intel's chart shows lower highs and lower lows since the dot-com bust.
Nevertheless, the MACD, Slow Stochastic and On Balance Volume indicator have turned positive.
Conversely, IBM shares broke to new ten-year highs last year. We're in uncharted territory: the sky's the limit. Offsetting this, technicians may note the Slow Stochastic, Aroon Indicator and RSI all indicate the stock is overbought. The most recent rally to new highs came on decidedly lower volume.
Both stocks are above their 50-day and 200-day moving averages.
Bottom Line
Intel Corporation on points. No knockout punch.
I favor a fundamental approach to investing. Within this view, I see either security as a sound investment.
Due to their respective business outlooks and sheer size, Intel or IBM appear as primary value plays versus growth stocks. This is not to say that growth is dead at either company. Indeed, while investors currently recognize IBM as having better growth prospects, I believe that Intel is far from becoming a Tech "utility."
My view is the McAfee purchase will pay dividends. Many analysts are missing the large and rapidly growing universe of unprotected network-connected devices: printers, building security systems, cell-phone switching systems, power grid controllers, HVAC systems, television sets, and video disc players. Then there's mobile devices that people carry around, such as iPods, smart phones and GPS receivers. Intel has recognized the future need for security-integrated computer chips. The McAfee acquisition is not about PC anti-virus software.
Both companies have strong balance sheets, reasonable P/E multiples, and solid cash flows.
However, the metrics point towards Intel as the deeper value play with more future investment return potential.
IBM's recent 27 percent stock burst has placed them second to Intel with respect to go-forward returns.
The company has moved from an unloved stock to a reasonably valued equity. Meanwhile, Intel has remained hated. I believe this disdain is unjustified.
For the current investor, I forecast Intel's 2011 earnings at $2.30, towards the upper end of the analysts' consensus. This is based upon my own analysis and reinforced by the latest earnings conference call forward guidance.
Placing a 13X multiple on this EPS, I forecast a target price of $30 share. This represents a potential 35 percent uplift. Investors will like the additional, generous 3.3 percent yield.
The consensus 2011 EPS forecast for International Business Machines is estimated at $13.08 a share. Reviewing the ten-year annual high and low PE ratios, I believe a 15X multiple is appropriate; this is towards the upper end of the boundry. I base this upon my view that IBM has robust near-term EPS growth potential, thereby commanding the slight premium to the multiple.
This offers an investor a $196 price target, or a 19 percent improvement from last week's close. The 1.6 percent dividend yield will most certainly be bumped up in 2011.
Acknowledging the long-term charts, I see several technical studies pointing to an oversold Intel, and an overbought IBM. In particular, the IBM price rally on declining volume figures caught my attention, along with multiple technicals flashing overbought.
Intel is not without its technical warts: the long-term chart for Intel stock price action has been uninspiring, to say the least.
In summary, I offer Intel Corporation as the deeper value investment selection with more upside potential. Its outstanding balance sheet, higher dividend yield, compelling financial valuation metrics, and ample cash flow offer a better choice. Patient value investors like unloved companies with good dividends. Risks include the company's inability to compete in the non-PC chip market, and poor McAfee business integration.
Disclosure: I am long INTC.