There are two main investment strategies:
Buy Low and Sell High: In this investment strategy, investors looks to buy beaten down and undervalued stocks, hoping that the values of this type of stock will eventually be recognized so they can sell into strength later.
Buy High and Sell Higher: In this investment strategy, investors looks to buy stocks with recently soaring prices, hoping that the stocks keep their momentum so they can sell much higher later.
The key to investing in momentum stocks is knowing whether the recent big up move for a stock is due to its fundamental change, perhaps marking the start of its long term up trend, or just due to a bump-and-dump scheme, or so called "bull trap".
The following table lists the ten momentum stocks, their sectors and their one month, three month and returns from recent lows. I will list only one such stock from each sector. In most cases, when a sector becomes hot, more than one stocks in that sector will be hot.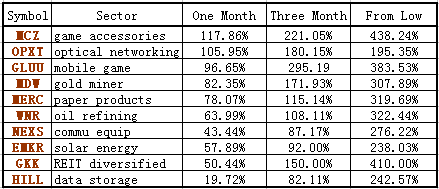 Let us look at these stocks in more detail to see what is behind their recent run-ups:
MCZ - $1.83. The company just announced its best ever quarter result: $0.16 profit per share with $93 million revenue. But it is still to be seen whether the result can be sustainable. The stock price has been in cycles for the last 11 years. The stock sparked to $2.00 in 2001, $1.80 in 2005, $1.60 in 2007. All of the cycles are short lived.
OPXT - $3.81. The company is in the optical networking sector. Obama's plan to create a national wifi wireless communication network boosted the stocks in related sectors. In addition to OPXT, JDSU, CIEN and ALU are also very hot. OPXT is still losing money, but the company predicted an over 70% revenue growth in 2011, which gives investors confidence to own this stock.
GLUU - $4.11. The company is in the mobile game sector. The company reported a loss of -$0.02 EPS via estimated -$0.08 loss. Revenue is flat, but the stock has been sky rocketing recently mainly due to its series of new game announcements.
MDW - $1.55. The company is in the gold miner sector. This stock is a recent top performer in this sector. The main reason for the gains has been the new development in its Midway, Pan and Gold Rock projects. For example, in its January 2011 news release, the company disclosed a 2009 estimate of 17.2 million tons grading 0.82 grams of gold per tonne containing 415,000 ounces of gold at Gold Rock. Similar announcements have been made for its Midway and Pan properties.
MERC - $13.64. The company is in the paper product sector. Paper sector has been one of the hottest sectors recently. In addition to MERC, OTC:VRS, BKI and RKT are all flying. MERC is the top performer in this sector. MERC's earnings beat the estimates by big margins in the latest two quarters: $0.82 via $0.46 estimate in Q3 and $0.63 via $0.47 estimate in Q4. Forward earnings have been revised upward several times from $1.39 to current $2.07. With the latest earning estimates, the stock carries 2011 PE of only 6.59.
WNR - $16.94. The company is in the oil refining sector. With soaring oil prices, The companies in the oil refining sector have seen great margin improvement. In addition to WNR, FTO, ALJ, DK, HOC, SD, TSO, CVI, VLO and MRO are also flying high. WNR 2011 earning estimates have been revised upward from $0.59 to $1.43 in just three months and so have analysts' average yearly price target for this stock.
OTCPK:NEXS - $3.50. The company is in the LED sector. NEXS has been one of the darlings in LED sector. The CREE earning miss does not affect its trend at all. The stock pushed much higher last week, even as the general market was flat. Good news may be ahead.
EMKR - $2.40. The company is in the solar energy sector. Solar stocks have been on fire recently. FSLR, LDK, SPWRA and WFR are all up 50% or more recently. But they are not the best performers in this sector. The best performer spot belongs to EMKR. In its February 3 earning release, the company reported $52.1 million revenue, up +23% compared with the same period last year; its AR is down 15% at the same time. It generated $3.9 million free cash flow and +0.6 million EBITDA.
GKK - $5.10. The company is in the real-estate investment sector (REIT). This sector enjoyed the stabilized rental market both from residential apartment rental and the mall & commercial rental business.
HILL - $3.46. The company is in the data storage sector. One clear trend in the data storage application space is the wider adoption of SSD (solid state devices). Compared with traditional hard disk devices, SSD consumes much less electricity, has much higher speed, less weight and has much less noise. Most importantly, SSDs are also closing the price gap with hard disk drives. In addition to enterprise applications, SSD is now becoming a force in notebook applications. For a few hundred dollars more, you can now buy a notebook computer (MacBook Air, ThinkPad, etc) equipped with SSD. In addition to HILL, STEC, NEI and MU have also seen good recent price appreciation.
Disclosure: I am long GKK, NEI, MU, STEC, EMKR, SPWRA, WFR, SD.