The goal: Find stocks that have solid dividends, exceptional growth in revenue and profitability, and are undervalued. Out of more than 17,000 stocks, only three stocks passed a rigorous series of tests. Think of these stocks as the navy seals of stocks. No matter what I threw at them they keep coming up winners.
Here is a summary of the tests with additional detail below:
Step 1:
I screened for stocks paying a material dividend (>=2%), and providing exceptional growth in revenues and EPS growth (>=10% per year) even during recent recession years.
Step 2:
I tested historical and recent trends in profit margins looking for proven margin expansion that is trending positive in both gross margins and lower SG&A expenses. This provides a good indicator of strong operations management that I can count on during recessions, inflation, and other economic turbulence.
Step 3:
The test for being undervalued in this case is a current P/E at or below its historical average P/E.
Note: I used my Schwab stock screener for step 1 and then used ycharts to apply steps 2 and 3.
Step 1 – Screening for Dividends, Revenue and EPS Growth:
Out of 17,000+ stocks 10 made the step 1 cut. The criteria:
Dividend Yield – A minimum of 2% dividend yield level provides attractive income for shareholders and is a high payout if the company is growing rapidly.
Annual Growth in Revenue – A minimum of 10% is well in excess of inflation and was tested during a tough recessionary environment - 2008-09. A company that can grow revenues during a recession is a proven growth stock.
Annual Growth in EPS – A minimum of 10% helps validate that growth is not dilutive. A management's proven ability to grow EPS at this rate over the past 3 years helps make the dividend secure, and future dividend increases a good bet.
10 Made the cut for this first step, but the table below only shows the 3 ultimate winners Aflac (NYSE:AFL), Buckle (NYSE:BKE) and Smuckers (NYSE:SJM).

Step 1 Criteria:



Click to enlarge

(MRFY = Most recent fiscal year. PFY = Previous fiscal year)
Step 2 – Test Profit Margins for Improvement:
I set out to rigorously test management on profitability. I am looking for companies that are expanding profit margins to historical highs and have been able to accomplish this even during the recent recession. I analyzed gross profit margins and SG&A (Selling, General, and Administrative) expenses. Gross Margin is the most basic profit calculation equal to revenue generated by a product sale, minus the cost to manufacture or create the product. Gross margin offers insight into one level of management expertise. SG&A is the next level of expense where the fatty overhead can occur. I wanted to see SG&A expenses as a % of sales trending down over time. If both gross margin and SG&A are trending in the right direction that gives me comfort regarding management quality and a stock's ability to continue to grow and increase profit and dividends.
Only 3 Passed the Step 2 Test.
Step 2: Gross Margins and SG&A Expenses for AFL, BKE, and SJM



Click to enlarge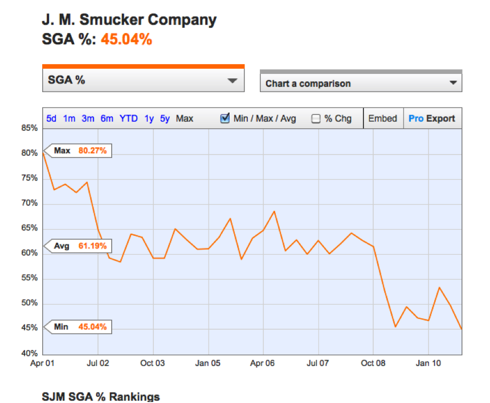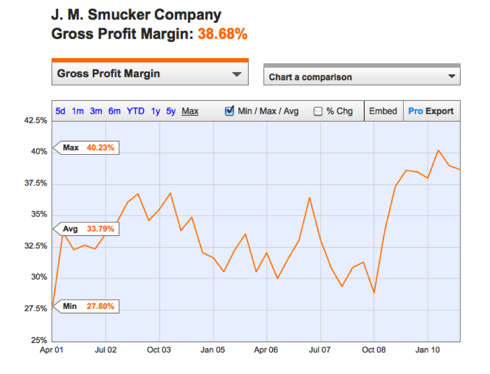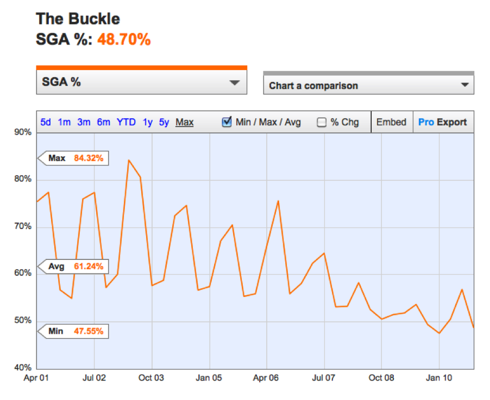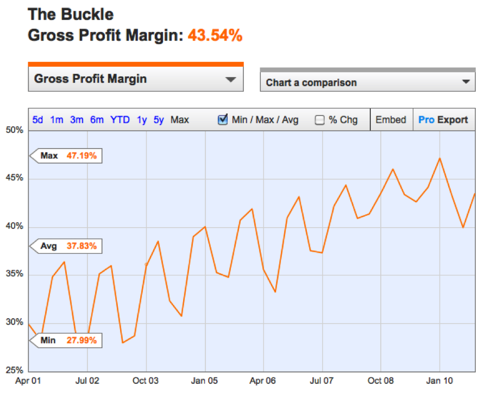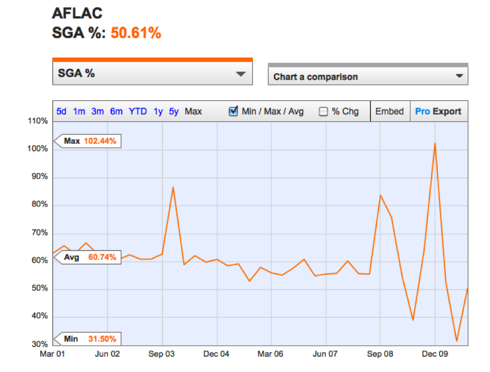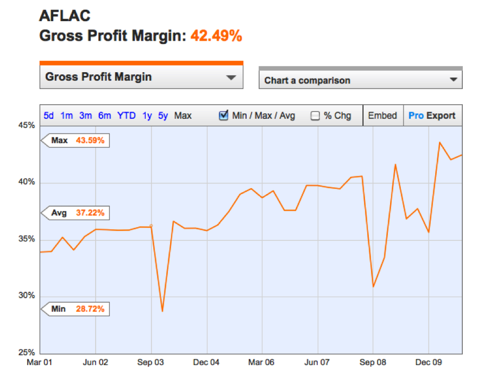 Charts are from www.ycharts.com
Step 3: Valuation – Are the Stocks Undervalued?
And then there were 3.
These are great companies and maybe great stocks, depending on what an investor has to pay for them. The market should recognize their prowess and excellent track record. But I don't want to pay the premium so I am testing to find current P/Es that are at or below the historical average.
I would not consider a stock undervalued solely on an analysis that compares current P/E to historical P/E. There could be good reasons why a stock deserves a lower current P/E than it has achieved historically. But a lower than average P/E combined with the growth and profitability standards described above, allows me to conclude they are undervalued. Assuming the exceptional growth and profitability trends are maintained, I would expect P/Es for these 3 stocks to have a good chance of expanding towards the high end of their historical levels.

Step 3: Current and Historical P/Es



Click to enlarge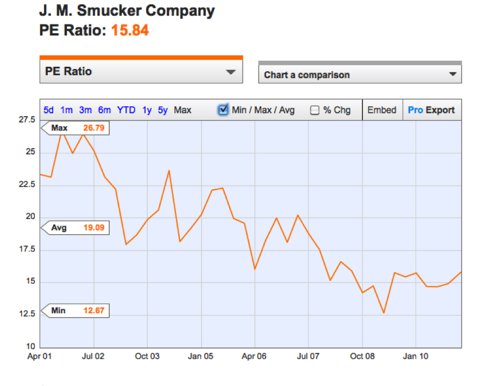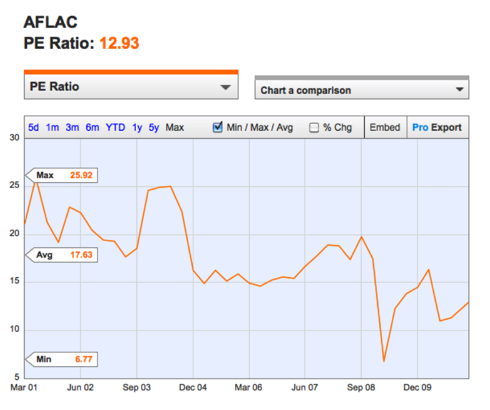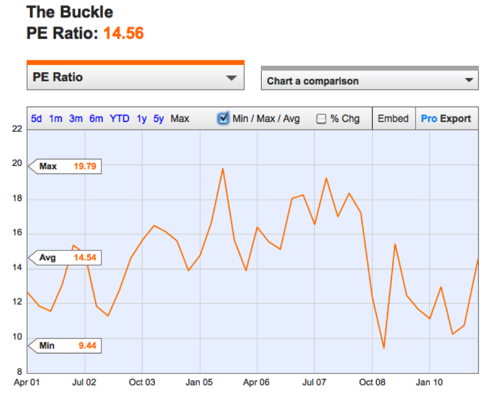 Performance
I did a quick back test for the past year and found that only AFL outperformed its LikeAssets benchmark. Surprising, but the analysis further supports the idea that the stocks may be undervalued.
Click to enlarge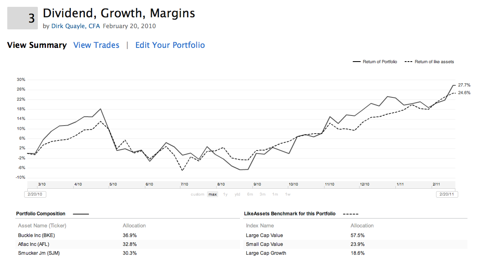 Click to enlarge


Click to enlarge
I also created a new portfolio to track the 3 picks from this date for the next year. Bookmark it and check to see if these picks beat their benchmarks. I'm thinking they will.
Please note that the stocks mentioned in this article are not suitable for all investors and each investor should consider his or her own financial situation or consult a financial advisor before making their own allocation decisions. Any securities discussed are used as a reference and should not be considered advice. There are risks in any investment strategies and prior performance does not guarantee future success.
Disclosure: I have no positions in any stocks mentioned, and no plans to initiate any positions within the next 72 hours.