The 52 week low list is often a scary list to troll. Some illiquid stocks may receive a price pop over a week to one month as these small cap companies show up on screening websites and scanning filters that target small retail investors. (This finding was reported in this highly debated 52 Week Low article)
But the more liquidity a company has, the more difficult this small retail effect becomes. The focus of this article is not to put our hopes and trust in the little investor for a tiny short-lived pop, but to see which of these lowly shares are possibly being picked up by instuitional investors. These large funds and powerhouses are typically viewed as informed investors by the rest of the market.
Make no mistake, this will be a contrarian list of investments not suitable for all trading types. But if you like to run your nets on the bottom of the oceans in the hopes of finding a discarded stock that might move up in the future, this article is dedicated to you. (Also look at 8 Highly Unusual Growth Stocks)
Support on the 52 Week Low List
How do we find stocks that might be finding support near their lows? There are a few ways to analyze. The first and most obvious would be to find reported transactions of institutional buying. However, these reports have a lag time between transaction and when the average person finds out. We will try to analyze stocks with some liquidity so that the retail trader effect is muted. Also, we keep an eye out for support levels, and if the share price bounced on good support, this is desirable. We will attempt to find stocks that are exhibiting some positive momentum or trading right near support levels where bigger fish may bite at.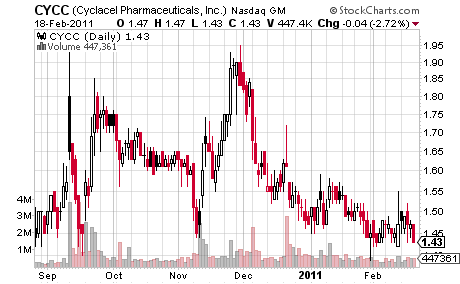 Trading Thoughts?
After looking over this list of underperforming stocks, only a couple have positive ownership changes. In general, the fund managers decrease their positions of losing stocks unless they have a valid reason to expect a trend reversal. A small support bounce can provide quick trade for a small buck, but for longer term traders they should look into increasing analyst forecasts, or sustained upward trending before buying. (You might also be interested how to lower risk and raise reward with 'under the radar' method)
Are there any stocks listed here (or other 52 week lows, or near lows) that you are buying into with the hopes of an upside move in 2011? What are your reasons for doing so?


Disclosure: I have no positions in any stocks mentioned, and no plans to initiate any positions within the next 72 hours.