Anadigics
(NASDAQ:ANAD) is down $
1.65
from its January 21, 2011, high, almost 21.97%, at $5.86 at the close of Friday's trade. T

he company reported

Q4 results ahead of expectations, but forecast a surprise net loss this quarter and much lower-than-expected revenue, citing "softness in China" and an inventory pile-up.


Many had already prepared for soft calendar Q1 guidance from Anadigics, but to insure we are accurate and clear, the $42M to $44M we got is centered about $7M to $8M below what was expected. ANAD was clear in stating that this sequential decline from the $60.2M reported for calendar Q4 was from a combination of normal seasonality and inventory re-balancing in the supply channel - particularly in the broadband sector and in China, as reported by
Paul McWilliams
. While consistent with what we can take away from the conference call, we have also heard other suppliers' forecasted declines are larger than all had anticipated.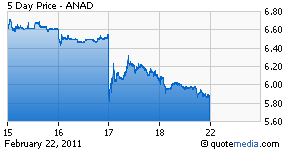 CFO Tom Shields remarked in the press release that the company is "seeing indications of greater than normal seasonality in the first quarter of 2011 primarily due to softness in China and through our distribution channels relating to excess inventories, coupled with a continued market correction expected to further impact our Cable and WiMax revenue."
During the conference call - (full transcript) CEO Mario Rivas addressed the assembled from Barcelona, where he's been attending the Mobile World Congress, and where he had been meeting this week with "strategic chipset partners," he said. Turning to the disappointing revenue outlook, Rivas said, "First of all, let me be specific that we have not lost any significant customer — so let's remove that from our discussion. However, in the first quarter, what we are experiencing is a combination of the cable and WiMAX market that is currently very soft and has placed considerable strain on the inventories of our customers, including our distributors."
Rivas added, "In wireless, most of the additional weakness arising in our revenue guidance is coming out of Asia, including our distributors. This, too, is believed to be a short-term inventory correction, coming from our new product design taking hold, commencing during the June quarter."
On the shiny side of the coin, ANAD CEO Mario Rivas was very clear that ANAD has not lost any significant designs. In fact, the critical take away was our confirmation that ANAD was chosen by both Samsung (
OTC:SSNLF
) and Research in Motion (RIMM) for their tablet designs. The former is a very big deal, and is further evidence that ANAD has done well to rebuild its reputation at Samsung. If you remember back a few years to when ANAD fell short of meeting customer schedules as reported by McWilliams, ANAD's delinquencies created significant problems at Samsung and delayed handset deliveries to the extent that Samsung mentioned the issue during a quarterly conference call.
Chart and data source:
Edgars Online
Also picked up by
McWilliams
, is the fact that ANAD generated $8.6M in operating cash flow offset by only $1.5M in capital expenses. This compares favorably with ANAD's reported non-GAAP operating profit of $4.5M. This strong cash flow was a significant improvement in operational efficiency. This also is evidenced by ANAD's non-GAAP gross margin of 37.7%, and non-GAAP operating margin of 7.4%.
Even though revenue was down modestly from calendar Q3, both margins improved from the 37.2% and 6.9% reported for Q3. Also notable is the fact that ANAD indicated it expects Q1 2011 gross margins will be above what they were in Q1 2010. The reason this is notable is that revenue from broadband applications, which generate higher than average gross margins, will be down significantly ($13.2M in 2010, versus $8.0M in 2011) year-over-year. This supports the thesis that ANAD has substantially improved its operational efficiency.
In our view, there is no change, in the longer-term. The projected outlook for ANAD's aggregate demand growth is stronger in our opinion after guidance they gave during their conference call this morning. RF semiconductor products like those supplied by ANAD have Gartner forecasting demand for 3G will grow at an average annual rate of 35% through 2014. The revelations that make ANAD a stock to own for 2011 come from when we know we will see LTE build traction late this year. Because both these applications require a significantly higher dollar content of RF semiconductors versus 2G, revenue growth potential for RF suppliers like ANAD should be considerably higher. Making the story complete, ANAD's solid positioning in multi-radio applications (handsets that will need to support multiple standards).
This further supports the theme started by waiting for the earnings report and conference call event to reveal the hidden gem of profits, which will lead ANAD to post very solid full year revenue growth in 2011. When coupled with ANAD's improved operating efficiency, you cannot help but take away the belief that there is plenty of room for ANAD to deliver some upside surprises starting as early as Q2.
Bottom Line:
We increased our upside options exposure in the $7.5 strike range, and further purchased a substantial position of shares in ANAD over Friday's trading, again due to the soundness of reasons supporting the upside beliefs.
Aggregate demand picture.
Paul McWilliams of NextInning.com
believes aggregate demand will grow significantly and that the growth will be most significant in product areas that lean toward ANAD's strengths.
McWilliams says, "ANAD capacity for growth - ANAD is positioned with current capacity of about $70M to $80M per quarter, and as it brings on contract fab capacity it believes it is positioned to support quarterly revenue of approximately $100M."
The key flag making ANAD a significant early entry play comes from the Management Factor. The Management Factor is a swelling support of industry faith in ANAD's CEO, Mario Rivas.
The green flag of early entry sent by McWilliams comes with his belief in Rivas and that ANAD has done an excellent job in repairing its strategic weaknesses - both internally and with ANAD's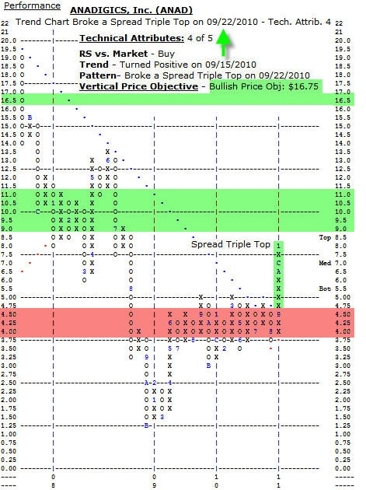 customers and ecosystem partners. In addition to this, McWilliams thinks Mario Rivas' investor presentations have been clear, transparent, and if anything, understated on balance. While the stock is trading down for the day, think of it as an early issue candidate.
Point & Figue Chart by
Dorsey Wright & Associates
The consensus from the hedge funds pegged it first into the mid to low $5s. Even if you see a few downgrades due to citing lack of visibility and projected reduced earnings outlook, Wall Street didn't share a similar opinion with the downgrades, but sees a great potential supporting the double-digit returns theme.
Trade well and follow the trend, not the so-called "experts", remember what is

important in life.

Keep all your trades weighted properly. It is wise to have a professional adviser. An adviser who is an active money manager works your portfolio when working within this current market environment.


Disclosure: I am long ANAD.

Disclaimer: Stock and options trading involves substantial risk. The valuation of stock and options may fluctuate, and as a result, in some cases, clients could lose more than their original investment. In no event should the content of this correspondence be construed as an express or an implied promise, guarantee or implication by or from James Gornick and/or Seeking Alpha and or their affiliates that you will profit or that losses can or will be limited in any manner whatsoever. Past results are no indication of future performance. Information provided in this correspondence is intended solely for informative purposes and is obtained from sources believed to be reliable. Information is in no way guaranteed. No guarantee of any kind is implied or possible where projections of future conditions are attempted.