Standard and Poor's reported that home price declines are continuing at an accelerated pace, the Case-Shiller 20-City Home Price Index dropping 1.0 percent in December for the second straight month, now down 2.4 percent on a year-over-year basis. The National Home Price Index, reported on a quarterly basis, showed an even steeper decline, home prices falling some 4.1 percent from the fourth quarter of 2009 to the fourth quarter of 2010.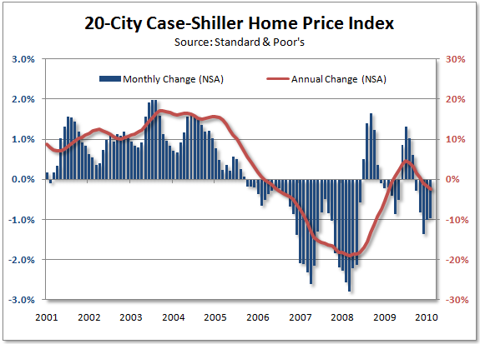 Click to enlarge
The monthly data showed declines in 19 of the 20 regions, Washington D.C. being the lone exception where home prices rose 0.3 percent. Declines were paced by a 2.6 percent plunge in Tampa, a 2.3 percent drop in Detroit, and a decline of 2.0 percent in Seattle.
Eleven regions posted new record lows since the price peak five years ago – Atlanta, Charlotte, Chicago, Detroit, Las Vegas, Miami, New York, Phoenix, Portland, Seattle and Tampa – New York and Phoenix just added to this group in this report.