by Stephen D. Simpson, CFA
The tug of war between Clinical Data (NASDAQ:CLDA) bulls and bears has ended in what has to be called a draw. Flying in the face of the bear argument that Clinical Data's recently-approved depression drug Viibryd is little more than a me-too drug with scant prospects, Forest Labs (NYSE:FRX), a company that knows more than a little about depression drugs, has agreed to purchase the company for $30 a share in cash and up to $6 more in contingent payments.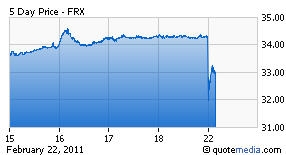 Of course, bulls should not be limbering up for an unbridled victory lap either. At $30, the guaranteed part of Forest's bid represents a take-under to the tune of nearly $4 per share. Moreover, if Viibryd really takes the market by storm and becomes a $2 billion or even $3 billion a-year drug, this deal is hardly full and fair compensation.
The Structure Of The Deal
Assuming that 79% of shareholders agree to the deal, Clinical Data owners get $30 free and clear. Forest went to some lengths in the press release to make that sound like a premium offer, pointing to a slightly convoluted volume-adjusted pricing metric that makes this deal represent a nearly 7% premium to Clinical Data's post-approval trading. The reality, though, is that bulls overshot the mark when they bid this stock up in anticipation of a buyout.
Not unlike the recently-announced deal between Sanofi-Aventis (NYSE:SNY) and Genzyme (GENZ), the contingent compensation part of the deal is fairly significant, and could ultimately represent close to 17% of the deal value. Here's how the contingent payments break out according to the press release:
$1.00 per share if Viibryd produces a 12-month run rate of sales of $800 million within 5 years
$2.00 per share if sales meet or exceed $1.1 billion within 6 years
$3.00 per share if sales meet or exceed $1.5 billion in 7 years
The Drug In Question
Although Clinical Data does have one other drug in late-stage testing (Stedivaze for cardiac imaging), this deal is really all about Viibryd. Also known as vilazodone (the chemical name), Viibryd is a novel dual-mechanism anti-depressant that the FDA approved as a treatment for major depressive disorder. Although the data concerning Viibryd's efficacy does not jump off the page, depression is an idiosyncratic disease and many patients find that they have to try multiple drugs before finding one that works. Consequently, Viibryd may not achieve all that much success as a first-line therapy, but there could be significant potential as a follow-on treatment.
Moreover, Viibryd appears to have an attractive side-effect profile. Clinical studies showed no weight gain and low sexual side-effects - and those are major issues with many depression drugs, including Forest's own drug Lexapro. On the other hand, nausea and diarrhea were quite common, and one could argue that the onset of diarrhea largely makes the "sexual side-effect" question moot. To be fair, though, diarrhea and nausea tapered off significantly after a couple of weeks, accounting for relatively few drug discontinuations in Phase 3 studies.
Can Forest Make This Work?
It is hard to think of too many better custodians for Viibryd than Forest Labs. Forest has done quite well for itself with the anti-depressants Celexa and Lexapro, selling nearly $587 million of the latter in the most-recent quarter. Unfortunately, Lexapro goes off-patent soon and the recent clinical failure of levomilnacipran threatened to leave the company with an empty cupboard in this market.
It is true that even a large pharmaceutical company cannot force-feed a drug to a market that does not want it (witness the difficulties and controversy surrounding Novartis (NYSE:NVS) and its sales of Vanda Pharmaceuticals' (NASDAQ:VNDA) schizophrenia treatment Fanapt). That said, Forest Labs has an experienced sales force, and the company needs this drug to be a winner - all of which suggests that if Forest can't make this drug a success, nobody could have.
Nothing Promised, But Little Expected
For Clinical Data shareholders, this is probably the best deal they can expect. It seems unlikely that Pfizer (NYSE:PFE) or Lilly (NYSE:LLY) would want to get into a bidding-war here. It is also an interesting lesson for biotech investors in general - as companies like Clinical Data, Savient (OTC:SVNT), and Vanda get approval despite a newly strict FDA, and then find that partners are in no rush to pay up for rights to the drugs. Perhaps it's lucky for the likes of Human Genome Sciences (HGSI) and Seattle Genetics (NASDAQ:SGEN), then, that they already have marketing deals in place, though the market expectations of those drugs are far more positive.
Forest Labs is taking on some significant dilution to do this deal and does not expect it will be accretive to earnings until 2014, even though it intends to launch the drug in the second half of this year. The good news for Forest shareholders, though, is that so little is presently expected of this company that it does not seem that any dilution should hurt the valuation all that much. In fact, the stock seems to be discounting a nearly two-thirds drop in free cash flow by 2014. If Forest Labs can turn Viibryd into only half as successful a drug as Lexapro, that represents a pretty appealing upside to these shares.
Disclosure: I have no positions in any stocks mentioned, and no plans to initiate any positions within the next 72 hours.