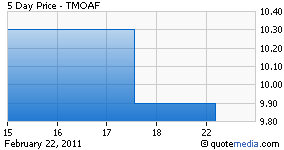 In my recent article I recommended TomTom (OTCPK:TMOAF), and I am still standing firm.
The gold standard for telematics success is daily relevance. One of the greatest challenges for companies introducing telematics systems and solutions is to bring daily relevance to their offerings.
Traffic data is something that is relevant five days a week to a substantial portion of the working public. Companies that get traffic data right have a huge competitive advantage not only in providing traffic data, but also for providing a wide range of data feeds and services. In fact, the very infrastructure required for delivering traffic data – storage and processing facilities and servers and, in some cases, broadcasting capability - is a suitable platform for providing other telematics services.
For this reason, traffic data providers such as TomTom and Navteq (NVT) also serve as content and service aggregators. The opportunity to provide additional telematics services is the brass ring for which traffic data providers are reaching. It is for this reason these companies are seeking to bundle traffic data offerings with traffic-influenced routing, developing mobile apps for smartphones and connected navigation systems, and other initiatives focused on moving up the value chain – ultimately leading to sponsored content, reviews and location-aware advertising and promotion.
The daily relevance of traffic data is a powerful elixir for delivering additional location-aware added-value services, including advertising. That's why Google (NASDAQ:GOOG), TeleNav (NASDAQ:TNAV), Nokia (NYSE:NOK), Navteq, Research in Motion (RIMM) and TomTom are moving quickly to introduce or enhance their probe-based (handset GPS) traffic flow solutions to develop their telematics business.
The winner(s) to emerge from this marketing scrum will be the company or companies with the highest quality traffic data. Traffic data quality, in turn, is determined by a handful of critical factors including data sources, integration, and delivery. (The quality and nature of the user interface is important as well, but is the responsibility of the device or service designer/manufacturer.)
Telematics (software) will become more and more important for navigation devices companies. The result is a clear transition away from pure hardware sales to software based-solutions and revenues. Software will take half of the total navigation market by 2016, according to ABI Research.
TomTom is poised to be such a winner. It designs and sells route navigation systems, is global market leader in the sales of portable navigation devices and is the world's leading provider of location and navigation solutions. The company employs over 3,000 employees worldwide. Over 45 million people daily use its solutions, be it in the form of dedicated portable navigation devices, in-dash car systems or tracking and tracing solutions for fleet management. In addition, hundreds of millions of people use TomTom's digital maps on the internet or mobile phone.
Last week TomTom announced disappointing FY 2010 results. The company reported revenue of EUR1.521 billion and diluted EPS of EUR0.49. The company announced that it expects broadly flat revenues and earnings per share in fiscal 2011 compared with fiscal 2010.
In my opinion there were two reasons that panicked the market:
The market for navigation devices seems to be shrinking quicker than previously thought. TomTom indicated that though its global market share in navigation devices grew in Q4 from 46% to 49% as smaller competitors drop out of the market. But, worryingly though, the market size dropped 23% in comparison with last year.
This year TomTom expects unchanged revenues and net profit, while the market was already expecting net profit to rise 10% in 2011.
Despite the reasons for the stock decline TomTom is undervalued for the growth prospects it has. The market is evolving to support new revenue sources and this will take some years to occur. By 2014, more than 60% of the installed base will consist of software-based navigation solutions, and the off-deck location-based services market will be primarily funded by advertising rather than direct fees.
The company is a takeover candidate with its high amounts of navigation sector intellectual property. One of the companies that is frequently mentioned is Apple (NASDAQ:AAPL) because Apple clearly wants to reduce its dependence on Google Maps.
TomTom's strategy to move into the fast-growing sports and fitness market with a partnership with Nike (NYSE:NKE) was also a step in the right direction to diversify their revenue stream.

2011 will be a transition year. A stock price between EUR5.50 and EUR6.00 is an interesting entry point for a changing company with a strong cash flow and a healthy balance sheet. The P/E is well below average (<10).
Disclosure: I have no positions in any stocks mentioned, and no plans to initiate any positions within the next 72 hours.