During the course of the eight weeks since mid-December, I have written a series of articles focusing on a number of factors that have been falling into place in support of renewable energy stocks in general and solar in particular.
From a medium to long-term perspective, I believe that those arguments continue to hold true and that renewable energy stocks will perform over a 12-18 month view.
However, in this article, I want to focus on one single issue - and that is the dramatic out-performance of solar over wind stocks since mid-December.
Tan Versus Fan: A Lot of Sun, Not Much Wind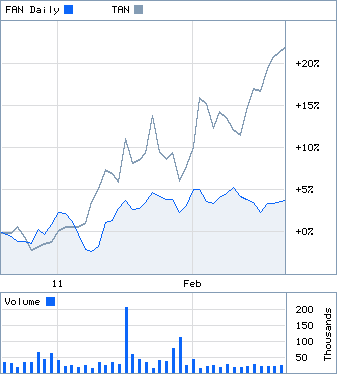 Source: Fidelity
The chart above shows the performance since mid-December of the Guggenhiem Solar ETF (NYSEARCA:TAN) against that of the First Trust Global Wind Energy ETF (NYSEARCA:FAN). Clearly, solar stocks generally have put in a stellar performance, whilst on average wind stocks have produced only a few percentage points of gains over the period shown.
Oftentimes, such apparent discrepancies in the relative performance of related sectors can be more reflective of the make-up of the individual indices or ETFs - and particularly geographical exposure. However, if we look at the key bellwether stocks in solar and wind we see a similar picture, confirming the overall story.
Solar Bellwether FSLR versus Wind Bellwethers Vestas and GamesaClick to enlarge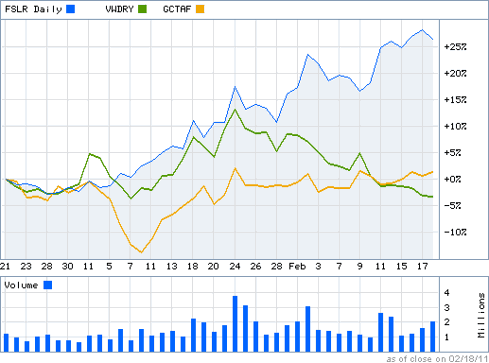 Click to enlarge
(Click to enlarge) Source: Fidelity
The chart above shows the performance of First Solar (NASDAQ:FSLR), the global bellwether of the solar industry against the performance of two of the big global wind companies - Vestas (OTCPK:VWDRY) of Denmark and Gamesa (OTCPK:GCTAF) of Spain. The story is clear. Although Gamesa has recently recovered from a difficult January neither wind stock has remotely touched First Solar's performance.
To me, this is a timely reminder that renewable energy and clean technology stocks very often run on changing sentiment - or alternately on hype and fad followed by excessive pessimism. This does not mean that investors cannot profit from these technologies - but rather that prudence requires booking profits and adjusting positions were times are good.
The main factors that have come into play in the past two months are supportive for both solar and wind -
The roll-over of the 1603 Treasury grant program at the end of last year. More detail here.
The president's pro-renewable energy proposals as delivered in the State of the Union Address. More detail here.
The turbulence in the Middle East and what it means for oil prices and the economic cycle. More detail here.
Solar has also had additional support from market optimism as we have approached a good earnings season. Good earnings announcements in solar are likely to continue - and indeed we have First Solar on Tuesday. It is very likely that they will have had a good Q4.
However, with so many global factors that should be supportive for renewables in general, it is not unreasonable to suggest that a simple, cautious approach to booking profits in solar seems reasonable given the lack of a confirming rally in other renewables such as wind.
This is particularly true since high and volatile oil prices are a double-edged sword in the short-term. They strengthen the case for renewable energy and clean technology. However, they also bring a significant degree of general market risk.
We have had a very good rally in solar and I have been happily booking profits and scaling back in the last few days. I intend to continue with that approach and rifle-shoot for good opportunities as they appear.
Disclosure: I am long FSLR, VWDRY.PK.
Additional disclosure: I intend to further take profits and reduce risk.