On Tuesday of last week Apple (NASDAQ:AAPL) announced the launch of the subscription service on iTunes and it has caused fervent opinions from both sides. The major characteristics of the new service are as follows:
Apple collects 30% of all subscriptions fulfilled through iTunes.
Publishers cannot offer a lower price for their subscription on their website and they cannot link to their websites inside of iTunes.
Publishers will not have access to consumer's personal information without Apple's consent.
It remains to be seen whether this new service will be a success but the Wall Street Journal reports that the Justice Department and Federal Trade Commission are investigating whether these practices are anticompetitive. Is Apple a monopoly? Below I present three reasons why Apple is not a monopoly.
1. Been There, Done That:
In the past year alone there have been at least six stories involving whether Apple has engaged in anticompetitive activities. Seeking Alpha lists many of them or you could skim some of the three million Google (NASDAQ:GOOG) results for "Apple Monopoly." The WSJ article above succinctly summarizes the four main areas in which federal regulators have targeted Apple in the past few years: Software, Employment Practices, Corporate Governance, and Music.
Below is a timeline from 2000 to 2011 showing the relative amount of searches involving the phrase "Apple Monopoly." The results in the early 2000s mainly allege that Microsoft (NASDAQ:MSFT) had the monopoly. How the mighty have fallen. In summary, antitrust inquiries are nothing new for Apple and the stock has continued its astronomical rise despite them.

(Click to enlarge)
2. Not Enough Mobile Market Power:
Federal regulators must prove both that Apple has significant market power and that it is exploiting that advantage to reduce competition. Quite simply, even if Apple's actions are deemed to be anticompetitive, regulators must prove that Apple has significant market share. It is difficult to get exact statistics but ZDNet reports that Apple lags both Research in Motion (RIMM) and Google.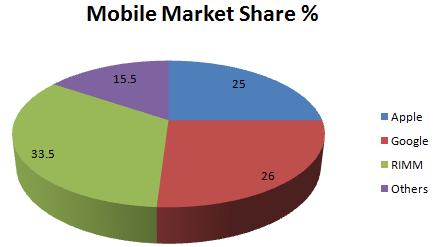 In addition to the fact that there is significant competition in the mobile space, Google introduced a direct competitor to Apple's new subscription plan. In an ironic twist, Google's involvement in the market will likely be a reason why Apple does not have a monopoly.
3. EU Doesn't Mind …So Far:
The European regulators have tended to be more proactive in investigating antitrust cases but so far the European Commission is taking a 'wait-and-see' approach according to Bloomberg. Since the industry is "relatively new and evolving" the EU does not appear to be seriously investigating, thus any immediate action by the U.S appears unlikely.
But One Reason Why Apple Could Be a Monopoly …
I am not an attorney or an expert in antitrust law, but based upon the arguments above I do not believe that Apple has a monopoly; however, there is one statistic that could put Apple in the regulatory spotlight: Apple's 82.7% share of mobile app sales. As competitors improve their app stores this percentage is likely to shrink and so should any corresponding antitrust concerns.
In closing, I am not currently concerned about any anticompetitive activities claims alleged against Apple. As a long-term Apple bull, such claims only inject more volatility into the stock. For the seasoned investor, a strategy on how to capitalize on this story by using options, please consult my latest option article.
Disclosure: Author holds long positions in AAPL and GOOG. Author plans to sell AAPL Feb. 25, 355 Covered Calls.