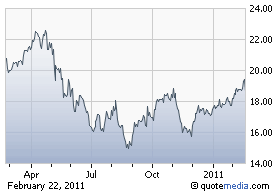 R.R. Donnelly & Sons (NASDAQ:RRD) is the largest commercial printer in the world, with operations both inside the United States (75% of sales) and international. Its primary lines of business are magazines, catalogues, and retail inserts, as well as books and directories, but the company also performs all manners of large-scale printing, and also performs ancillary services in allowing clients to communicate with their customers. As recently announced, its clients include LL Bean catalogues and Bauer Publishing, which produces Women's World and Life & Style Weekly magazines, although it has a fairly diverse stable of clients that apparently number more than 60,000. With the ongoing slump in the global economy, R.R. Donnelly has been forced to reorganize its operations and cope with large impairment charges and a shrinking of sales. However, despite these nonrecurring expenses and noncash writeoffs, the firm has not only retained profitability, but is also throwing off an impressive free cash flow yield of 12.9%. Furthermore, sales seem to have stabilized alongside the economy. The company also offers a dividend yield of over 5.5%, which is very generous, especially nowadays.
This morning, R.R. Donnelly released an earnings report indicating sales were up 4.8% from the same quarter last year, although margins declined slightly as compared to last year, partly due to a large acquisition, a larger than normal pension contribution, and expenses relating to a large acquisition. Reported earnings of $0.51/share before special items for the quarter beat the consensus estimate of $0.46, and the full-year free cash flow figures are only marginally lower than 2009's, as shown below. The market has not responded favorably to this news, although the situation in Libya is dominating market perceptions today.
R.R. Donnelly's reports claim that the commercial printing industry is highly fragmented and suffering from overcapacity problems that can be addressed somewhat through consolidation. Indeed, the firm is doing its own part to accelerate the consolidation process by making acquisitions of its own, including three in 2010 alone. These strategic acquisitions of smaller firms have assisted Donnelly in maintaining its current level of sales. It has also allowed it to ratchet down its level of capital expenditures in response to continued economic weakness, as well as the decline in print directories and the rise of e-books, although Donnelly claims in its financial reports that e-books have not cut into book printing volumes as yet.
Turning to R.R. Donnelly's financials, sales declined from roughly $11.5 billion in 2008 and 2007 to $9.8 billion in 2009, and sales in 2010 were only marginally higher at $10 billion. Free cash flows have also declined, but show signs of stabilizing in the area of $525 million for 2009 and $501 million for 2010, which represents a remarkably low price/free cash flow ratio of 7.6 based on current prices (for more, see 7 Shipping and Business Service Stocks Yielding Over 5%).
RR Donnelly's Results from Operations and Free Cash Flows 2007-2010
| | 2010 | 2009 | 2008 | 2007 |
| --- | --- | --- | --- | --- |
| Sales | 10018.9 | 9857.4 | 11581.6 | 11587.1 |
| Reported operating income | 555.5 | 344.3 | -40.5 | 315.1 |
| Restructuring & impairments | 157.9 | 382.7 | 1184.7 | 839.0 |
| Excess depreciation | 344.2 | 384 | 317.7 | 296.6 |
| Operating cash flow | 1057.6 | 1111 | 1461.9 | 1450.7 |
| Interest expense | 222.6 | 234.6 | 226.4 | 227.3 |
| Pretax free cash flow | 835 | 876.4 | 1235.5 | 1223.4 |
| Est. free cash flow, taxed at 40% | 501 | 525.8 | 741.3 | 734 |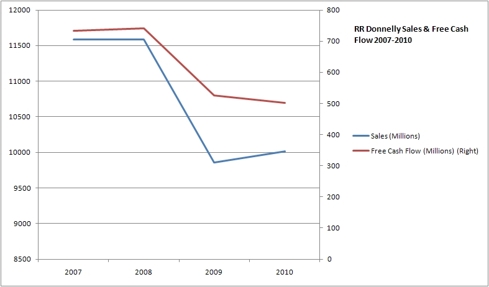 As mentioned above, R.R. Donnelly faces a terminal decline in publishing directories, and perhaps as e-books increase in popularity, book printing volumes may begin to suffer. However, the company is adapting to the situation by reducing capital expenditures and diversifying its lines of business through restructurings and targeted acquisitions. As a result, R.R. Donnelly gives every indication that it is in a position to spin off a great deal of cash from its various lines of business even as some of them decline. Furthermore, the company has produced significant sales growth in logistical services and financial printing in 2010 as compared to 2009, as well as significant sales expansion in Asia. Also, despite the decline in sales, the company's interest requirements are covered by operating cash flow more than four times, so the risk of financial distress derailing its cash flow generation is not a great one. In fact, according to the finra.org bond screen, R.R. Donnelly's bonds generally trade at a premium to par. Also, the low multiples that seem to prevail for printing companies, if they continue, will benefit R.R. Donnelly in its future acquisitions.
As R.R. Donnelly has for the moment stabilized its operations and seems to be in a strong financial position to address its long-term issues and generate comparably high cash flows for the foreseeable future, I believe it is attractively priced and definitely deserves to be a candidate for portfolio inclusion.
Disclosure: I have no positions in any stocks mentioned, but may initiate a long position in RRD over the next 72 hours.