Medtronic - A Discussion of the Past
Medtronic Inc. (NYSE:
MDT
) has a legacy of being one of the best managed and therefore most consistent generators of profitable growth of any publicly-traded company. Since its founding in 1949, Medtronic has grown into the world's largest medical technology company. Headquartered in Minneapolis, Minnesota, Medtronic has expanded its business worldwide and now operates in over 120 countries throughout the world. More than half a century ago, Medtronic's board of directors asked the co-founder to develop a mission statement that would provide a strategic focus for the company's resources. That mission statement is quoted and summarized as follows: "
to alleviate pain, restore health, and extend life.
" Medtronic has built one of the highest quality companies the world has ever known upon these words.
Since a picture is worth 1,000 words, earnings and dividends from F.A.S.T. Graphs™ (since 1992 on Medtronic) vividly illustrates the company's record of excellence. Decade after decade, and year after year, through good times and bad (note earnings growth during the recessions of 2001 and 2008) Medtronic has consistently delivered above-average operating results. In recent times, the earnings per share growth rate has begun to slow down, but has not faltered.
Click to enlarge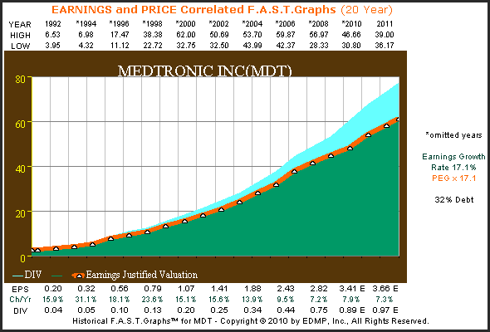 When we look at Medtronic over the last five years, 2006 – 2010, we find that the earnings growth rate has dropped from averaging over 17% per annum to averaging 9% per annum. However, the consistency of the company's growth has not changed. And, as we'll discuss later, we expect this high-quality company to continue growing at a 9% rate or better far into the future. Currently, there are 26 analysts reporting to FirstCall that share our forecast. Again, we will talk more about that later.
Click to enlarge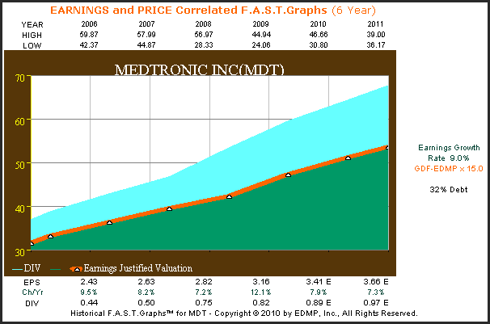 This consistent earnings growth record has not gone unnoticed by the marketplace; Medtronic's stock has commanded a premium valuation for many years. The following graphs add stock price and calculates Medtronic's historical normal PE ratio since 1992. As you can see, Medtronic's lofty valuation would have kept value investors who believe in practicing sound valuation techniques from purchasing this excellent company.
However, a recent shift in the company's valuation levels which started in August of 2008, has opened the doors for value investors. A quick glance at the graphs below shows that Medtronic has, since August of 2008, been trading at its lowest valuation levels since 1992. Another perspective of valuation that this graph depicts is how overvaluation has stagnated shareholder returns since 1999. Medtronic's share price remained virtually range bound for all those years even though its earnings-per-share continued to grow.
Click to enlarge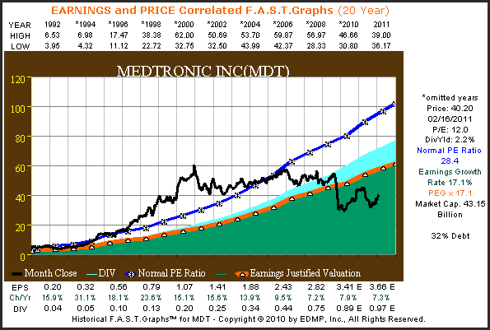 When you review the long-term performance results associated with the above graph, two important things become evident. One, in the long run, Medtronic shareholders were rewarded in excess of the average company, even with current valuations being so low. Two, thanks to consistent earnings growth, Medtronic increased its dividend every year consistent with its earnings growth rate.
Click to enlarge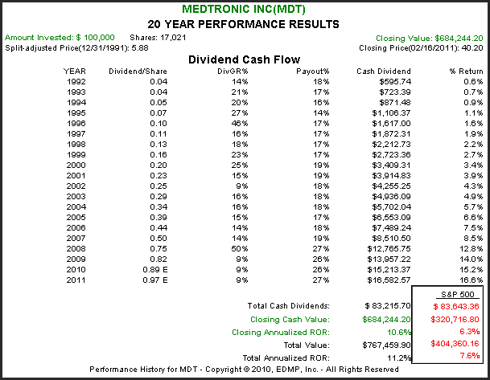 The following provides a look at Medtronic with associated performance results since calendar year 2000, which marks the period of excessive overvaluation in its stock. However, it's interesting to note that even excessive overvaluation did not cause Medtronic shareholders to lose money. Instead, they were able to eke out a modest profit and even outperformed the S&P 500. Keep in mind that this is the era often referred to as the lost decade.
Click to enlarge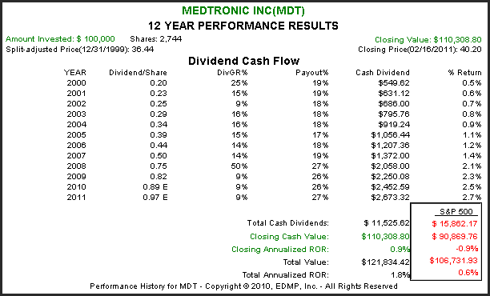 Looking to the future, the consensus of 26 analysts reporting to FirstCall, expect Medtronic to grow earnings at 9% per annum over the next five years. We believe that these earnings estimates are very conservative and Medtronic could conceivably begin growing again at double-digit rates in the near future. The remainder of this article will focus on reasons why we believe this to be true.
Click to enlarge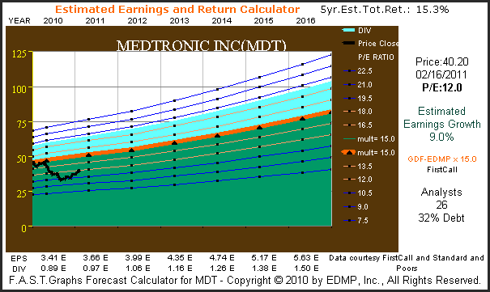 The Thesis for Future Growth
We believe that Medtronic is well-positioned to deliver sustainable growth in the future. First of all, demographics, specifically the aging of the world's population, provides a large opportunity for all of its business divisions. Medtronic is strategically focused on chronic disease, and possesses the size and scale to continue a disciplined R&D program. Medtronic has the financial strength and cash flow generation to further replenish its pipeline through the continuation of strategic acquisitions. Furthermore, the company has committed to reallocating resources to emerging markets. For example, the company recently opened a patient care center in Beijing, China.
Medtronic believes that it maintains unique capabilities that create many competitive advantages. The company has the clinical and regulatory expertise to develop and get new products approved throughout the world. Medtronic has one of the lowest cost structures in the industry, and has a very flexible manufacturing capacity. The company has a broad portfolio of market-leading products that support this statement. And most importantly, the company possesses the financial strength to weather almost any economic environment.
Medtronic's Three Opportunities for Growth
Medtronic's management team believes that they are very well-positioned to execute on growth opportunities in three primary areas. First of all, they believe they can produce the pipeline that will allow them to gain share in core markets and exploit growth in new markets. Second, they are very focused and aggressively taking steps to capture the tremendous growth opportunities they see in emerging markets. Finally, they believe that their size and scale will allow them to deliver superior financial performance.
Medtronic's Primary Business Segments
Medtronic is very well-positioned to profit from the powerful demographic of an aging world population. Its primary business units provide a diversified portfolio that enables the company to serve and treat a wide range of chronic diseases. Furthermore, Medtronic's portfolio positions the company to take advantage of new trends in disease management. Its primary business units and their contributions to revenues are as follows:
Cardiac Rhythm Disease Management (CRDM) is the oldest and largest of Medtronic's business units. Medtronic considers this a core market and represents approximately 33% of 2010 revenues. The primary product lines of this business include: implantable pacemakers, cardioverter defibrillators (ICDs), and implantable cardiac resynchronization therapy devices (CRTs).
Its spinal and biologic business represents approximately 22% of 2010 revenues. The biologic business is the global leader in biologics regeneration and pain therapies across a variety of musculoskeletal applications including spine, orthopaedic trauma and dental.
Cardio Vascular is Medtronic's third-largest business and represents approximately 19% of 2010 revenues. This business unit specializes is an angioplasty techniques, stent grafts, heart valves and valve repair technology and open heart and coronary bypass graft products.
Neuromodulation is the second oldest and fourth-largest of Medtronic's business units, representing 11% of 2010 revenues. Medtronic formed this business by transferring its expertise in heart electrical stimulation to treat diseases and conditions involving the nervous system.

Diabetes is Medtronic's fifth largest business segment and represents 9% of 2010 revenues. This important business segment specializes in diabetes management solutions and includes advanced insulin delivery systems and continuous glucose monitoring.

Medtronic sixth-largest business is surgical technologies which represents 6% of 2010 revenues. Ear, nose and throat (ENT) powered surgical systems and instruments and monitoring systems make up the balk of this important business.

Medtronic's Positives and Negatives, According to MorningStar Research
Bulls Say...

•

Medtronic is the largest medical equipment maker and has sustained approximately 50% share in its core heart devices. It also holds market-leading positions in spinal products and insulin pumps.

•

Medtronic has taken bold steps to purchase emerging technology to treat atrial fibrillation and transcatheter heart valves. If these new therapies prove effective, Medtronic could dominate two more potentially large markets.

•

Medtronic often finds novel ways to apply familiar technologies - like using the implantable electronic-stimulation technology in pacemakers to address overactive bladders, chronic pain and symptoms from advanced Parkinson's disease.
Bears Say...

•

As smaller firms introduce new insulin pumps, Medtronic may face a stiffer fight to maintain its leadership in this arena.

•

Medtronic's devices are subject to Medicare reimbursement rates; proposed cuts in those rates could hurt profitability.

•

In the last few years, Medtronic has issued a number of voluntary recalls of some of its products, one of which concerned premature battery failure for ICDs and the most recent associated with leads for ICDs. Although the fatalities associated with these problems has remained extremely small, recalls generally require time and effort and can hurt doctors' confidence in the products.

•

If the Justice Department investigation of off-label Infuse usage finds that Medtronic sales reps have engaged in any untoward marketing practices, the company could face financial penalties.

•

There isn't much evidence-based data to support some of the invasive spinal devices that Medtronic sells. New clinical data could easily suggest the superiority of other therapies, which would substantially hurt Medtronic's leading position in spinal devices."
Summary and Conclusions
Medtronic is an extremely high-quality company that the stock market has overvalued for many years. However, thanks to the great recession of 2008, Medtronic's stock price has finally come down to reasonable levels. Even if you consider that Medtronic's earnings growth will slow to high single-digit or low double-digit rates, we believe this company is very attractively valued and offers a solid and growing dividend yield. We believe it is very rare to find such a high-quality company with a great track record and well-defined future as attractively valued as Medtronic is today.
Disclosure: I am long MDT.
Disclaimer: The opinions in this document are for informational and educational purposes only and should not be construed as a recommendation to buy or sell the stocks mentioned or to solicit transactions or clients. Past performance of the companies discussed may not continue and the companies may not achieve the earnings growth as predicted. The information in this document is believed to be accurate, but under no circumstances should a person act upon the information contained within. We do not recommend that anyone act upon any investment information without first consulting an investment advisor as to the suitability of such investments for his specific situation.