Before you read this, please take a moment of silence to commemorate the courageous Libyan protesters who have sacrificed their lives for a chance at freedom and democracy.
It is with a heavy heart that I write this piece, because I am a humanist before a capitalist. I recently sold a purchased WTI Crude Oil futures position because I was disgusted with the thought of profiting from the misfortune of these brave souls.
Money isn't as important as giving a people a chance to enjoy what we take for granted.
Several international oil companies have operations in Libya, through EPSA's (Exploration and Production Sharing Agreements) signed with the Libyan National Oil Corporation (NOC).
As is well known, the Libyan government opened up the oil and gas fields to foreign involvement after it took ownership for and made reparations to victims of the Lockerbie Pan-Am airplane bombing. It was taken off the UN sanction list in 2004 and the US State Department cleared Libya as a Sponsor of Terrorism in 2006. There was a subsequent rush by foreign oil companies to cut deals with the Libyans, led by the non-US players.
I know many oil companies paid big bucks to get a chance at developing the huge Libyan oil and natural gas reserves, which are considered underexplored or requiring much needed renewal and infrastructure spending.
For example, Petro-Canada, now part of Suncor (NYSE:SU) paid the Libyan government $1 billion in cold cash for entry to develop a project with a targeted 50,000 bbls/day operation. Of course, the government "take" via the EPSA would continue once production initiated. The contracts, which have terms of 30 years, saw Petro-Canada commit 50% of all development costs in exchange for 12% of the production.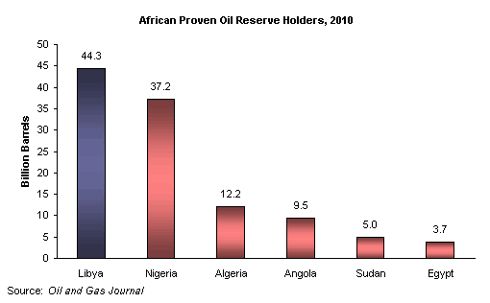 Brent April futures reached $108.18 Monday, a new 2 1/2 year high, and as of Monday night were trading at $106.71 up 4.0%. WTI April futures spiked to $98.48 Monday, on 150,000 contracts traded (that's almost $15 billion in notional amount) and were up over $7 from earlier in the week. April WTI was trading at $96.34 as of this writing, up 7.4%.
The Western oils in Libya include ENI spa (NYSE:E) and symbol ENI on Milan, BP plc (NYSE:BP), Total (NYSE:TOT) and FP in France, Royal Dutch Shell (NYSE:RDS.A), ExxonMobil (NYSE:XOM), Chevron (NYSE:CVX), Occidental Petroleum (NYSE:OXY) as well as Statoil (NYSE:STO) and symbol STL in Oslo.
Several Asian oil companies are present in Libya and they include Indonesian PT Pertamina, Oil India, China National Petroleum and Nippon Oil.
The Libyan NOC (aka government) calls the shots in development and owns several subsidiaries to exercise control over international development of its resource. In December 2009, shareholders of Verenex approved the C$317 million ($299 million) sale of the small Canadian oil explorer on Friday to a Libyan sovereign wealth fund, ending an international takeover battle that saw Libya block a richer offer from China National Petroleum.
Oil share performance Monday was mixed, depending on the significance of the Libyan activities relative to overall operations, offset on the upside by the spiking oil price. I'll focus on a few European operators as North American oil majors did not trade in New York, due to the US holiday.
Italian power giant Eni S.p.A (ENI) has a historically large involvement in Libya, which constituted 14% of oil and gas production in 2009. ENI also produces significant natural gas from Libya and pipes over to the continent via the Greenstream pipeline. ENI also has significant oil and gas drilling and refinery and industrial plant construction activities in Libya. The stock was down 5.1% Monday, closing at 17.43 euros.
ENI said its operations and facilities in Libya haven't been affected by the political unrest in the country and production continues as normal. The company is in the process of evacuating non-essential personnel, as are several others. ENI takes advantage of the Greenstream pipeline from Libya to Sicily and up through Italy to Europe to sell Libyan copious quantities of natural gas. Another pipeline takes Algerian gas through Tunisia and to Italy. Future pipelines are planned to expand production and natural gas sales. In 2009, 15.6% of ENI's natural gas sales came from Libya, and another 24.8% from Algeria.
Here is a chart of Libyan natural gas reserves.
click to enlarge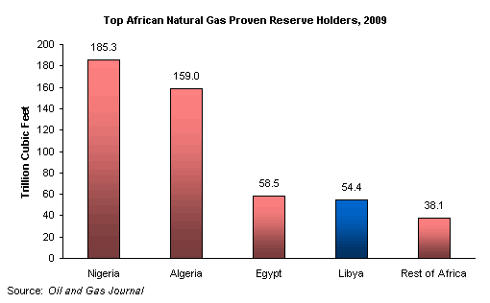 Click to enlarge
Here is a chart of Libyan natural gas production and consumption.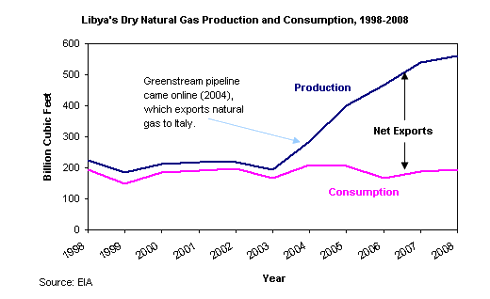 Click to enlarge
Another big player in Libya, French oil major Total, had its shares down 1.3% at 43.05 euros.
Total strategy chief Jean-Jacques Mosconi told Reuters he did not see political turmoil affecting Total's 55,000 barrel per day Libya output or its business elsewhere in the region. The French group produces 2.3 million barrels per day worldwide.
"There is absolutely no impact on production," Mosconi said in an interview at Total's headquarters.
Regardless of how the (Libyan) regime develops, and we are not speculating on this, the regime in charge absolutely needs international oil companies," he said.

"This is particularly the case in a country like Libya where you have many mature fields and still a lot of potential for exploration and developments. Whatever the regime, one will need international groups to develop the country's potential." Mosconi said the group's output was not affected in Libya or neighbouring Algeria -- a key gas exporter where protesters gathered in the capital on Saturday -- and that Total was not worried about its business in the Middle East.
BP was up 0.5% at 4.95 pounds sterling and Norwegian Statoil climbed 2% to 142.60 kroner.
According to another Reuters report, BP has suspended preparations for exploratory drilling for oil and gas in western Libya due to growing unrest in the north African country, a spokesman for the British energy giant said on Monday. The company does not produce any oil or gas in Libya but has been readying an onshore rig to start drilling for fuel in the west of the country.
"We are looking at evacuating some people from Libya, so those preparations are being suspended but we haven't started drilling and we are years away from any production," the spokesman said.
The Libyan operations are therefore small in comparison to BP's overall operations, hence the stock price gain.
Oil major Royal Dutch Shell said on Tuesday that all its expat employees and their dependents in Libya, involved primarily in the company's exploration activities in the country, had been relocated (Reuters).
"Given the continuing uncertainty in Libya, Shell's expatriate staff have now been temporarily relocated. Shell offices remain closed, and business continuity plans are in place," a Shell spokeswoman said.
Libya produced 3 million barrels per day of crude oil before the 1969 coup, but this declined steadily over the years due to Libya's pariah status in the world. Production climbed back since sanctions were lifted, and was estimated at 1.65 million bbls/day in 2009 (EIA), about 150,000 bbls below capacity of 1.8 million, but above the OPEC quota of 1.47 million. Net exports were 1.17 million bbls/day in 2009 as some oil is used as feedstock for half a dozen refineries, the largest having a 220,000 bbls/day throughput (Ras Lanuf), south of Benghazi on the Gulf of Sirte.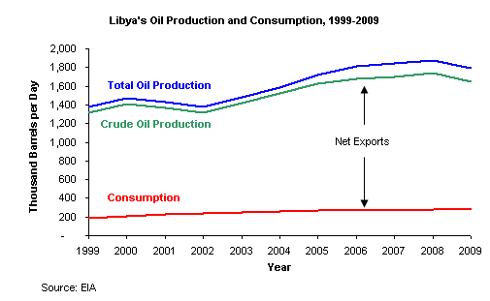 Click to enlarge
Here is a map of Libyan oil and natural gas fields and pipelines. Libyan oil goes largely to Western Europe, with Italy the top customer. Less than 100,000 bbls to the USA last year.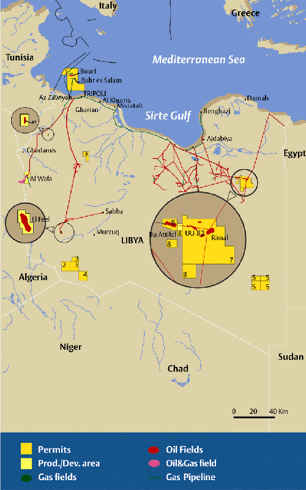 Click to enlarge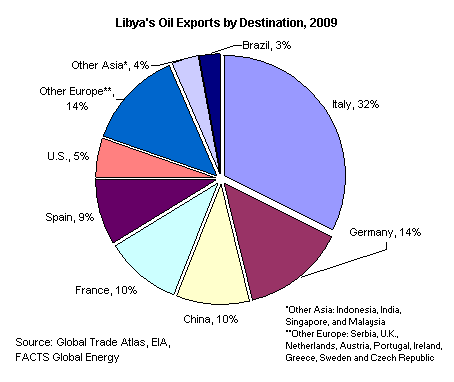 Disclosure: I have no positions in any stocks mentioned, and no plans to initiate any positions within the next 72 hours.