One of the bright sports of this economic recovery has been the strength emerging from the manufacturing and industrial production sectors of the economy. That being said, the time has come to capitalize on growth within this sector by investing in fundamentally sound companies that provide a growing dividend yield.
Over the course of my (relatively short) investing career, I've come to admire the sound financial stability that dividends provide. When market conditions become unclear, I typically choose an exit price on more speculative positions. Once a position has been sold, I begin moving into less risky companies that can be counted on to provide a stream of income over the course of time.
Thus, the purpose of this article is to outline 6 companies which can be counted on for stable dividend growth amidst economic uncertainty. Additionally, if the casual investor is looking for added cash flows to supplement price appreciation, these 6 companies are well positioned to do so.
Before I list these companies, I will start with my usual top down analysis.
The chart below displays the monthly industrial production index released by the Federal Reserve. In January, the index slipped 0.1%, the first decline in about 19 months. However, with the weather playing a role in that release, I expect production to increase moderately in the months ahead.
click to enlarge images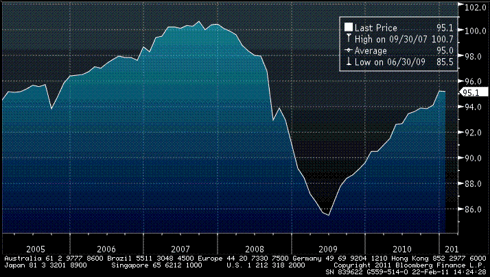 The industrial and manufacturing sectors have contributed strongly to the recent economic upturn. To support this claim, we will look at the Institute of Supply Management's monthly index, which compares different areas of the market. The index is comprised of various sub-indices including prices paid index, production index, new orders index, backlog index, inventory index, employment index, and deliveries index, among others. January's reading was the highest since May 2004, a clear sign that production will continue to increase as demand for goods and services rises. With consumer confidence increasing, one can surely bet that demand for finished products will move higher as well.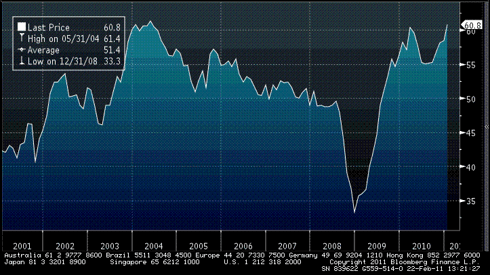 The chart below displays multiple Fed manufacturing indices. If one looks at the past 6 months or so, it is quite clear that each index is drifting higher. For some clarity: the Philly Fed index is in red, the NY Fed Empire Index is in light green, the Dallas Fed Index is in blue, the Richmond Fed Index is in pink, and the new Kansas City Composite Index is in gray. Additionally, not all these indices have reported their latest data, but these will be released over the new few days.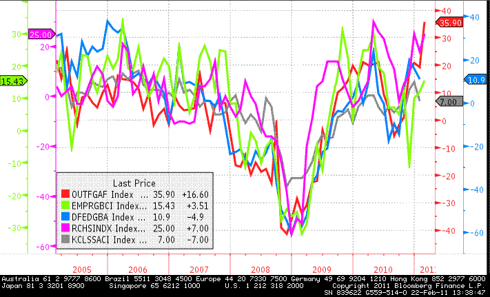 Now that we have established a base for a strong manufacturing and industrial production sector, I will focus on 6 companies that provide solid dividend yields, coupled with enticing future growth prospects.
The first company is Caterpillar Inc (NYSE:CAT). The company designs and manufactures different types of machinery, in addition to various internal parts that help these machines operate. CAT has operations across the globe, with the bulk of its revenue coming from outside of the US. This provides an investor with international diversification, a must in all portfolios. Caterpillar also pays a solid dividend, which has increased on a year over year basis since 2000. With a dividend yield of about 2% and strong Q4 margins, CAT is a must for any investor's portfolio. If you're looking for a similar but slightly less expensive company, turn no further than Deere & Co (NYSE:DE).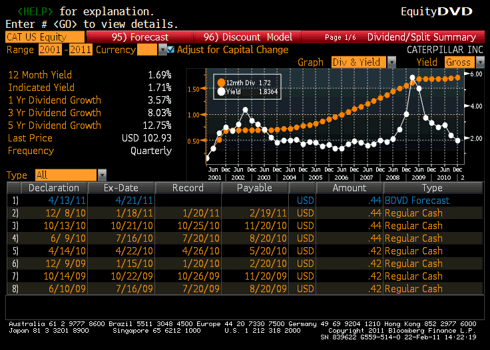 With General Electrics' (NYSE:GE) many different arms, it is difficult to focus on any one particular sector. However, its main business correlates to manufacturing and production of goods and services. GE has a dividend yield of about 3% coupled with a decent cash position, allowing us to count on dividend growth into the future (ignore the -12% growth). According to its latest release,
We are executing a balanced and disciplined capital-allocation plan with dividend increases, acquisitions and share repurchases. Our framework for 2011 is quite achievable and we are optimistic about the future.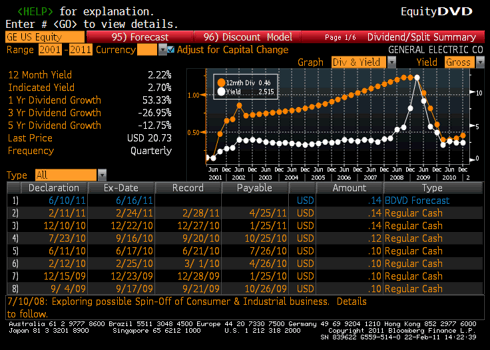 Another company with sound dividend history is Siemens (SI), a German manufacturer of everything from transportation to medical equipment. While the company does trade and pay dividends in euros, it has also been steadily increasing its shareholder payouts. With a projected 5-year dividend growth rate of about 15%, one can surely bank on the steady stream of cash flows from SI.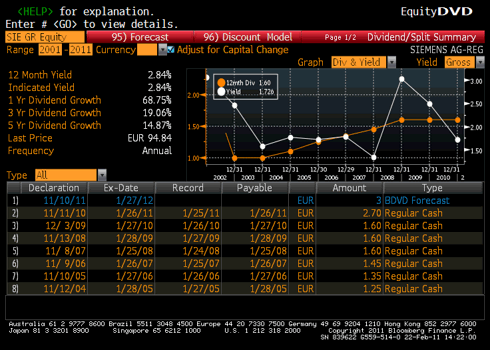 Honeywell International (NYSE:HON) is another globally diversified technology and manufacturing company that will provide concrete returns in the years to come. With most of its revenue stemming from within the borders of the US, HON will prosper on improved demand for products. Its current dividend yield is about 2.3%, with a 5-year dividend growth rate of over 14%.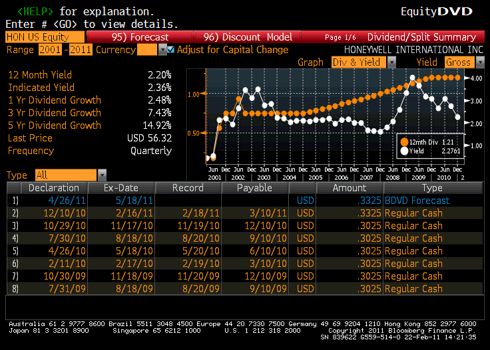 Lockheed Martin (NYSE:LMT) has one of the highest dividend yields in the manufacturing sector, at close to 4%. The company has a projected 5-year dividend growth rate over 20%. The bulk of its business is domestic, with only about 14% of revenue coming from outside the US. While LMT provides more advanced manufacturing services, growth within the overall industry will allow the company to improve margins and profitability.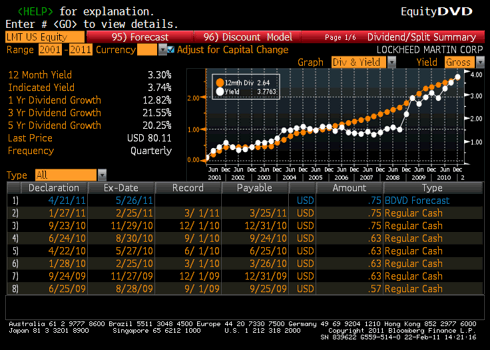 Bucyrus International (NASDAQ:BUCY) designs and manufactures equipment used for surface mining. CAT purchased the company back in November, with the deal expected to be completed by mid 2011. With strong gross and operating margins, I expect BUCY to continue to produce strong financial results with a steady, but light, dividend.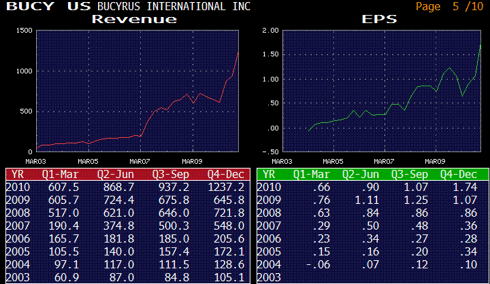 Overall, the 6 stocks I've mentioned above allow a typical investor to become more risk adverse, while still benefiting from dividend yield and price appreciation. With consumers becoming more optomistic, we are likely to see improved demand across the globe. As demand continues to improve, the above listed companies are going to see an increase in production, which will push revenues higher.
Disclosure: I have no positions in any stocks mentioned, but may initiate a long position in LMT, CAT, GE over the next 72 hours.