Visa (NYSE: V) and MasterCard (NYSE: MA) remain in a state of regulatory limbo regarding the Durbin amendment to the Dodd-Frank Wall Street reform bill.
The amendment, which allowed the Federal Reserve to cap debit card merchant fees, will potentially reduce the attractiveness of debit cards to banks - who will see their revenues slashed - and to consumers, who may find themselves paying more in fees for the convenience of paying with plastic. Congressional hearings last week to consider delaying or altering the rule were inconclusive. The Republican-controlled House of Representatives appears to be inclined to, at a minimum, force a delay. But the Senate is reluctant to backtrack on what some Democratic senators consider one of the highlights of the Obama presidency.
For what it is worth, Fed Chairman Ben Bernanke has himself expressed reservations about the rule, believing that it will result in higher costs to consumers. The final rule is expected in April and would go into effect in July. Until then, investors simply have to wait and see how events unfold.
Judging by Visa's recent market performance (see chart), it would appear that investors believe the proposed rules will be watered down or that - if implemented - the rules will not be as damaging to Visa's bottom line as originally feared. Visa's shares have recovered most of the losses they took after the Fed's December announcement caused a panic selloff.
click to enlarge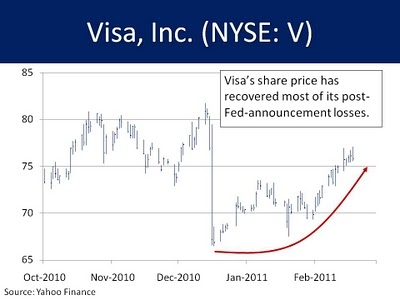 At times like these, investors need to keep the big picture in mind. The long-term move away from cash and paper checks to electronic payments will not be reversed. As more commerce moves to the internet, traditional payment methods look more and more anachronistic.
Furthermore, once accustomed to the convenience of paying with plastic, consumers will not accept anything less. Consumers, though they will grumble, will likely acquiesce to paying fees for the convenience of using their cards rather than return to their old ways of lugging around a checkbook or a roll of cash. And should debit cards become less attractive due to an increase in fees, consumers are likely to use credit cards instead, which were not affected by the Durbin amendment.
But the biggest reason for optimism concerning Visa is its strong and growing presence in emerging markets. Visa is an "Emerging Market Lite" investment, already getting 40% of its revenues from overseas, most of which are from the fast-growth markets of Asia and Latin America. Visa has a stated objective of having more than half of its revenue from overseas by 2015, and all indications are that the company will reach this goal.
Given the strong macro trends underpinning Visa's long-term growth prospects, I recommend viewing any short-term weakness due to the Durbin controversy as an opportunity to accumulate shares.
Visa remains a buy.
Disclosure: I am long V.
Additional disclosure: Visa is an open recommendation of the Sizemore Investment Letter.