Much has been made of Netflix's (NASDAQ:NFLX) precipitous fall Tuesday. As readers of Seeking Alpha know, Netflix has been a hot topic of both long and short investors, with fervent argument on both sides of the tape. Since conditions have changed somewhat since we published our response to Whitney Tilson's short NFLX article, we'd like to reexamine a trade on Netflix.
While we made 225% on the calls we purchased after reading the weak arguments made in Tilson's short piece, we ended our long exposure when the stock was around $240, as it looked ready for a pullback. Because of the overvaluation of the stock (a well-publicized phenomenon regardless of what the short sellers may think), we would tend to want to be short the stock, but we need to wait for key pieces of data to become available before having confidence in this thesis.
Fundamentals
As has been discussed at length, NFLX is trading at a high valuation using any metric. NFLX's P/E ratio is ~75, and its P/FCF ratio is 38.09. Even though there are companies that trade at significantly higher ratios, NFLX has been a longtime target of short sellers because of its well-chronicled future struggles with costs.
Because NFLX signed its content deals at a time when the streaming business was nothing more than an afterthought, the company is currently paying far below market value for its streaming content. As these deals expire and must be renewed, it stands to reason that NFLX's costs are going to soar.
The long investors' standpoint has been that NFLX is adding subscribers and growing revenue so fast that the future hit of increased content costs will be absorbed easily. However, since NFLX now faces huge competition from both studios and other online goliaths such as Amazon (NASDAQ:AMZN) and Google (NASDAQ:GOOG), NFLX's costs could be rising at a time when the company faces more competition than it ever has before. This combination of negative events could lead to margin compression that causes long investors to finally be unwilling to pay the high multiples for the stock that they previously have.
The problem with this short thesis is that it has existed for years. The short story behind NFLX only gets stronger, yet the stock continues to rally and defy expectations. The reason for this outperformance is that there are far too many short sellers of the stock.
Short Interest
The short interest as a percentage of the available float of NFLX is the most determinative data there is on whether this stock will continue to rally.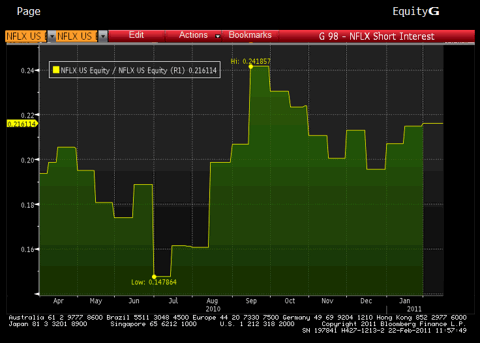 As can be seen from the chart, short interest on NFLX stock is currently at 21.6% of the outstanding float, and has been as high as 24.1%. To illustrate just how large this is, at current levels the amount of shares sold short are worth $2.5 billion, given a price of $223/share for NFLX.

As we discussed at length in our previous article, the $2.5 billion short interest in NFLX are all future buyers of the stock. Since short sellers must eventually buy the shares of the stock they are short to close out their trade, a high short interest in a stock can mean the stock is primed to rally.

What this means is that even though NFLX has rallied incredibly since January 2010 (306%), it may not be ready to fall just yet. As of the last short interest publication date (short interest data from the exchanges is only published once every 2 weeks), there were still $2.5 billion worth of disbelievers in NFLX stock. Once the amount of skeptics falls to a more manageable level, perhaps around 10%, the stock may be ready to fall.

If the next short interest data point shows that short interest has fallen drastically, a short position in NFLX may be warranted. The next short interest publication date is on February 25th, and it will show short interest on the stock as of February 14. Considering that the 14th was the peak of NFLX so far, this should provide a very good indication as to how many people are still short this name.

However, if short interest comes back largely unchanged, a short position in NFLX would be unwise. In fact, if NFLX has fallen closer to the $200 level by then, we may initiate another long position on the stock because of inevitable short covering taking this name higher.


Disclosure: I have no positions in any stocks mentioned, and no plans to initiate any positions within the next 72 hours.