Chicago Bridge & Iron (CBI - $33) is an energy infrastructure engineering and construction firm continuing to reward patient shareholders. Yesterday, management reported earnings for 2010 4th quarter and full year. Revenues fell short of expectations with the Street looking for $1.06 billion for the quarter. CBI reported $948 million, down 6% from last year.
However, though overlooked by many casual investors, the three most important financial numbers more than made up for this shortfall:
Earnings per share were up due to cost cutting and lower taxes, even while revenues were down. EPS were reported at $0.63 for the

quarter, 43% higher than last year and 13% higher than expectations.

Order backlog as of 12/10 stood at $6.9 billion, 80% of which is outside the US. This level of backlog rivals the strong years of 2007 and 2009.
Order intake for the quarter was $3.5 billion, finishing the year with momentum.
For the year 2010, CBI earned $2.04 per share on revenues of $3.6 billion. For 2009, the company had revs of $4.5 billion and earnings of $1.74. Last year marked the first time earnings exceeded $2.00. Operating cash flow increased 13% to $288 million, or $2.88 per share. Cash at the end of the year was $481 million.
Management has generated a 5 year average ROIC of 15% and trailing 12 months ROIC of 20%. Consistantly strong profit margins will assist in a continuation of this trend, and will drive eps higher as well.
The LNG market continues to expand, and so does the need for construction of new port facilities. CBI has been active in building new refineries and petro-chemical facilities, along with production expansions and upgrades. The company has been successful in bids for oil sands projects. Margins have been expanding as growth is starting to return to the energy infrastructure construction business. A token dividend of $0.05 was re-instated after being eliminated in 2009.
For more background, review a previous article here.
CBI is expected to earn $2.40 this year and $2.80 in 2012. CBI's market will continue to expand as the need for international energy infrastructure is driven by economic growth. At its historic 14.5 PE, this would equate to a share price in the $40 range. If earnings exceed $3.20 in 2013, share prices could rise to the high $40s.
CBI should be a core long-term holding in an energy portfolio. The company is well managed with a conservative balance sheet, it is well liked on the Street, and its industry is growing. The engineering and construction sector is an advantageous offsetting and diversifying position to the typical exploration and production energy investment. It fills a niche in the energy sector that is mainly international in focus.
CBI shares traded lower yesterday, partially due to the perception of lower revenues and the overall market weakness. Longer-term investors should use this dip to initiate or add to a position.
3 year chart with 200 and 50 day moving averages (click to enlarge):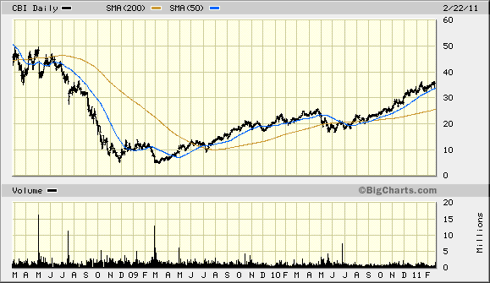 As always, investors should conduct their own due diligence, should develop their own understanding of these potential opportunities, and should determine how it may fit their current financial situation.
Disclosure: I am long CBI and have been a shareholder since 1997.